Your brand
Personalization is key to success. Increase awareness for your site by promoting your brand
Logotype
Site owners can update the logo of their dating website by uploading two images (main and minor) and adjusting the width and height of each. A separate logotype can be added for each language version.
Promo content
Create an original introduction and put it onto the landing page of your site. Edit text in a WYSIWYG editor, upload images, or use a flash file. Multiple language versions are supported.
Copyrights
Brand your site by replacing the Dating Pro standard copyright with your own info.
Watermark
Use text or images to watermark uploaded photos; select left-center-right and top-middle-bottom position, and you can edit opacity. Watermarks are even applied to photo thumbnails (aside from the two smallest ones).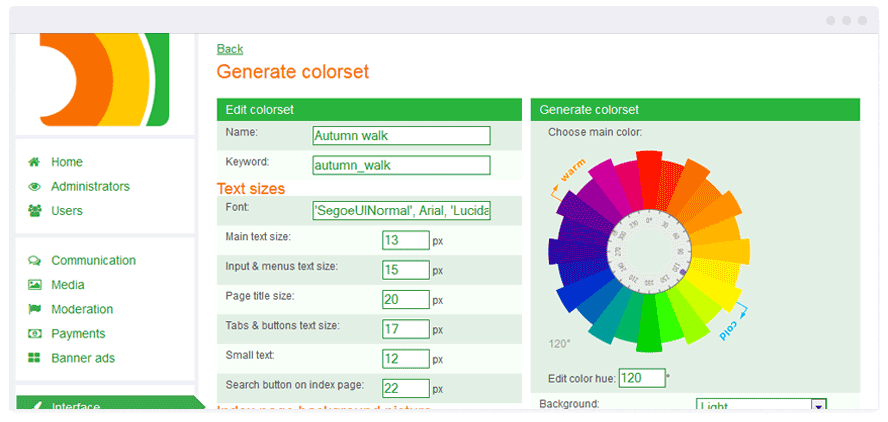 Easy design changes
A quick and easy way to make your site stand out is to change its look and feel
Themes
Edit ready design themes of Dating Pro or create new themes based on a standard set of templates. Along with the user mode changes, you can make the administration panel look the way you want it to.
Colours
Create and edit different colour schemes for your favourite design theme. Use the convenient tool to generate ready sets of colours.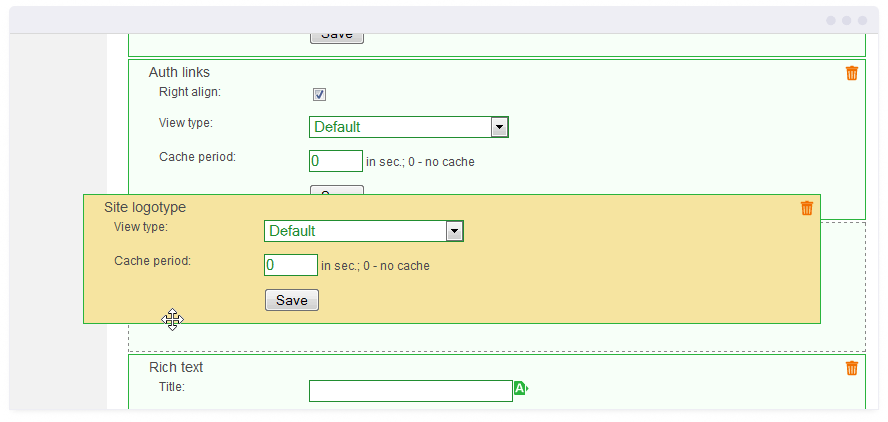 Monetization tools
Popular payment gateways are integrated into dating script; paid services are easy to activate
Payment gateways
PayPal, Authorize.Net, 2Checkout, Google Wallet, Robokassa, Skrill and Webmoney are integrated into the product — not to mention the opportunity to accept payments offline, either by wire transfer, or Western Union transfer, or cash. More integrations are underway.
Mobile payment
No need to use cash, cheque, or credit cards. Mobile payments are one of the favourite payment methods of dating site users.
Paid services
The following is a list of paid services available at the moment, which will continue to grow over time: carousel (become a featured user), lift profile up in search, stealth mode, reading and sending messages, access to instant messenger, posting banners, taking part in search, and more.
Billing settings
You as the administrator of your dating website will have full control over site currency, paid services prices, all members' payments and will be able to combine services into packages.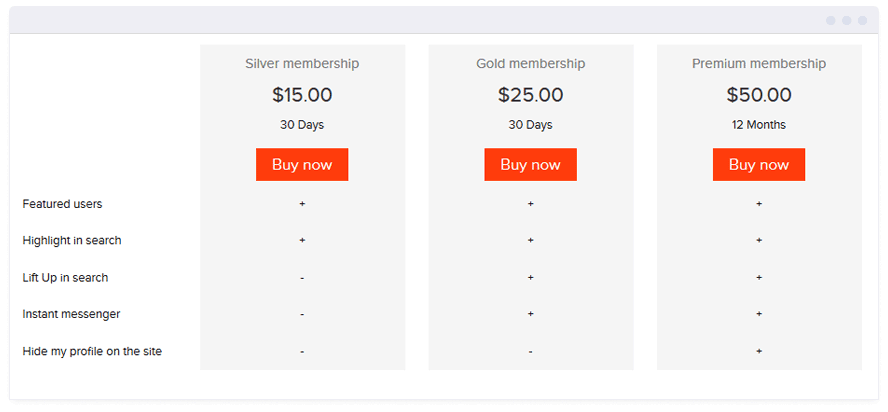 Search-engine-friendly
A powerful search engine optimization (SEO) tool makes your site both human-friendly and search-engine-friendly
SEO meta tags
Optimized meta tags improve the chances of your dating site being found in search results and being rated higher by search engines. You, as the dating site owner, can set up titles, descriptions and keywords for all relevant user mode pages.
Other SEO settings
It is possible to manage URLs that refer to the site pages and include language code; you can also edit H1 headers and Open Graph tags. Multiple languages are supported.
Site map
A site map is a list of pages available to both site visitors and web crawlers for better navigation. Dating Pro open source dating software can generate a site map (sitemap.xml) automatically. You get to set the frequency and priority.
Robots.txt
Robots.txt file is used to instruct web crawlers and other web robots, letting them know the site pages that they should and should not visit. The dating site's administrator can edit the contents of the file directly from the administration panel.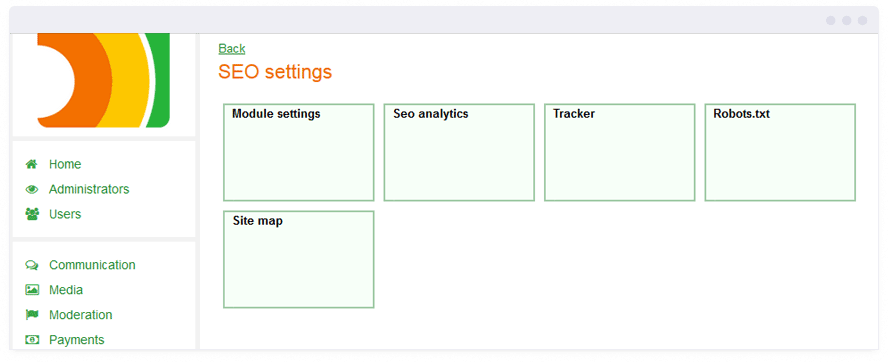 Content management
A wide set of tools lets the dating site owner edit different types of content
Multiple languages support
Several language versions are already available through the PG Dating software — and the database is continually growing. It is possible to add new languages from the administration panel, as well as perform translations
Editable texts
Use the built-in tool to edit annotations, notifications, button and control names, and other words and phrases that are displayed on the site.
Info pages/articles
Info pages are blocks of text that you can edit in a WYSIWYG editor; you can apply HTML tags to them, as well as add images, and translate them into multiple languages.
News and news feeds
It is possible to create news posts and upload news illustrations manually, or you can set up an RSS news feed and have it updated automatically.
Banners
You can let your dating site members post their own banners — for a fee. You get to manage the prices, the banner positions on the page and the placement period.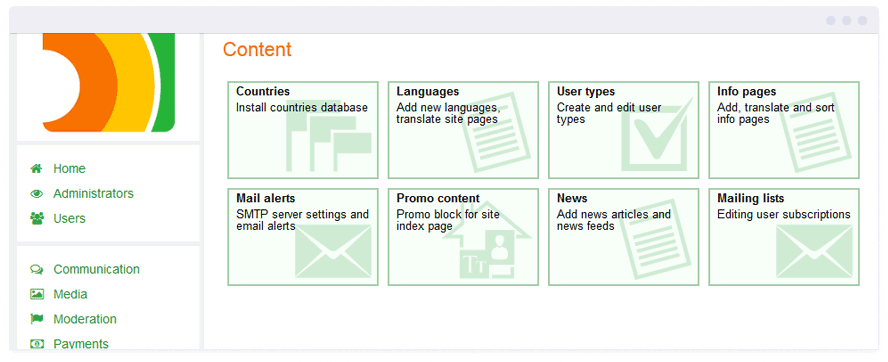 Communication tools
Fast online communication is vital in helping people socialize and build relationships online
Instant messenger
PG Dating software offers a one-on-one messenger tool that opens in a handy pop-out sidebar and includes a contact list, searches by friend name, online/offline status, and more.
Mailbox and quick messages
A dating site member will be able to send a quick message to a person directly from the person's profile, or use the full-scale mailbox tool where drafts, trash and spam folders are used along with the inbox and outbox folders.
Activity wall
Every dating site member has a wall that displays his/her activity on the website. One can post messages, leave comments, «like» posts and uploads on people's walls, as well as use privacy settings.
Contact us tools
The site administrator can allow authorized members to contact him/her via a direct messaging tool that looks more like a one-on-one chat. Non-authorized users (site guests) can send messages that will be automatically forwarded to specific email addresses (for example: technical issues, payment questions, etc.).
Mass-mailing
The built-in multi-functional module will let site owners create mailing lists, edit newsletter templates and SMTP settings, schedule newsletter deliveries and manage the database of subscribers.
Video chats
Integrated solutions from the most popular providers.

Site setup options
All the things that are essential for efficient and effective work of your dating site builder
Users profile editor
Adjust your website for almost any business idea by asking your site members relevant questions in the profiles; or you can choose to only keep the minimum required questions, such as email addresses, passwords, and some others.
User types/genders
Expand the standard man/woman combination by adding new user types, for example, transgender, genderqueer, etc. Alternatively, you could replace man/woman categories with something different.
Editable menus
Easy editing options are available for different types of menus on the dating site: from the guest user menu through authorized user menus to admin menus. Link any internal or external webpage; simply drag and drop to regroup the links.
Languages
Add as many language versions to your site as you wish. Dating Pro site builder includes an editing tool that will let you do the translation, or you can export the files and hand them over to a specialist for translation, then import them back. Both left-to-right and right-to-left languages are supported.
Countries
Install any or all countries from the ready countries database; select regions, edit cities, as well as latitude and longitude. Multiple language versions are supported. This is a great option if you are going worldwide.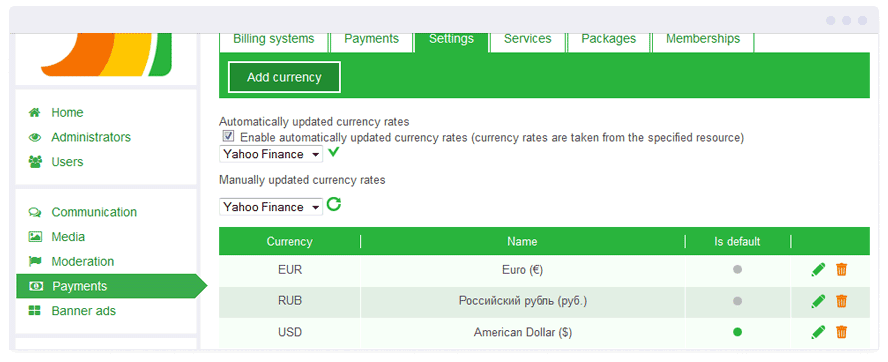 Fun activities
Attract new members to your dating site and keep them engaged and returning to your site for interesting content and activities
Searches and matches
Can you imagine a dating site without a search option? Neither can we. The online dating software by PG Dating Pro lets people search by names, keywords, age and location. Full-text search is supported. Matches are found automatically by the script.
Photo and video gallery
An attractive metro-style gallery can either show photos, videos, or both. There is no pagination as infinite scrolling is used. Every site user can post their own video and photo files here.
Wall posts and likes
Site members can share their thoughts, post images and videos, embed video code from popular services, leave likes and comments to any post, as well as like uploaded files in albums and add them to a list of favourites.
Friendship requests
Site members can make requests to add other dating site users to their list of friends and send them a short message if they'd like. All the information is displayed in three tabs: confirmed friends (Friends list), pending invitations (My friendship requests), and received requests (Friendship requests).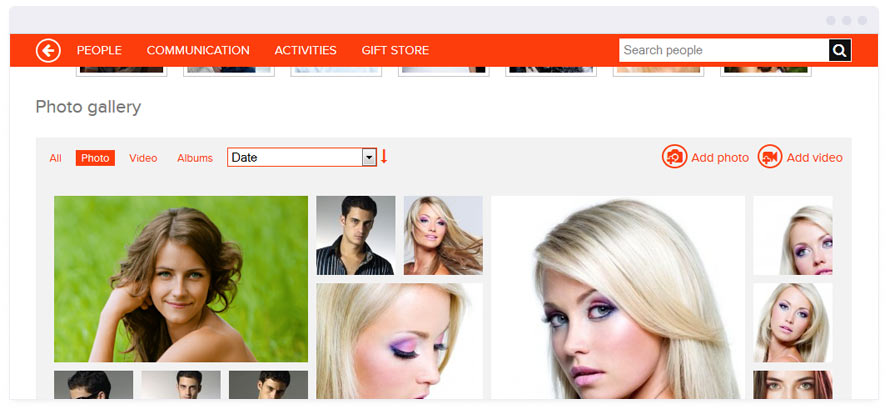 Security
Open source dating software by PG Dating Pro provides a safe user experience
Flag user/report abuse
If any wall post or uploaded file offends someone, or if a site member engages in inappropriate behaviour or sends spam emails, there is a way to counteract through flagging such users or content. All reports will be reviewed by the site administrator.
Blacklist
Adding a site member to the blacklist will send all their emails to spam and will prevent them from contacting you directly via instant messenger.
Moderation and user approval
Extended moderation opportunities are available to the site owner. Reviewing uploaded files, comments, abuse reports, banned words — every moderation tool you would need in a dating site script is available. The administrator can even review a person's profile before making him/her active on the site.
Security settings
A site member can decide whether s/he wants others to post on his/her wall, and they can choose who is allowed to view different events, such as file uploads and starting and ending friendships. It can be anyone, including site guests, only those who are signed up on the site, the person's friends on the site, or no one aside from them.
Switchable adult view
Site users may wish to avoid seeing adult content. There is a switch for this in account settings. Every file that is marked as 18+ by the site administrator falls under this category and can be set to either be displayed in the gallery and in the user's profile, or not at all.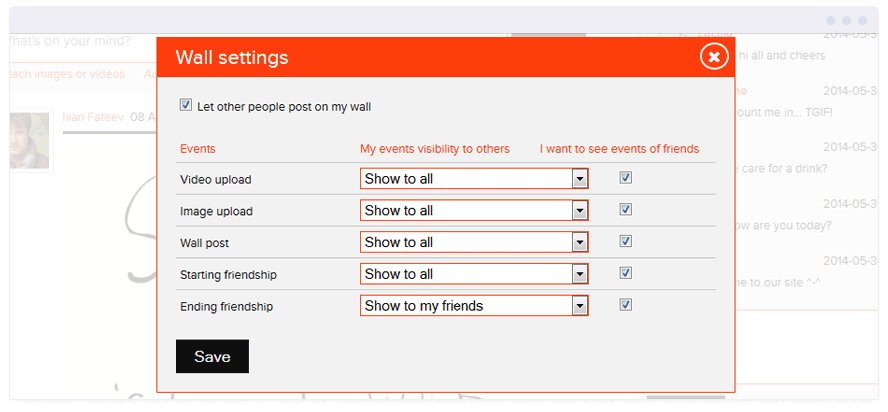 Templates, Add-ons, Experts
Templates
Choose a design for your turnkey dating site and give it a completely new look and feel.
Add-ons
Powerful new features, services and plugins for your dating site
Experts team
You can modify your dating community site by yourself, or you can choose to contact Pilot Group's own experts team. This is what we do:
Develop new features and customize existing features
Develop mobile applications
Manage API integrations
Integrate payment gateways
Configure servers
Develop unique site design & company brand
Create logos, icons, banners
Implement ready design templates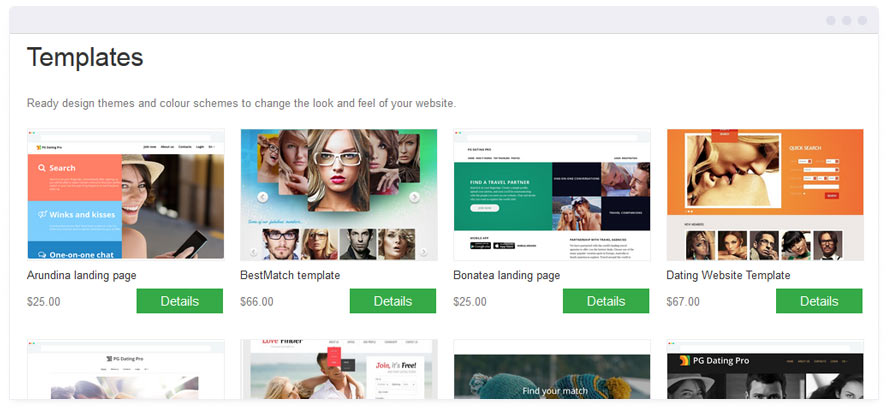 Android and iOS apps
To stay up to date with the latest trends, let your site members access your site from their mobile devices and always keep in touch, even on the go.
Mobile version
The Dating Pro mobile version will help you establish your site mobile presence. It offers the main functionality of a fully-featured dating website. Design can be rebranded with your logo and styles. Please note: mobile version is not an application and can only be run on a (mobile) browser.
Android/iOS applications
The Dating Pro mobile applications are based on the mobile version of PG Dating Pro. They have been optimized for mobile devices and can be made available at Google Play and App Store with your credentials. Please make sure that your dating website meets the publishing guidelines of respective store.
Customization
PG Dating Pro Experts team can do the extra modifications for you:
– Display your logotype in the application
– Adjust background color
– Adjust buttons color
– Adjust text color
– Add a new feature
– Create a unique banner for your main site that will lead to Google Play/App Store where your site members will be able to download the application from!