375
Interface : Dynamic blocks
admin
2016-08-18T16:22:31+00:00
Interface : Dynamic blocks
Please note: The feature is disabled as of December 2015, starting with the version 2015.7 (Dating Pro Genie).
To edit the layout of your site main page, log into administrator panel and go to Interface > Dynamic blocks > click gear-wheel (

) to get to blocks management:

Adding blocks
Select the block that you would like to add from the drop-down and click 'Add':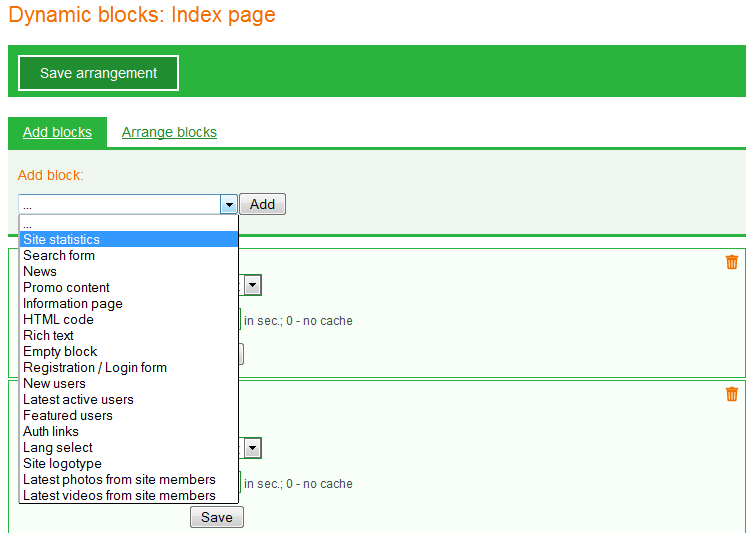 For every block there are special settings, such as cache period, amount of elements on the page, block header, and so on.
Tips:
1 – Avoid html, head, body tags in 'HTML code' block.
2 – You can add several empty blocks, assign them different height in pixels, and place them all around the page to increase space between other elements, or change proportions, and so on.
3 – Edit promo block content in section Content > Promo content (/admin/content/promo/).
4 – For users blocks, if you want to, say, separate women from men, take user type IDs from Content > User types (/admin/properties/property/user_type). Example: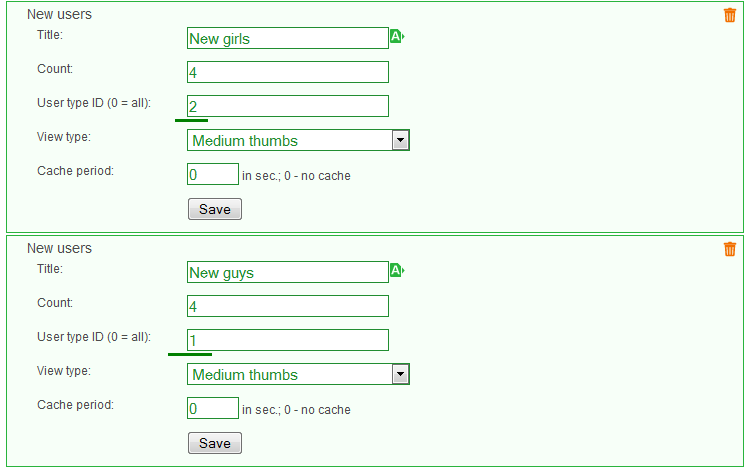 5 – Cache period is used to improve site performance, as saved elements do not have to generated anew every time you load a page. That is why if you make some changes in Dynamic blocks section and do not see them applied on your landing page immediately, check if you indicated cache period other than '0'.
Arranging blocks
Select 'Arrange blocks' tab to move the elements up, down, and line them up. Drag-and-drop is used here. There can be maximum three blocks in one line: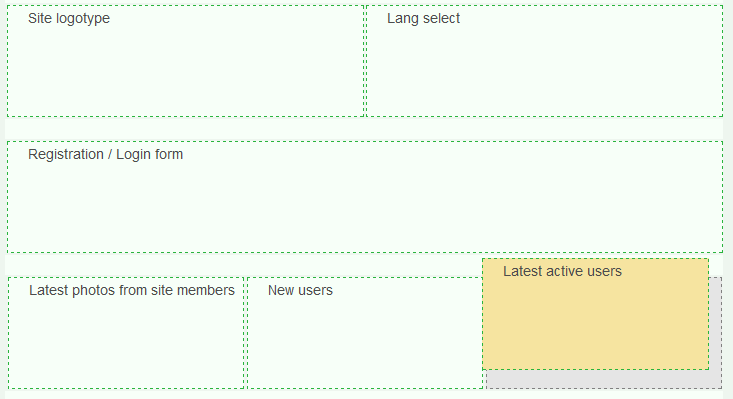 After you are done, do not forget the save the changes by clicking 'Save arrangement' button on top of the page.
This is an example of how the main page can look like, with explanations: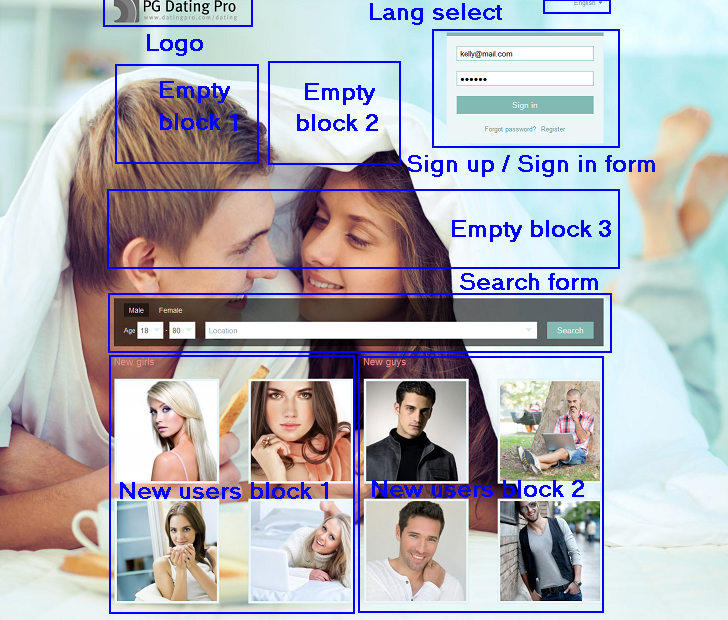 You can decide to go for the minimalist look or add as many elements onto the page as you find necessary. Check the Interface : Themes article to find out how you can edit the site colours and change the background picture.
We are open in UTC+3 time zone:
8:00 am – 1:00 am (8:00 – 1:00) Monday - Saturday
1:00 pm – 5:00 pm (13:00 – 17:00) Saturday
Poland
Al. Solidarności 115, lok. 2. 00-140 Warsaw
"PILOT GROUP" Ltd
Russia
68, Leninskiy street, Yoshkar-Ola, Mari-El, Russia, 424003
"PILOT GROUP RUS" Ltd