351
Users
admin
2019-06-19T16:15:59+00:00
Users management
Users management section provides an opportunity to manage site members.

There can be 3 user statuses in a dating site built with Dating Pro. All three are managed via database table '[db_prefix]users':
1. [db_prefix]users: confirm
2. [db_prefix]users: approved
3. [db_prefix]users: activity
Administrator is able to deactivate (block) users, edit their profiles, delete or contact user directly (if Tickets add-on is installed).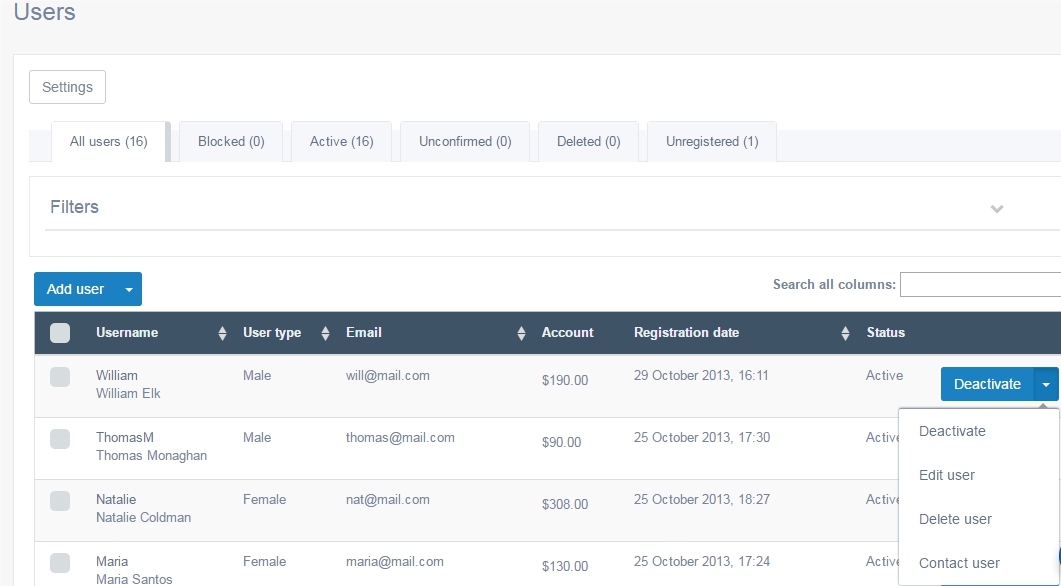 1. Filters
You can sort users by user type, email, first name, last name, username, latest activity dates.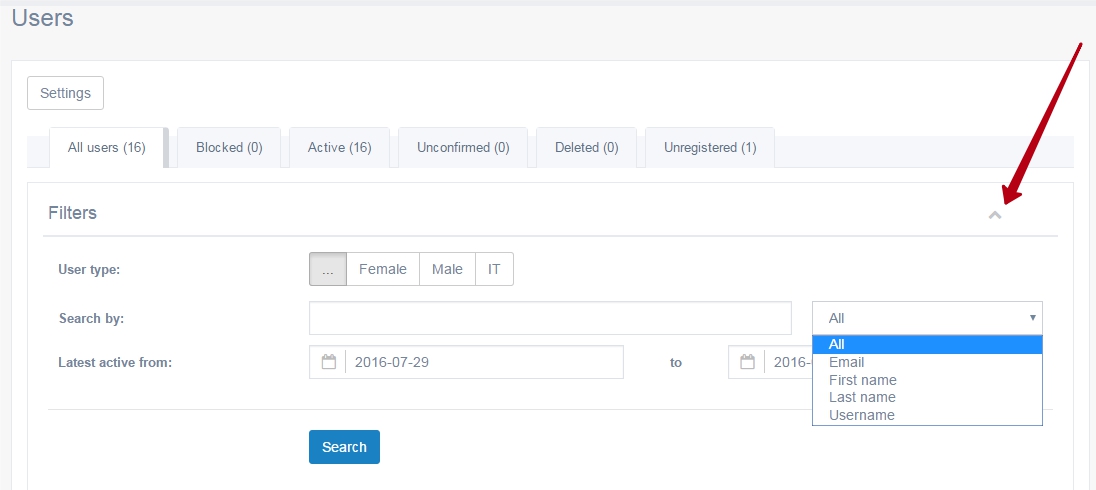 2. Creating a new user
Click "Add user" to create a new profile.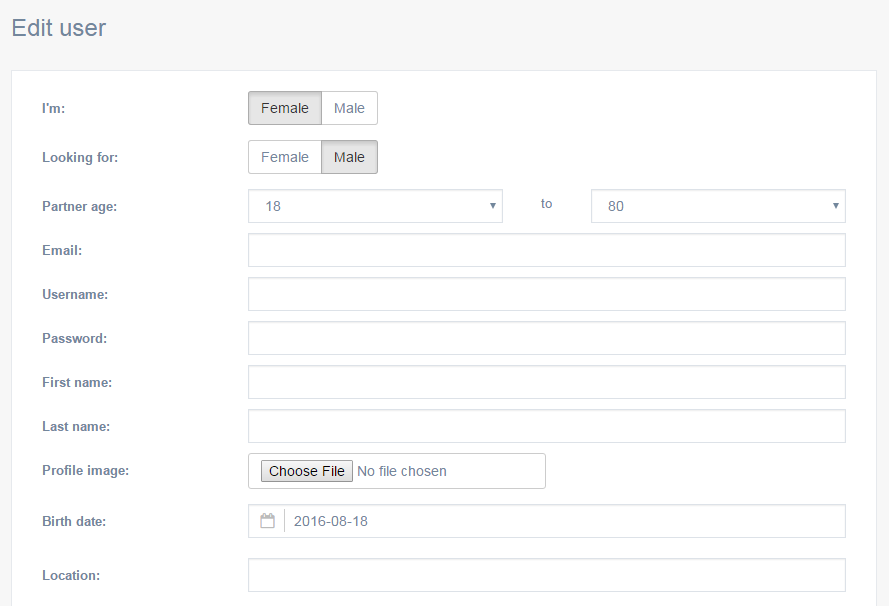 3. Adding funds
Select a user, click "Add funds" to add a certain amount of funds to user's virtual account.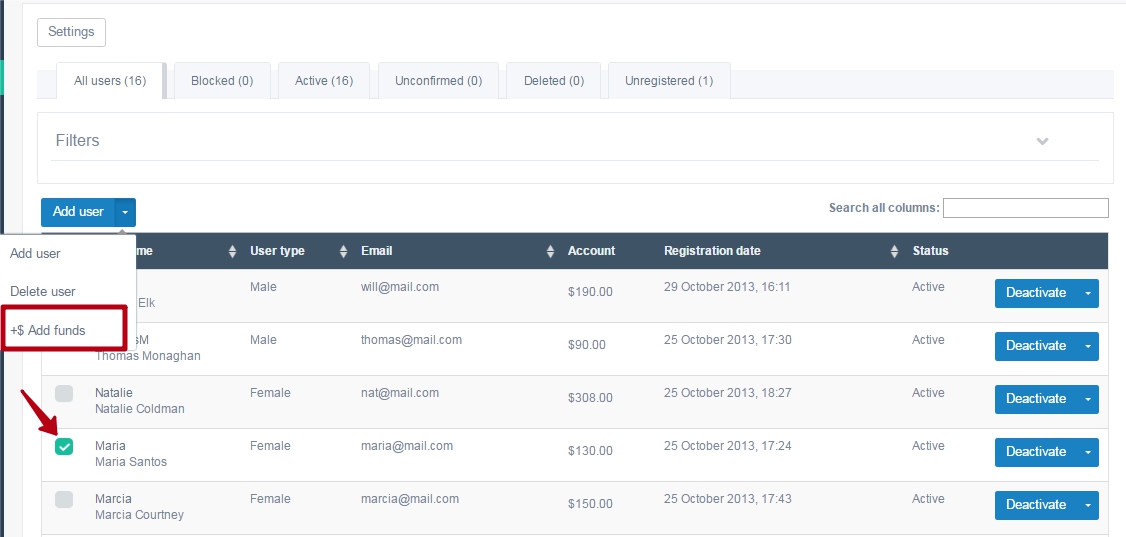 4. Confirmation
Unconfirmed users are those who have not clicked confirmation link that was sent to their registration email address. This is where the site administrator can activate this feature: Users > Settings (/admin/users/settings):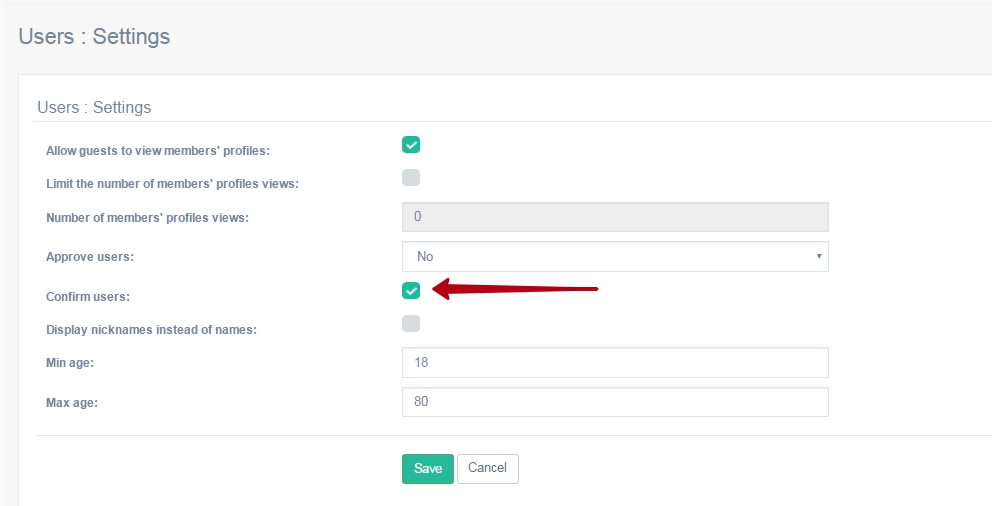 This is the form where new members will be able to type the confirmation code (page /users/confirm).

Alternatively, they can click the link that they will find in an email and that contains the same code.
5. Approval
Site users can either be approved by the site admin, or pay for it (as in paid sign up). It means that users who are not yet approved have either not been approved by site administrator, or have not paid for being approved, or have been deactivated (blocked) by site admin from the administration panel (/admin/users/index/)

This is where you can activate manual approval or a paid service: Users > Settings > Confirm users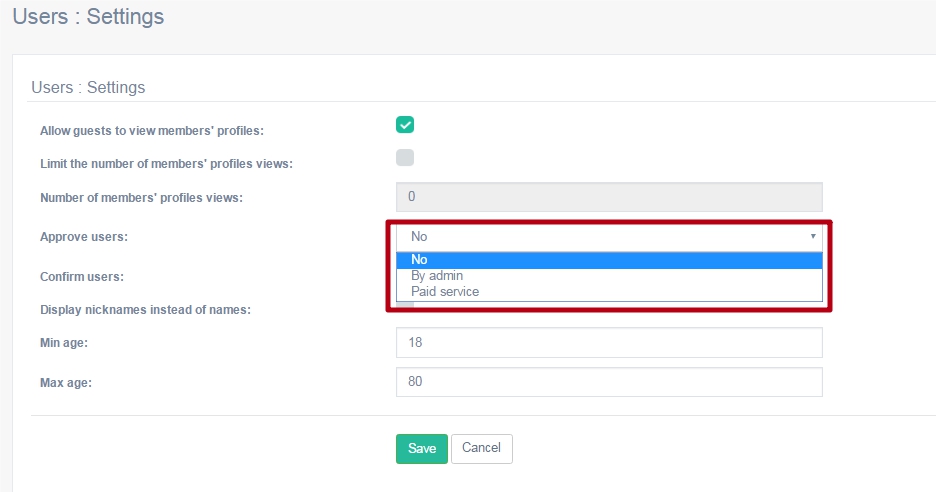 Payments > Services > Administrator approval is where you can set the price and activate the service for the paid service.
5.1. Site users who have been blocked by admin, or who have not yet been manually approved by admin:
– will not be able to sign in,
– other site members will not find them in search.
This is the message they will be shown: "Your profile is waiting for administrator approval"
5.2. If admin approval is a paid service, a new user will sign up, get to page /services/form/admin_approve and will be asked to pay to activate their profile:

The service can be given another name under Payments > Services > Edit service (/admin/services/edit/3).
The new user will not be able to get anywhere except this page or 'add funds to internal account' page until s/he makes the payment.
6. Activity
Site users can be inactive in search when:
– they have not yet paid for the service called 'make profile active in search' (provided that it is enabled by the site admin), or
– they have not indicated some necessary information about themselves in their profiles (location, profile photo).
6.1. You can enable 'activity in search' service under Payments > Services > Activity in search.
6.2. This is the list of fields required from the user by default to display him/her in search results:
-Region
-Country
-Profile photo
In case profile pics are moderated, user will be expected to wait for their profile photo to be approved. This is where you can manage moderation settings: Moderation > Moderation settings > User images (/admin/moderation/settings/).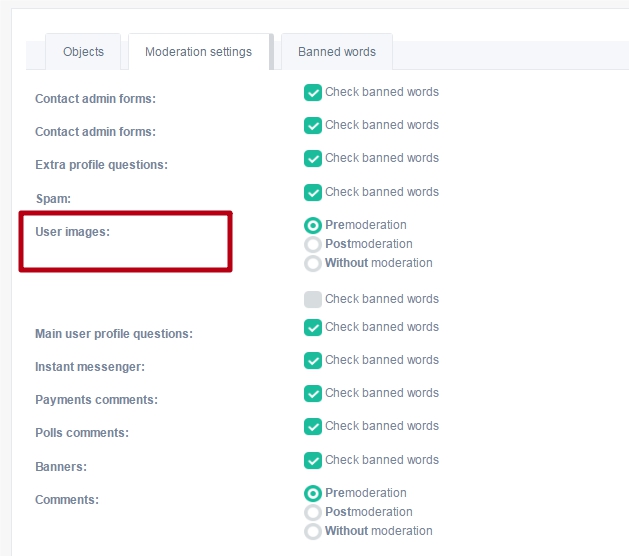 User completes his/her profile first, and afterwards is prompted to use the paid service, in case it is activated on the site.
Inactive users do not take part in search: other users cannot find them through the search form, although their profiles may be accessible by direct link.
We are open in UTC+3 time zone:
8:00 am – 1:00 am (8:00 – 1:00) Monday - Saturday
1:00 pm – 5:00 pm (13:00 – 17:00) Saturday
Poland
Al. Solidarności 115, lok. 2. 00-140 Warsaw
"PILOT GROUP" Ltd
Russia
68, Leninskiy street, Yoshkar-Ola, Mari-El, Russia, 424003
"PILOT GROUP RUS" Ltd