16586
What is the difference between Dating Pro packages?
admin
Difference between PG Dating Pro packages: Beginner, Professional, Unlimited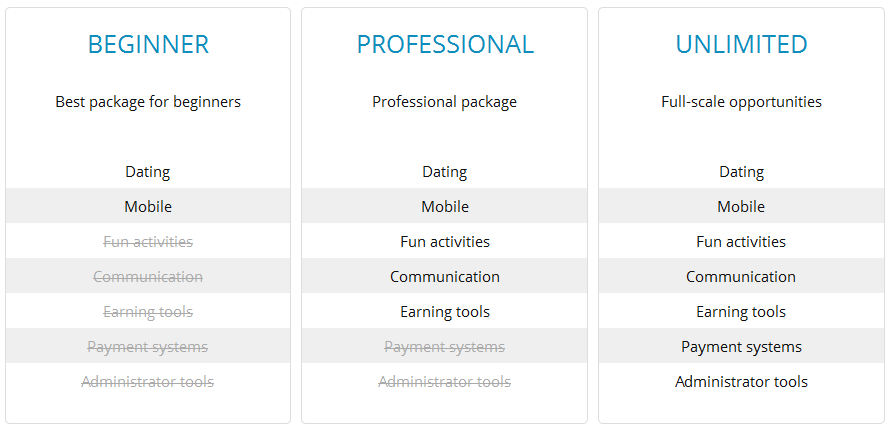 As shown in the table above, the difference between the PG Dating Pro packages is in the functionality available to you out of the box. We've combined different features into collections of plugins, modules and add-ons.
Dating is a collection of add-ons designed to enhance the experience of a dating site user:
Favourites — add people to favourites, and see who favourited you.
Instant Messenger (IM) — one-on-one real-time text chat.
Kisses — exchange funny pictures to show that you're interested.
LikeMe — like or skip game where mutual likes will prompt further conversation.
Perfect match — the system will find people who match your partner criteria (age, etc.).
Mobile collection will help people stay in touch even on the go:
Mobile site — simplified version of a dating site with all necessary features.
iOS app — mobile application for iOS platform.
Android app — mobile application for Android platform.
Fun activities collection is meant to entertain the site members and to keep them coming back:
Birthdays — let others know when someone has a birthday, and send greetings automatically.
Bonuses — site members will be able to earn by performing certain actions on the site.
Companions — search for travel companions by creating events and reviewing applications.
Events — create events and invite other people to join.
Friends list — request permission to be someone's friend on the site.
Horoscope — horoscope feeds and useful info for every zodiac sign.
Nearest users — interactive map that shows people within a certain radius.
Polls — create polls to hold your own surveys.
Ratings — mark the Top 100 members.
Social networks —liking and sharing as well as the social sign-on will be available.
Communication collection provides more ways for the site members to get to know each other:
Associations — point out if a person reminds you of something by exchanging funny pictures.
Pilot Group's video chat — native video chat that you can make free of charge or a paid service.
Questions — ask each other questions to learn more about each other.
ShoutBox — common chatroom that will help people attract attention to themselves.
Video chats integration — connection with third-party video chats (CometChat, 123FlashChat, etc.).
Winks — feature that is similar to Facebook pokes and can serve as an ice-breaker.
Earning tools will help you earn money with your online dating service:
Banners — let site members post their own HTML/image banners on your site.
Gift of membership — let people pay for each other's membership, earn your commission.
Gift store — sell any kind of merchandise on your site.
Memberships — access to site features for different user types (men, women).
Money gifts — let people send each other money, collect your commission from every transaction.
Packages — discounted packs of the paid site services.
Special offers — convenient promo campaigns tool.
Virtual gifts — upload photos and let people send them to each other.
Payment systems are already incorporated into the product so you only need a merchant account to activate any of them on your site:
2Checkout | Authorize.net | Fortumo | Google Wallet | Paygol | PayPal | Pencepay | Robokassa | Skrill | SMSCoin | Webmoney
Administrator tools will help you attract new visitors to your dating website:
Advanced SEO — add Google Analytics code, manage site URLs and meta tags, and more.
Users widgets — display Chat invitation, Featured users, New users, Selected users in HTML block.
Incomplete signup — find out who could not complete the registration and win them back. 
Landings — easily connect landing pages.
Referral links — let people earn by inviting friends to your site.
Tickets — one-on-one communication tool for the site administrator to talk to the site users.
Video theme — landing page with a video background.
All the collections that we listed here come atop of the Standard package that is part of every deal. This is the list of features that the Standard package consists of:
1. Users management, users payments and paid services.
2. Built-in Stripe payment system and offline payments (wire transfer, cash, etc.).
3. Administrators, moderators and moderation options.
4. Blacklist, spam and banned words.
5. Design themes editor, Flatty and Gentelella responsive design themes (for user mode and admin panel respectively), fast navigation and dashboard for the site administrator.
6. Photo, audio and video uploads, media galleries.
7. Comments, likes, wall events and wall posts, mailbox.
8. Languages editor and 2 language packs: English and Russian, countries editor.
9. Useful tools: contact us form, content editor, cookie policy, cronjobs, profile editor, mailing list, menu editor, connection to the Dating Pro Network, news, notifications and subscriptions, basic SEO, sitemap.
We are open in UTC+3 time zone:
8:00 am – 1:00 am (8:00 – 1:00) Monday - Saturday
1:00 pm – 5:00 pm (13:00 – 17:00) Saturday
Poland
Al. Solidarności 115, lok. 2. 00-140 Warsaw
"PILOT GROUP" Ltd
Russia
68, Leninskiy street, Yoshkar-Ola, Mari-El, Russia, 424003
"PILOT GROUP RUS" Ltd