150 Facts and Trends in the Dating Industry
32
minutes to read
Overview of Online Dating Statistics
Interesting 2021 Statistics for the Online Dating Industry (DatingSitesReviews)
91% of college students use dating apps to meet people
There is a 137% increase in mentions of 'vaccine' in user profiles around the world.
65% of online daters prioritize video dates as compatibility checks for potential matches.
33% of seniors met dates with a dating app, and 66% found a relationship.
Google revealed that online dating searches have reached a 5-year high.
Searches for "top dating apps 2021" rose 3,400%.
Searches for "dating apps for older people" rose 3,500%.
Searches for "virtual first date ideas" rose 450%.
Dating apps set records for increased user activity and subscription numbers in 2020.
Active daily users on the most popular dating apps jumped to almost 15 million in July.
40% of all relationships in the U.S. start online, and 65% of all LGBTQ+ couples met online.
A Switzerland study revealed that dating apps encouraged long-term relationships and higher levels of commitment between partners offline.
Positives from Online Dating Activity in the USA (CompareCamp)
With online dating apps, 71% of users find it easier to find people they are physically attracted to.
1 in 6 marriages begins online.
Couples who met on eHarmony have a very low divorce rate of 3.86%.
39% of online dating users attest to going on dates with a person they met via a dating site or app
12% of American online daters have found committed relationships or marriages.
Also, 21% of LGB American adults who use online dating apps have found committed relationships or marriages
63% online daters with a bachelor's or advanced degree enjoy a positive experience on dating sites or apps.
Current Demographics of Online Dating Industry in USA (CompareCamp)
With USA having a lion share of the market, its annual users is expected to grow to over 35 million by 2024
30% of US adults have used a dating site or app.
Millennials use the most online dating services with 36% of users aged 18 to 29.
College graduates and working citizens are more likely (35%) to use dating apps.
About 11% of Hispanic people are open to using online dating services to find new partners.
More female American adults (32%) than men (23%) have used an online dating app or service.
55% of LGB adults attest to using online dating services at least once, however only 37% actively use online dating.
What to Expect from the Future of Online Dating (MobileAppDaily)
Dating apps in the future will be more diverse, with inclusions of different race, gender and sexual orientation
Future Dating apps are expected to tighten security with big privacy walls.
Artificial Intelligence will better utilize user data and customize app UI to increase probability of matches
Many dating apps will modify their services to accommodate users with social anxiety, fear of rejection, low self-esteem etc.
Body-Shaming activities on dating apps and sites will be prohibited.
With AI and increased privacy, dating apps and sites will receive better security against 'Catfishing' and fake profiles.
We also have some facts about trends in technologies (DNA, Robots, AI, Virtual Reality)
 
DNA Matching. With DNA sequencing becoming more affordable, dating sites are using cheek swabs to measure compatibility. Source
Behaviour-based matching. By 2040, our genetic make-up, along with chemical & electrical signal analysis will be used to understand our online dating preferences. Source
In 20 years, we may have AR glasses that show you who is single and a compatibility score above their heads. Source
The report suggests that in 25 years, dating will be able to call upon all five of the human senses to create a full-sensory virtual reality environment. The authors believe that this will make dating both more efficient and effective as it would allow users to go on 'virtual dates' that mimic many of the features of a real date, but all from the comfort of their own home.
The end of awkward silences. Real-time artificial intelligence could analyze video data at high speed and ease awkwardness by delivering instant feedback, conversation starters, and live dating advice into our brains. Source
Relationships with robots. A robot, rather than a partner could create less emotional pressure, says Andrea Keay, managing director of Silicon Valley Robotics. We may soon have two soul mates: one human and one robot. Source
The ability to see emotions. New Deal Design, the firm behind Fitbit's trackers, is working to create "tattoos" that visualize emotions. For example, a glowing pentagon could express love when holding your partner's hand. Source
Dates across the world. High-speed transportation, such as the Hyperloop which could theoretically travel at 500 mph, will eliminate distance as an issue. In the future, people may not be limited to singles in their city. Source
AI will use user data to personalize the app's UI and display profiles with a high likelihood of matching. AI can improve dating applications in a variety of ways, including:

Displaying profiles with a better likelihood of matching; tracking user activity and preferences to deliver a more tailored experience; detecting bogus profiles using AI techniques such as Image Recognition;
Using AI to enable personalized answers to assist users in taking the initial step;
User profiles such as bulk-like, advertising profiles, and others can be used to detect unwanted activity or spam behaviour.
The adoption of AI will ensure that dating apps develop positive relationships with their users.
As a result, consumers will feel more secure in the face of potential spam profiles. Source
Neutral facts: Children, security, education, age
By the year 2040, 70% of relationships will be able to attribute they are coming together to either online dating or online communication. Source
The biggest growth segment for the next decade is going to be the 55-64 age group, who will see a 30% rise in the number of singletons and an increase in their usage of the internet. Source
Two-thirds of people would use online dating if they became single in the future. Source
Vine break-ups. As we continue to sacrifice our privacy on social media, it may become normal to publicize our most intimate moments. By 2030, researchers imagine a world where we record and share our break-ups. Source
The future of online dating may be free of fake profiles. Many individuals establish fictitious personas to trick other users into providing photos or simply to abuse them. Dating apps, on the other hand, are developing new regulations all the time to ensure that the future of online dating trends is protected from such tragedies. Source
According to a Pew Research assessment of online dating marriage data on those aged 18 to 29, 20% of those surveyed ended up in a long-term relationship or married.
Users' safety is the most significant worry for dating app developers, as seen by the patterns described above. As a result, innovative solutions must be integrated into future dating applications to give users with a safer experience. Source
Online dating is currently the second most common way to meet possible partners, with friends being the top. For the next several years, the industry is expected to develop at a rate of 5% (Technavio, 2017), outpacing all offline techniques combined by 2031. Source
The future is ebabies. Within the next decade, 40% of infants will be born to parents who met online, and by 2037, online daters will have more babies than individuals who met offline. Source
Online dating has rapidly increased in popularity over the last six years, with over a third (32%) of relationships beginning online now, up from 19% in 2014. Furthermore, almost a third (35%) of online couples who had a baby did so within a year after meeting, implying that technology has accelerated the rate at which love grows. Men are also more likely to have children with a partner they met online than women (42 percent vs 33 percent ). Source
Although younger generations will continue to date online in 2050, the market will significantly shift to older generations due to the demographic issues mentioned above, as well as technical advancements. According to projections, the median age of an online dater will reach 47 by 2050, up from 38 now. Source
The rising emphasis on finding love online means that by 2050, 82 percent of individuals will have found a spouse online, whether through virtual reality, augmented reality, more traditional internet platforms, or a mix of all of these and future technology. Source
According to the estimate, by 2050, over one-third of all young people would be living with their parents. The projection in the graph above takes into consideration things like predicted price rises in real estate. House prices are expected to climb across the UK between now and 2021, according to Barclays (2017). Similarly, according to a Santander (2016) analysis, 5% of UK property stock will be worth £1 million or more by 2030. While there are no promises that the UK would avoid a housing catastrophe before 2050, demand is projected to stay strong, with the national population expected to expand to 77.5 million by 2050 (the biggest in Europe) (ONS, 2015).
This will come as a welcome respite, since the IPPR predicts 'poor growth, low interest rates, and substantial stagnation' from 2020 to 2030, all of which will have a negative impact on household income (IPPR, 2016). This will have a particularly negative impact on young people, especially when paired with growing consumer costs, as projected by Which? (2013). This is one of the main reasons why dating will be more difficult for the 18-35 age group in 2050. Source
Higher education participation rates should remain stable, reaching 75% by 2050, to satisfy the needs of an increasingly automated workforce seeking skilled labor as well as pursuing learning for its own purpose. Source
All of this implies that, for many individuals, using online dating services to meet people face-to-face will be postponed until they have more security in their lives and employment. This means that traditional online dating services will have a significantly different demographic than they do now: today, 42 percent of users are between the ages of 18 and 35. (eharmony, 2017). By 2050, we may expect roughly 30% of online daters to be between the ages of 18 and 35, while other age groups utilize services in growing numbers.Source
Based on these characteristics, forecasts show that the median age of an online dater will rise to 47 by 2050, from 38 now. Source
Other socioeconomic issues will have an impact on the number of persons aged 35-65 who are not in a relationship in 2050, potentially widening the pool. To begin with, with more children remaining at home and longer life expectancies perhaps demanding home care, we will witness a worsening of the current "sandwich generation" concerns, with singles having less leisure and so being less able to meet people organically. Source
According to ONS statistics, the number of married individuals is expected to decline to roughly 40% by 2050, and the number of singles is expected to surpass married people by 2042, implying that more people would be actively seeking for a companion. Source
According to shifting demographics and expected singles numbers, there will be 32% more single persons in the 35-65 age range, with the bulk of them using online dating services. Source
While'middle aged' daters aged 35-65 will account for the majority of conventional online daters in 2050, the over 65s will witness the largest growth in online daters, owing to higher life expectancy and breakthroughs in health. This means that a new generation of more mature people will flock to online dating in unprecedented numbers. Source
In 2050, we may anticipate individuals over 65 to make up about a third (32%) of mobile and internet daters, especially as lifespans expand, quality of later life improves, and more people are seeking for love for the second or third time around. Source
Changes in the role of marriage in society, as well as relatively high divorce rates among Generation X today, with the group accounting for a large portion of all divorces (ONS, 2016), may suggest that over-65s in 2050 will be less inclined to remarry. However, when the stigma associated with having several committed relationships over the course of one's life fades, many people will still get into devoted partnerships. Source
Online dating brought together 12% of those aged 65 and up (eharmony, 2017). According to current uptake among this generation in 2017 and the changing nature and demography of society, by 2050, the proportion of singles over 65 meeting people online could be as high as 78 percent – a huge increase based on current uptake among this generation in 2017 and the changing nature and demography of society. Source
The average age of individuals utilizing traditional online dating services, as opposed to VR-focused services, will rise, as the online dating scene shifts toward more senior daters. More than one significant relationship over a lifetime will be the norm as we live longer, with a flood of second and third time around daters in their 60s and 70s by 2050. Source
The dating industry is still growing, especially in Asia. But even in developed countries there is a perspective. The proof of this is the entry of Facebook into the dating market. Source
Market consolidation has been taking place over the past few years and will continue to do so. Because of this, there is a competitive and aggressive environment of potential M&A partners on the investor side. Blackstone's recent $3 billion acquisition of Magic Lab is one example of positive signals for investors in this industry. Source
Statistics show that about one in three couples form online, and for same-sex partners the figure is twice as high. This adaptation of perception is one of the main drivers of industry growth. At this rate of development, service creators face new challenges. The depersonalization of communication in chat rooms is creating a demand for new standards of interaction. Storizas and videos are becoming the most consumed type of content. And isolation has only increased the need for a more fulfilling type of interaction. So in the near future, we can expect the introduction of video in all of the products of the dating industry. Source
Sites and Applications:
Trends
Interest over time according to Google Trends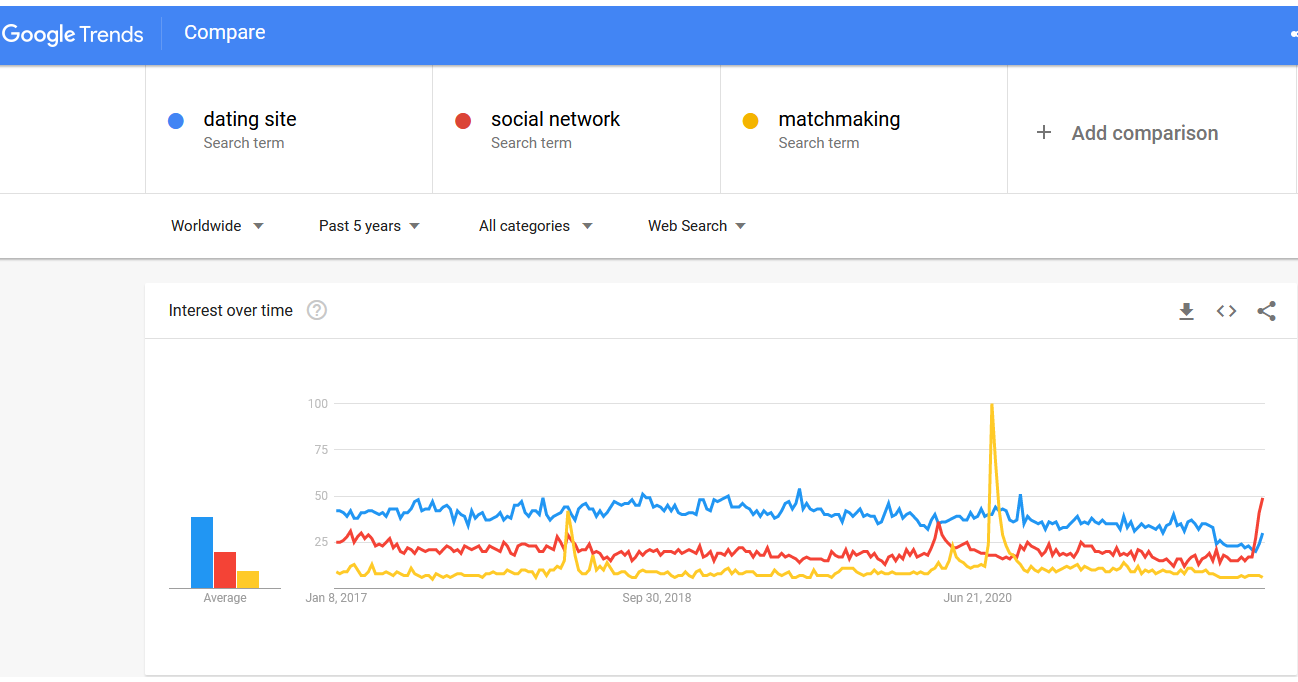 We also have a specific link to track a thends for dating sphere by different regions
To be sure about the dating niche and take into account the information we have new facts:
37% of the people who use Internet in the U.S. have used a dating app at least once in the past 6 months
25% people delete their dating apps because they got bored
93% of dating app users have deleted a dating app at least once in the past six months
According to Match.com 53% of the single people in U.S. use dating apps
Tinder, the most popular and controversial dating app has more than 50 million users a month and more than 3.8 million paid subscribers
Bumble has more than 55 million users all over the world, where 72% of the users are under the age of 35 yrs.
On an average, an app user spends approximately 90 minutes a day on a dating app
Tinder makes $4.14 billion in annual revenue
Dating app users are most concerned about privacy and security. According to some recent polls and surveys, 72% of dating app users admit to having blocked at least one user in the past six months, and 60% of them reported another app user. Meeting these expectations can give you an edge over other dating apps on the market, as 11% of people who uninstall their dating apps do so because they didn't feel safe using them.
The second most important expectation of a dating app is an intuitive user interface. We all know how the Swipe gesture revolutionized the online dating world. This is how important the user interface is to the user of a dating app. Find your own gesture to engage your app users
Some app users prefer niche dating apps based on various factors such as dietary habits – vegetarianism, hobbies and interests – Trek Passions, religious beliefs, etc.
Users of dating apps from the LGBT community would definitely prefer to have a niche app, not only for convenience, but more importantly for their safety and discretion, such as Grindr, HER and others.
Examples of dating niches:
Keyword at Google – Avg. Monthly Searches (exact match only)
asian dating 201000
interracial dating 90500
russian brides 74000
ccougar dating 49500
lesbian dating 49500
christian dating 27100
bbw dating 22200
uniform dating 18100
single parent 22200 senior dating 14800
muslim dating 9900
transgender dating 14800
geek dating 5400
hiv dating 4400
millionaire dating 2900
jewish dating 2900
disabled dating 3600
indian matrimony 3600
nudist dating 1900
alternative dating 2900
swinger dating 3600
std dating 1300
vegetarian dating 1000
Dating Pro is everything you need to start and run a business in online dating, matchmaking and social networking industry:
Website and mobile apps connected to payment gateways
Tailored to your business requirements
Marketing and promotion
Technical support
They all started from scratch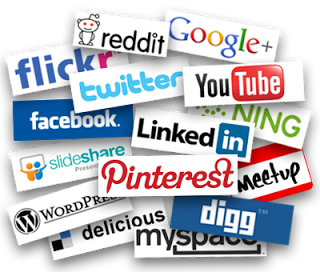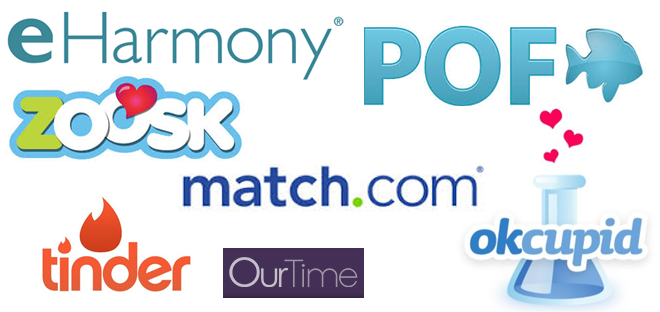 Be the first to know about news in the dating industry!
Several times a week, you'll learn about our latest features and hottest news