The Top Dating Apps in 2022 Reviewed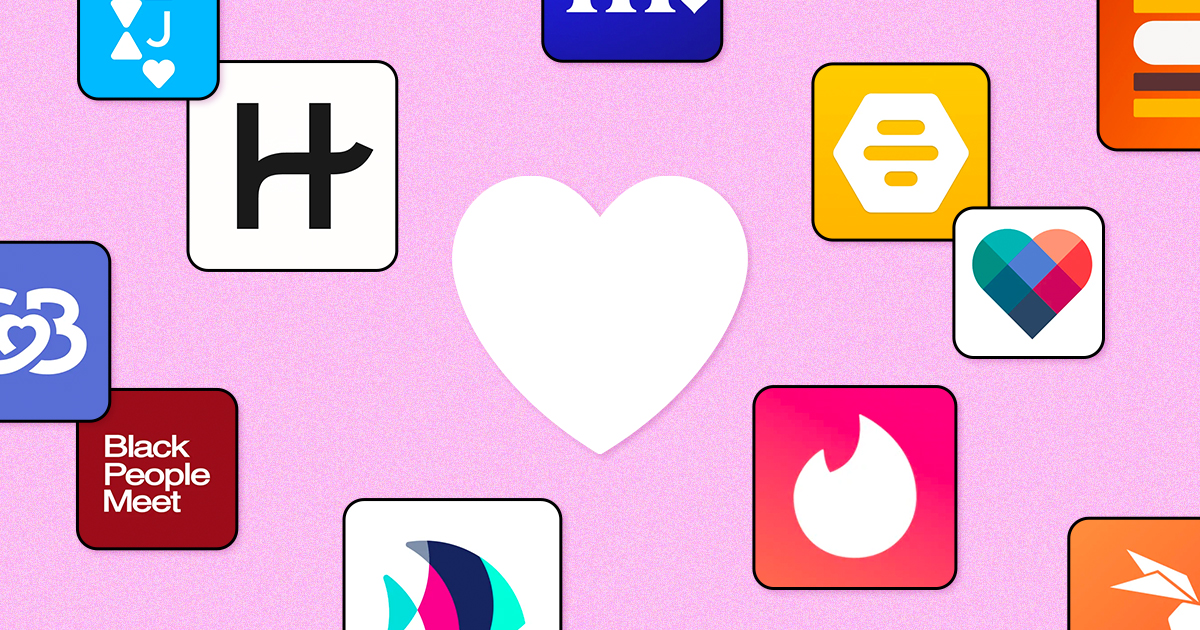 Want to know more about which dating app is best? We've put together reviews of the 15 best dating apps for 2022 for readers to explore.
1. eHarmony

eHarmony is our pick as the overall best dating app for 2022. It's consistently rated as the highest quality dating app in surveys among singles, and more than 2 million people have found their match on this dating platform. In addition, eHarmony offers something for everyone – it offers both straight and same-sex dating, plus support for non-traditional relationships.
eHarmony's secret is its scientific approach to dating, which generates more compatible matches than other dating services. Every user takes a compatibility quiz that's scored so they can find out exactly what they're looking for in a long-term partner. The app also includes personality profiles, giving users more insight into whether they'll be compatible before starting to chat with someone new.
This app makes it easy to connect with messaging, icebreaker games, and even video dating right in the app. Premium users can also set up filters based on geographic distance and personality profiles. The platform supports unlimited matches for all users and Premium users can even see who has liked them when considering their dating options.
eHarmony is free to use, but a Premium subscription unlocks the platform's best features. eHarmony Premium starts at $35.90 per month. Premium also includes access to eHarmony's excellent customer service and more protection features to stay safe while dating on the app.
Pros
Compatibility and personality quizzes
Icebreaker games and video dating
Filter based on geographic distance
Free version available
Cons
Only supports long-term relationships
Target Audience
Any age, long-term relationships
Price
2. Match
Match is one of the best dating apps for men and women we tried for finding long-term relationships and lasting love. The app is incredibly simple to use and users can set up a profile in minutes. The app focuses on in-depth questions like how many kids a user has, what their life goals and ambitions are, and what they're looking for in a partner. As Match suggests people to date in the app, users can view this same information about their prospective matches.
Match doesn't provide many details about its algorithm, but we found that it's quite good at serving up dates with a lot of potential. Once a user finds a match, Match enables messaging, icebreaker questions, and even video dating in the app.
The only slightly odd thing about the Match app is that it displays "Missed Connections," which show people who were in a user's area a little while ago but aren't any longer. That level of geographic specificity is a bit more than some users want, especially for those worried about privacy.
Match is free to get started with, but getting the most out of the app requires a paid subscription. In fact, messaging is strictly limited for free users, so it's hard to connect with a match without paying. Match premium subscriptions start at $19.99 per month for an annual plan.
Pros
Very easy to use
Deep questions answered on profile
Supports video dating
Focused on long-term relationships
Cons
Most messaging features require a subscription
Target Audience
Any age, long-term relationships
Price
3. SilverSingles
SilverSingles is a dating app designed specifically for men and women over 50. It's aimed at active singles in their middle and later years who are looking for a long-term partner.
The SilverSingles app starts out with a personality quiz and setting up a profile that tells others on the platform what a user is looking for. Based on that information, SilverSingles offers 3-7 potential matches per day until a user finds the person they're looking for.
What's great about SilverSingles is that the curated matches are very high quality. So, users don't have to waste a ton of time swiping through suggested matches that don't match their interests at all, as is often the case on other dating apps. It also helps that the potential pool of matches is limited to people over 50.
Users can message with matches, view unlimited photos, and more. However, SilverSingles doesn't support video messaging or in-app dating games at this time. On the bright side, that means there's more incentive to meet up with someone for a date in person, which can expedite the dating process.
SilverSingles has a free plan, but it doesn't allow for connections, messaging, or filters. A premium membership starts at $24.95 per month for an annual plan.
Pros
Designed for men and women over 50
Includes a personality test
3-7 curated matches per day
Unlimited photos and messaging
Cons
No video dating or in-app dating games
Target Audience
Price
4. OkCupid
OkCupid is one of the best free dating apps in 2022. After using a lot of other paid dating apps, it's refreshing how much of the content and features on OkCupid can be accessed without a subscription. Among other things, users can set up a profile, find matches, message them, and enable filters all without paying a cent for this dating app.
Another thing that sets OkCupid apart is that it offers in-depth profiles that collect a lot of data about what users are looking for. This data might seem like too much when a user is first creating a profile, but it pays off quickly in the quality of the suggested matches. We especially like that OkCupid displays a percentage score for each match, which gives immediate clues about whether a suggestion is likely to turn into a date.
Of course, the free platform does have a few minor drawbacks. OkCupid includes ads unless users sign up for a paid subscription that starts at $9.95 per month. The platform also doesn't offer video dating or many virtual dating games, so connections are mostly limited to messaging and sharing photos.
Pros
Most features are free to use
Excellent match quality
Percentage score for matches
Supports a wide range of gender identities
Cons
No video dating tools in the app
Target Audience
Any age, long-term relationships
Price
Free, premium from $9.95 per month
5. Seeking
Seeking is a dating app designed to connect highly attractive and highly successful people. The app provides access to something of an exclusive dating community that's more focused on hookups and short-term relationships than on setting up lasting relationships.
Seeking boasts a 4-to-1 ratio of women to men on the site, making it particularly good for successful straight men who are looking to date slightly out of their league. Overall, it's fun, serious about connecting like-minded people, and does a nice job of proposing matches.
The thing we like most about Seeking is how easy the app makes it to share photos and other multimedia. Users can send private photos back and forth, which isn't allowed in many other dating apps. In addition, Seeking users can record video messages and share them with a match just like any other message.
As readers might expect for an exclusive dating app, Seeking isn't cheap. Premium plans start at $70 per month.
Pros
Connects attractive and successful people
Share private photos and video messages
4-to-1 ratio of women to men
Focused on short-term relationships
Cons
Target Audience
Successful, wealthy, and attractive men and women
Price
6. Zoosk
Zoosk is a multifaceted dating app with something for everyone. It's a strong contender for the title of best dating app for 2022, especially for those looking for long-term relationships. It also supports short-term relationships, hookups, straight and same-sex dating, and a wide range of gender identity categories.
The app is very easy to use and enables users to simply swipe left or right on suggested matches. There are more than 35 million people around the world using Zoosk, so we found no shortage of suggested dates. Of course, the sheer volume of people also means that users have to do quite a bit of swiping to find the right person for them.
Zoosk has several unique features, particularly for virtual dating. Users can go on a virtual date anywhere in the world in the app, for example, or simply host a video date remotely.
Matching and messaging on Zoosk are free, but features like video dating, boosted profiles, and filters require a premium subscription. Paid plans start at just $11 per month, making Zoosk relatively affordable.
Pros
Over 35 million users
Supports long- and short-term relationships
Excellent virtual dating tools
Affordable premium subscription
Cons
Profiles aren't required to be fully filled out
Target Audience
20-40 year olds, long- and short-term relationships
Price
7. Adult Friend Finder
Adult Friend Finder is a dating site and social network for hookups and casual sex. It's designed to help adults find sexual partners in a low-stress, no strings attached environment. Adult Friend Finder supports a wide range of relationships, including straight, gay, and lesbian relationships. The app can also be used to find people interested in swinging or group sex, which isn't explictly support on most other dating apps.
Adult Friend Finder goes beyond simply helping people find in-person matches. The app features a nude cam mode, which is essentially video dating but with an emphasis on remote sexual interactions. It also offers a community forum and library of resources on erotica, sex dating advice, fetishes, swinging, alternative dating, and more.
Importantly, Adult Friend Finder takes security on the platform seriously. The app has a dedicated customer support team and doesn't tolerate sexual harrassment.
Users can try out Adult Friend Finder for free, but messaging with connections requires a paid subscription. Plans start at $19.95 per month.
Pros
Focused on sexual relationships
Supports all genders and relationship arrangements
Dedicated customer support team
Community forum and resource library
Cons
Requires a paid subscription for messaging
Target Audience
Any age/gender, casual sex
Price
8. Sugar Daddy Meet
Sugar Daddy Meet is an upscale dating app designed to help women meet wealthy men and men meet women who would normally be considered out of their league. The site has more than 6.5 million members, more than half of whom are women.
Sugar Daddy Meet makes it easy to set up a profile and start swiping on matches right away. There isn't much more to the algorithm than geographic location and age, so expect to spend some time swiping in order to get matches that meet a user's interest.
Interestingly, Sugar Daddy Meet puts a lot of emphasis on privacy. In fact, the app's service level agreement requires that any disputes between users be resolved by private arbitration rather than public litigation. This is great for privacy, but it does raise some red flags around how harassment is handled on Sugar Daddy Meet. Users can pair this app with the best VPN app for even greater privacy.
Despite serving as a luxury dating app, Sugar Daddy Meet is surprisingly inexpensive. The service starts at just $24 per month.
Pros
Higher ratio of women to men
More than 6.5 million users
Strong privacy features
Relatively inexpensive membership
Cons
Few protections for harassment on the app
Target Audience
Older wealthy men, young attractive women
Price
9. Age Match
Age Match is a unique dating app designed to help older men find younger women or older women find younger men. The majority of the users on the app are older men, making it a potentially good option for younger women in search of a sugar daddy.
In total, Age Match has more than 1 million users. The app has also been around since 2001, making it older than a lot of today's most popular dating apps.
Profiles on Age Match are relatively basic, but include public photos and a series of prompts to which users can insert details about who they are and what they're looking for. Users can filter potential matches by age and location, making it simple to find users in the right age bracket and area for in-person dates.
Age Match doesn't offer a lot of virtual dating features – there are no video dates and no in-app icebreakers. In addition, users must have a paid subscription in order to send messages, although it's possible to read messages other users send for free. Premium Age Match plans start at $15.99 per month.
Pros
Date across age gaps
More than 21 years in business
See messages for free
Filter matches by age
Cons
Relatively few users compared to other apps
Target Audience
Older men seeking younger women, older women seeking younger men
Price
10. Elite Singles
Elite Singles is a dating app designed to help intelligent and successful singles of all genders find their perfect match. It's primarily built to facilitate long-term relationships and uses algorithms to match users based on profile attributes that are likely to work well together. Unlike eHarmony and Match, Elite Singles doesn't incorporate personality profiles to help find matches.
What really makes Elite Singles stand out is the set of people on the app. More than 90% of Elite Singles members are over 30 and hold at least an undergraduate degree. So, this app is a great option for early career professionals in search of similarly driven partners.
Elite Singles also makes our list of the best dating apps for 2022 thanks to its customer service and privacy features. The app uses profile verification and fraud detection to eliminate spam profiles and reduce harassment, so users can feel safe when using Elite Singles.
Users must have a premium subscription in order to send messages on Elite Singles and to access the mobile app. Plans start at $31.95 per month when paid annually.
Pros
Caters to highly educated young professionals
Focused on long-term relationships
Strong privacy and security features
Detailed profiles
Cons
Expensive monthly subscription required to use mobile app
Target Audience
30-40 year old professionals
Price
11. Only Hookup
Only Hookup is a dating app designed for, as the name suggests, hookups and casual sex. The platform is designed to match people in the same area, as it doesn't have features for video meetups or casual relationship games. In addition, Only Hookup only supports straight relationships and doesn't support non-traditional relationships like swinging or group hookups.
Despite these limitations, there's a lot to like about Only Hookup. The app is easy to use and doesn't require a lot of information when setting up a profile. Only Hookup also does an excellent job of protecting users' privacy, which is particularly important when using a hookup-focused dating app.
Only Hookup has a customer support team available and can step in in case of harassment on the platform. New users can try out Only Hookup for free for 3 days, but then must purchase a paid plan that starts at $11.65 per month.
Pros
Designed for casual sex and hookups
Strong privacy protections
Highly available customer support
3-day trial
Cons
Only supports straight relationships
Target Audience
Price
12. Senior Match
Senior Match is a dating app made for anyone over 40. What's great about this app is that it supports dating among men and women who have long since passed retirement age – on Senior Match, individuals can seek partners up to age 99! The platform has more than 1 million members in all, including 6,000 daily active members.
Senior Match is about more than dating, too. The platform offers support for non-romantic relationships, including users seeking travel partners, activity partners, or simply companions. Users can specify what type of relationship they're looking for in their profile, although Senior Match doesn't make it easy to filter based on this.
One thing to note about Senior Match is that the app is intentionally simple to use. It doesn't have a lot of bells and whistles, making it more user-friendly for seniors who aren't tech-savvy. The app could easily be replicated using the best app builder. However, this can be a drawback for users in search of video dating, swiping, or other more advanced features.
Many of the features on Senior Match are available for free, including messaging. For users who want access to all profile elements and more filters, the app offers premium plans starting at $15.95 per month.
Pros
Find partners up to age 99
Supports non-romantic relationships
Simplified app design
Most features are free
Cons
Doesn't offer swiping or video dating tools
Target Audience
Price
13. Tinder
Tinder is one of the most popular dating apps in the world today, with more than 10.7 million subscribers and over 75 million active monthly users. For anyone who wants the widest pool of potential matches, it's simply hard to beat Tinder.
Tinder offers a lot of flexibility to create a custom profile that stands out from the pack. Users can swipe left or right on each other to activate matches, and premium subscribers can stand out with super likes and boosts.
This dating app also stands out for its annual Swipe Night event, which takes place each November. It's an interactive way to join in a virtual adventure and start conversations with other users who make the same choices. As far as conversation starters go, few dating apps are able to match Tinder's Swipe Night.
Tinder is free to use, but free users only get a limited number of matches and cannot set filters other than age and location. Pricing starts at just $1.67 per month, or $3.33 per month for users over 30. This is the only app we've seen that charges different prices based on a user's age.
Pros
More than 75 million monthly users
Annual Swipe Night virtual event
Inexpensive premium plans
Tons of features for starting conversations
Cons
Limited matches with a free plan
Target Audience
Price
Free for limited matches, premium from $1.67 per month
14. Hinge
Hinge is one of the best dating apps for 2022 for users who want to dive into conversation before meeting someone in real life. The app stands out for its fun profile prompts and photo captions, which offer more conversation topics than the profiles on other dating apps. In addition, Hinge enables users to add voice memos and short videos to their profiles.
Another nice thing about Hinge is that it surfaces matches that stand out to help users go on more dates. The app offers a new recommended match every 24 hours, and there's always a carousel of recommended people to meet in addition to the standard feed.
The vast majority of features on this dating app are free to use. In fact, it's easy to forget that Hinge monetizes at all. Users can upgrade to a premium subscription from $14.99 per month to be able to access their past matches and in-app phone and video chat features.
Pros
Excellent profile prompts and captions
Supports video and voice recordings
New recommended matches every day
Most features are free
Cons
Target Audience
Price
Free, premium from $14.99 per month
15. Bumble – Best Dating App for Women
Bumble is the best dating app for 2022 for women because it gives women far more power than most other dating apps. In most dating apps, either person in a match can start the conversation. But on Bumble, in straight relationships it's up to the woman to initiate a conversation – men don't have the option to send a message first. According to Bumble, this makes the platform much safer for women and keeps the platform free of harassment.
Bumble has a lot of other features to like, including icebreakers, virtual dating games, and video dating. Users can swipe to accept or reject potential matches, and the app even offers an undo option in case a user wants to reconsider a match. Bumble also allows premium subscribers to see who's liked them before making a match decision.
Users can take advantage of Bumble for free and get unlimited matches and messaging. Advanced filters and other premium features start at $1.99 per month, making this dating app fairly inexpensive.
Pros
Women must initiate messaging
Option to undo a swipe
Free for unlimited matches and messaging
Includes icebreakers and video dating
Cons
Lots of nudges to upgrade to a paid plan
Target Audience
Price
Free, premium from $1.99 per month