Dating Site Reviewed by Experts, Episode Six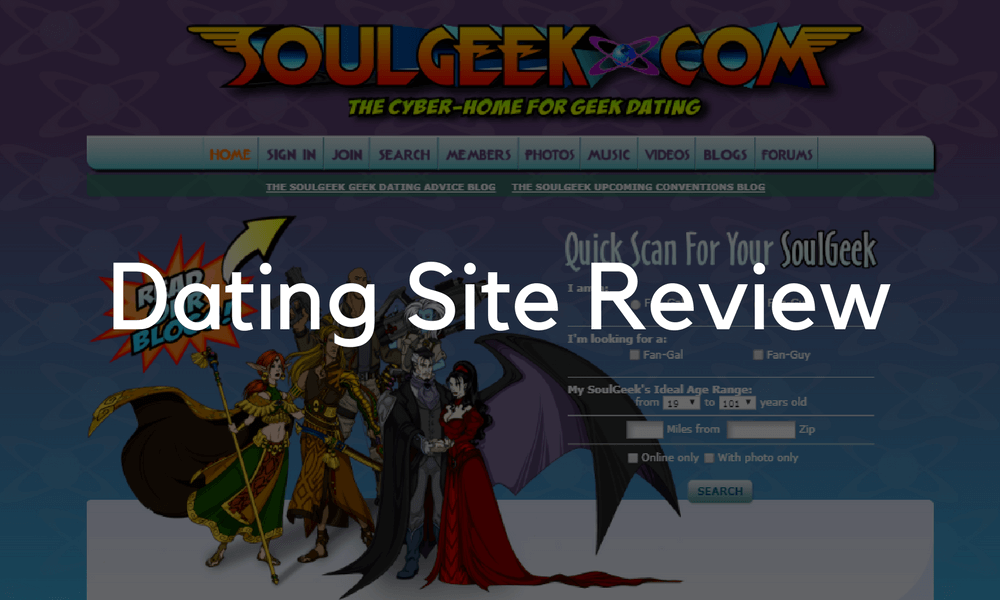 In the new episode of our series, we'll be taking a look at the website called SoulGeek.com. It is a very specifically niched dating site, and the video is also quite personal. Watch the video on our YouTube channel, or keep reading this post. This is the link to the fifth website review in our series.
Since we often deal with requests to create niche sites, we'll not be reviewing the SG site in terms of design, or usability, or search engine optimisation today, but will instead focus on the actual adjustment to the chosen niche.
Aesthetic enthusiasts might think that the design here is overly simple, and generally, we would agree with them. But the thing is that functionality-wise and efficiency-wise, the site hits and scores like Babe Ruth.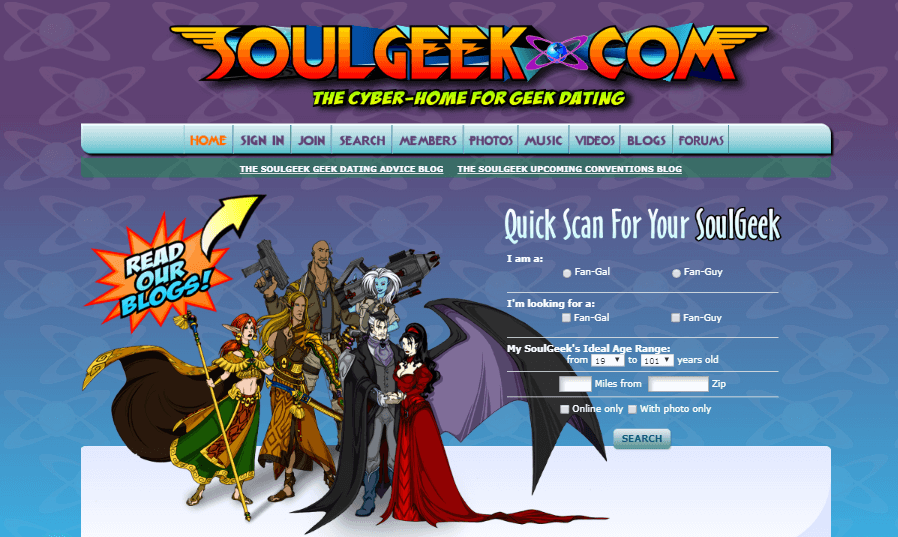 What we see on the main page is pretty standard. There is the logo, the picture illustrating the site's main theme (and what a nice illustration that is: you can see different characters from different universes). There is a quick search, a very short description of what this dating site is about, along with some ads and success stories.
What we really like here is user representation. For example, in the Featured Soulgeeks section, the site doesn't reduce people to just their pictures and location and age. When you see a profile, you get to read a piece of text that they write about themselves. So instead of just a number of variables, you can feel the real connection to a person. You can see whether or not it's your type of person, and you can view more in his or her profile: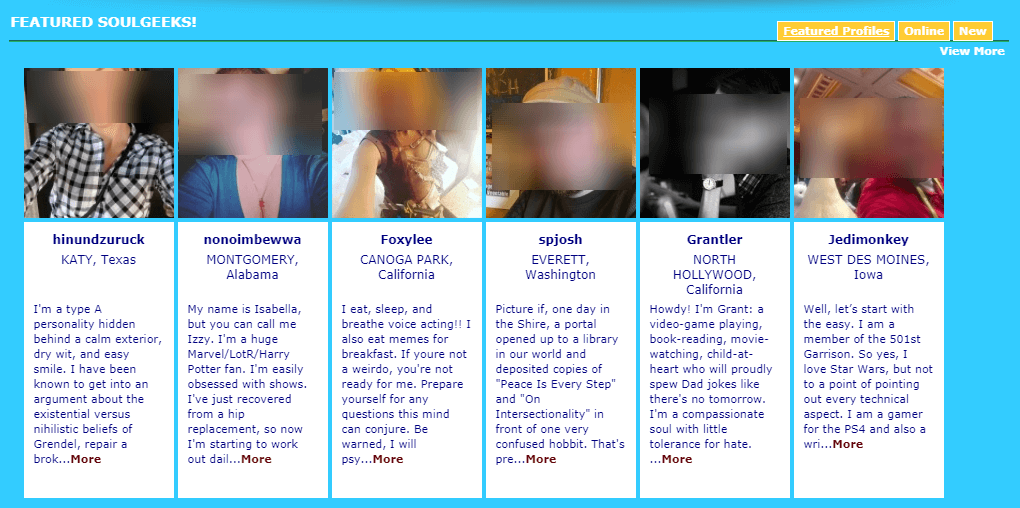 The profiles here are really extensive. It's actually one of the best instruments you can use to adjust a site to a niche — by modifying the user profile. Let's visit the Join page. It's a two-step registration, and you are expected to fill out a lot of information. Some of these questions are typical, like nickname, email, and password, so that's pretty standard. At the same time, the site owners did a great job of adding some of the themed information, into the registration process. Example: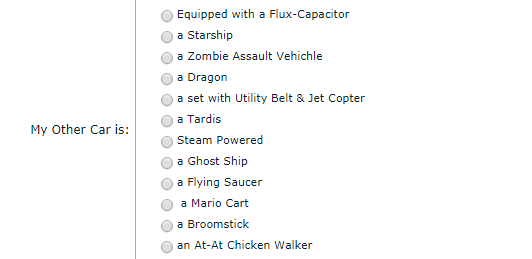 Naturally, people want to talk about the theme they are joining. You can't create a website for pet lovers and then not give them an option to talk about their pets. The SoulGeek website gives a vast opportunity to talk about what you're in for. Let's mention some of the fields that are essential here. Even the standard questions have some of the theme-related pre-set answers. This resonated pretty well with Anna, our project manager and self-confessed geek.
The user types are changed from man and woman to fan guy and fan gal:

In the Specs section, you can choose Mithril Underpants, along with Glasses and Long Hair, as a shoutout to the Lord of the Rings fandom, or Two Hearts, as a shoutout to your Doctor Who 'fandomness':

You can choose an Evil Garden Gnome as your pet, or you can choose Arch-Villainy as your occupation, and in the Religion section you can choose The Force to be your religion, and you can join the Jedi. That's all very humorous, very light-hearted, which makes it such a nice experience.
Later on, in step 2 of the registration, along with the Nutshell info, you are expected to write down a couple of paragraphs describing yourself, your ideal geek friend, and possibly the reasons why you love the 'geekdom' as they call it.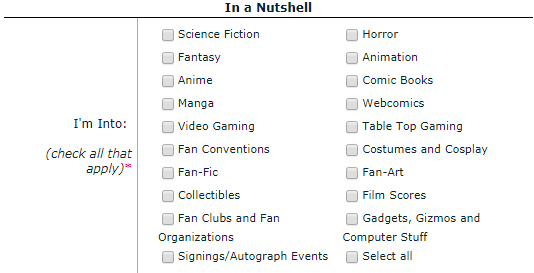 Once we're through with the registration, it's time to explore the workings of the site.
Another big part of creating a themed site is to give your members a way to be active rather than just to click through the profiles. A lot of dating sites don't have this opportunity but if they are general in theme and they don't lack target audience, it's hardly an issue. For the niche sites, you want to give people a place where they'll be spending time. Especially in this case, as different fandoms usually attract a very creative lot.

In terms of activity, there is a bit for everyone. The site members who are writers can publish their works in Blogs. Gamers, programmers, etc. can embed YouTube videos. These can contain play-through instructions, gameplay reviews, announcements of their own games.
For cosplayers, or costume players — these are people who take great interest in bringing a famous book, game or film character to life, in details, — there is an opportunity to boast the fruits of their work in Photos, Music, and Videos sections.
There is also Forums section for basically everyone so if you don't feel like you want to hit the visual content, you can just go here and chat with someone.
All in all, it's pretty clear that the site has become not only a dating site or a social site but it also hugely influences the lives of its members by being a place where they can show their achievements to like-minded people. Where they can be praised for what they can do, and quite possibly, where they can simply be themselves without having to explain some terms like cosplaying or RPG to anyone they're talking to. It's one of the most attractive things about a niche site.
Generally, if you're interested in anything at all, then you're pretty good to go and create a niche dating site for that.
Earlier, we wrote about a niche dating site for programmers. It's a recap of what the founders did right and what they did wrong, so you might find this information insightful.
Other than that, just let us know whether or not you're interested in getting to learn more about how to create this type of sites or that type of sites, and we'll try and join our forces to give you the needed information. Also, if you want us to review other specially themed sites, you are welcome to hit the comments section below and let us know!