Dating Site Reviewed by Experts, Episode Three
9
minutes to read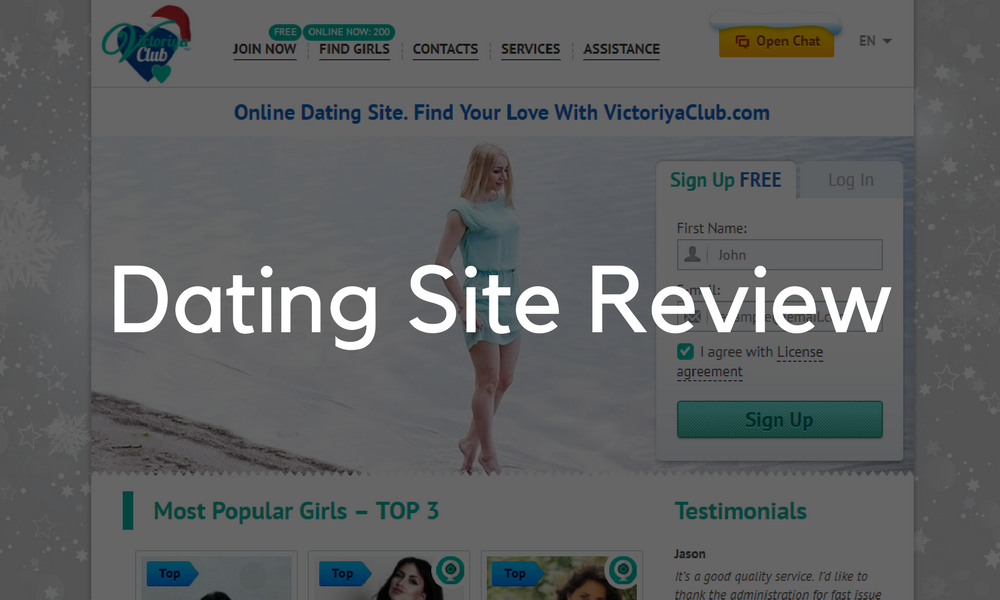 If you've seen our previous video, you know we've been talking about the website called VictoriyaClub.com. You will find the first part of our review of this website in this blog post.We were asked by many to address the SEO questions more closely because so far we only touched upon them lightly.
Today we shall go back to this website, look through different aspects of search engine optimization used here, see what was done well, what needs improvement, and generally just share some useful information with you to help you boost your site's popularity. Watch our new video or keep reading.
Domain name
Let's start with is the domain name of the site. Although having a brand new domain name does sound nice, it's actually more efficient to have a domain of a certain age. Older domain names have more weight in the search results, and that can influence your position in the search. Search robots tend to give preference to well-established domain names that have been in their database for years.
When competing with newer domains, e.g. by the same keywords, it increases your chances of being clicked on and of attracting new visitors.
We see that the 'victoriyaclub.com' domain was registered in 2013 which adds to its popularity that we discussed in our previous video. Although the footer of the website states that it has been online since 2008, they probably moved their business to a new domain name at some point.

Some of the major domain registrars like GoDaddy offer domain name auctions. There, you can find a domain name that will match your idea. You will also be able to see the age of the domains. This might help you get better results from the beginning.

Robots.txt file
Back to the SEO audit.
The way it works is that your site pages are fed to the search engine robots. The robots inspect every page of your website, collect information, and are able to pull your website up in search when someone's searching for something that you offer.
A good rule of thumb is to close system pages, like control panel pages from being indexed. We are using Yandex Webmaster tools to check the robots.txt file but you can use other tools like TechnicalSEO.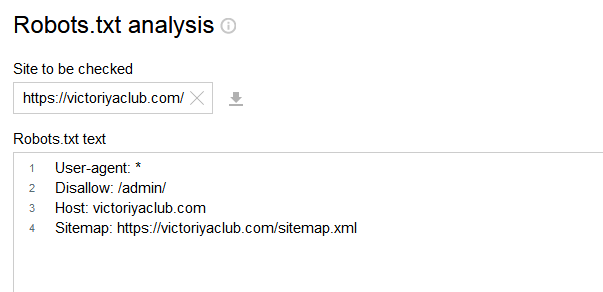 Disallow: /admin/ means that the administration pages are closed from indexation which means that links leading to the control panel will not come up in the search. It's good for security reasons but some site owners still forget to do that.
SEO-friendly URLs
Another good thing to think about is the friendliness of your site's URLs. We've checked the Victoriya Club website with the PrePost SEO service. It says that most URLs are friendly with the exception of the profile links.

This is because the website uses both nicknames, user id, and age to create a unique URL. The problem with that is that some of this information is not static. People will grow older each year, or they may wish to edit their nicknames.
Any changes in the URL might affect the page's rank. It is advisable to use static URLs for important pages.
Of course, PrePost SEO is an automatic tool that may not take into account certain aspects of your site like pop-up windows that open when you click a button and may give you an error when there is none.
Still, you get a general idea of where to go.
Duplicate content
Another thing we'd like to draw your attention to — and that's a major issue for the VC site — is the duplication of the content.
Duplicate content is never ok because it creates a non-necessary mess of links leading to one and the same page.
Why is it not ok? The search robots will find multiple pieces of similar content on a site and may find it hard to decide which version is more relevant to a given search query. They will only pick one of the pages to show up in search results which means that the rest of the pages with duplicate content may never become visible.
On the VC website, some of the links to pages with identical content redirect to a single page, which is ok, but for other pages, several versions exist simultaneously.
Let's take a closer look at that.VC site has two blogs, one for English-speaking viewers and another for Russian viewers.
The catalog https://victoriyaclub.com/pro-online-znakomstva/ gives you a redirection to its English version https://victoriyaclub.com/about-online-dating/. That is the right thing to do because it helps decrease the number of duplicated entries. But some links like https://victoriyaclub.com/about-online-dating/dating-russian-ladies and https://victoriyaclub.com/pro-online-znakomstva/dating-russian-ladies exist simultaneously, there is no redirection which leads to duplicate content: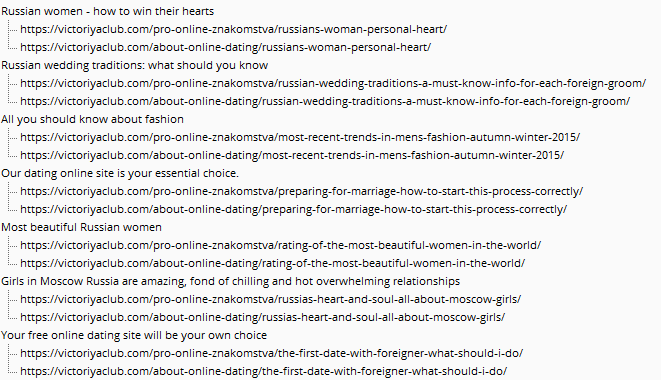 Another issue is that they don't check the availability of the content on a page. For example, this https://victoriyaclub.com/pro-online-znakomstva/dating-russian-ladies/qweqweqwe appears to be an existing page with a nonsense URL.
It shows the content from the page we were on previously. That also helps to spread the duplicate content. It's basically collecting rubbish on your site, beware of duplicate pages.
Title and description
Both page titles and descriptions have certain standards and both influence your position in search results and your attractiveness to the visitors. The title is the text that you see in the browser tab:

For a lot of pages on the VC site, this text exceeds the recommended length of 70 symbols.
The issue mostly applies to the profile pages. Just as with the URLs, VC uses different parameters to form the title tag: ID, name, location, age, hair color, eye color, but omits keywords.


ID 42 – Olechka Sexy Russian Women from Nikolaev (Ukraine), 26 years old, brunette, blue eyesID 38434 – Angelina Black-Pearl from Nikolaev (Ukraine), 26 years old, brunette, green eyes
Meta descriptions are missing for some pages, including the main page:

Unique description tags are recommended for every site page open to visitors. The tag length should be within 70-160 symbols. A meta description is used in the snippets and affects the click-through rate along with the position in search results.
Right now, the description tags are created automatically for most pages on the VC website. For profiles that are not complete, attributes names are used without values:

Headers
While the VC site does use headers, it does not use them for the original purpose of including the keywords by which the website is promoted.
The H3 titles like 'Real stories of single girls' or 'New Single Girls' are rather used as stylistic means to structure the information visually, not as logical markup to promote the keywords. The site owners miss out on the potential that the proper use of titles can give them.

We asked ourselves a question: How does the site attract its audience if it does not use the keywords where they are supposed to be used? The answer to the question turned out to be a bit unexpected. We found out that the website randomly assigns a keyword or a key phrase to promote pictures.
Alt attributes
If we look into the HTML code of a profile page, a script appears to assign different keywords, by which the website is promoted, to random photos on the website. What it does, ultimately, is that it helps these pictures to be placed higher in search when you're searching for pictures.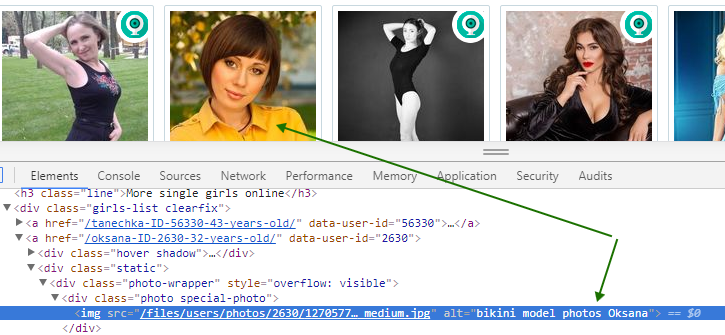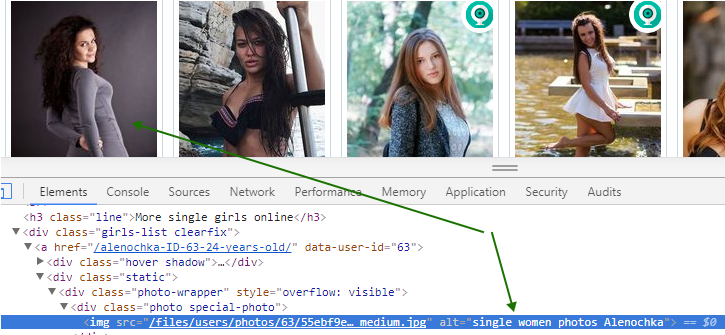 It's no wonder that the VC profiles are easily found on Pinterest, the 'visual discovery engine'.
The site owners seem to be ok with that, so this may be the go-to place for their target audience? Again, we see more potential here in terms of SEO and promotion. We do hope you now have questions about how to promote your dating site because that's something we can help you with.
If you're interested to learn how you can improve your search position, or how to deal with search engine optimization in general,
feel free to contact us in the live chat.
Be the first to know about news in the dating industry!
Several times a week, you'll learn about our latest features and hottest news