Future Of Dating Services Or How I Tested Tinder And Outdoor Speed Dating
This is a translated version of the article "Будущее дейтинг-сервисов или тест Tinder и быстрых знакомств на улице" by Vladimir Makhov.
"When I thought about the dating service in whole, I decided to test the dating in all its manifestations: virtual (using one of the most popular applications) and real (sign up for a speed-dating evening and approach the girls on the street). All this was necessary in order to learn in practice how the dating process is arranged, to plunge into its essence. It was important to understand what problems exist.
To compare the quality of dating, I derived four important criteria by which you can evaluate any dating process: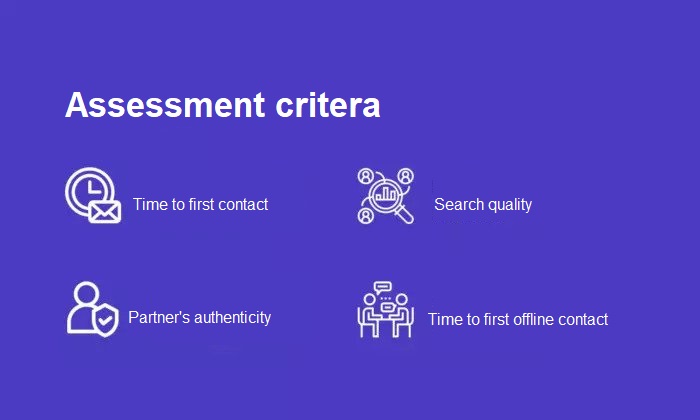 Time to first contact — the time during which you can begin to communicate with the other person by correspondence or in another way.
Search quality — the object of search should be chosen according to the necessary parameters: be approximately the same age, status, opposite sex, live near, have similar interests.
Partner's authenticity — when you communicate with someone, you must be sure that this is not a bot or the person does not impersonate another.
Time to first offline contact — I think, is the most important parameter, because only after meeting offline it becomes clear whether a person is suitable for you or not. I consider communication to be real, both verbally and non-verbally, that is, a real meeting or video chat (for dating at a distance) falls under this category. And only after a few minutes of such communication, it becomes clear, if this person is your soulmate or not.
All these parameters are important, and I evaluated each dating method utilizing them.
Dating apps
After downloading a dozen of popular applications, I chose Tinder, one of the most used services for dating. After a few hours of swipes, I managed to find a dozen matches, start a correspondence and schedule a date. If judged by our criteria, then.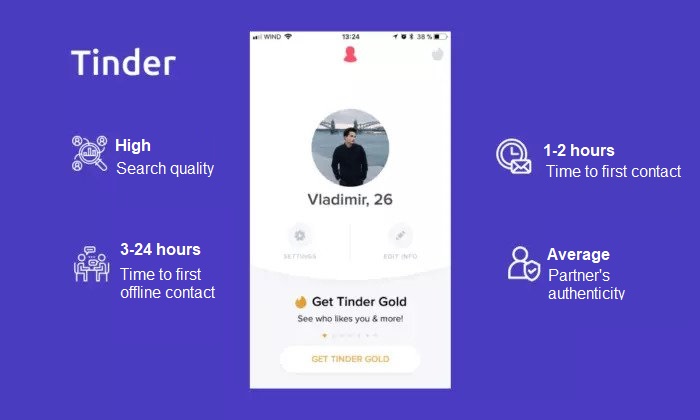 Time to first contact: I got one to two hours from registration to the beginning of personal correspondence. Moreover, several dialogues didn't proceed properly, the girls simply ignored them. I had to continue the search.
Search quality: high. Since the service has a large amount of data about users, the selection of a partner for communication is very effective.
Partner's authenticity: average, because you can not be sure that the person is using his or her real photos. The most innocuous thing is tons of photoshop. During the offline meetings, it turned out that not all girls looked the same as on photos.
Time to first offline contact: three hours to several days. Depending on the skill of correspondence. I managed to arrange a meeting in three hours, maybe someone would have a better result.
In total, I had three meetings, each of which can be assessed as average. But it is important that in these cases every girl did not meet the expectations: the photos were much better than reality; in correspondence, she seemed an interesting interlocutor, but in fact, sat silently at dinner or was inadequate at all. It turns out that in order to find the right person, one will have to spend a lot of time on swi[ing, correspondence and then on offline meetings.
Speed dating evening
The second stage of my experiment was speed dating. If someone does not know, it's when you come to events and take turns communicating for a certain time with the opposite sex. It was already more interesting because in a short time it was possible to talk with a large number of girls and immediately understand the person (I believe that the opinion about a person is formed in the first five minutes of communication).
Such communication turned out to be a very cool idea, but the strong age variation and various kind of participants (strange people go to such events) did not lead to anything good. To be specific: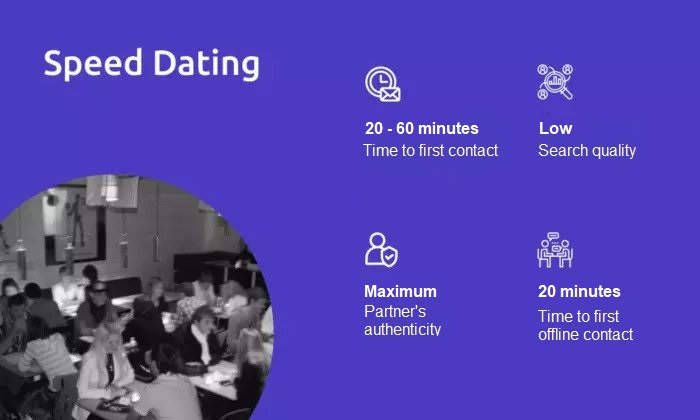 Time to first contact: 5-20 minutes from the presentation to the beginning of personal communication. Plus, on the way to the venue from 15 minutes to 40 minutes. Total: 20 minutes – 1 hour.
Search quality: extremely low, as in my case, the people at the event were with a fairly large variation in age and very different interests.
Partner's authenticity: this is real communication. It becomes, immediately. clear whether you like a person or not. Whether your views are similar or not.
Time to first offline contact: Equals to the first criterion and ranges from 20 to 1 hour.
Dating in the street
It was the most difficult of all. Approaching someone and starting a conversation is probably not an occupation for me, but this led to interesting conclusions. For example, on the street, we see a huge amount of audience and it would be cool to have a filter and "highlight" those I need: girls, without guys, your age, living in the same city. In short, there was not enough filter. It is important that it was still winter, it was cold and not everyone wanted to communicate. It turns out that this method of dating has seasonality: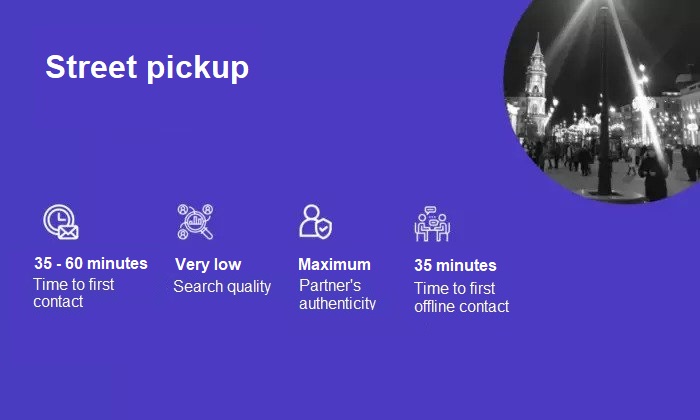 Time to first contact: There is a feeling that you can stand for an hour or two on the street to see someone to try to strike a conversation with. I managed to talk to several girls within 1 hour. The first contact occurred after 20 minutes, plus the standard time we set to get to the place: 15 to 40 minutes.
Search quality: Very low, because parameters and interests of a person are obviously unknown, it is difficult to determine age and marital status.
Partner's authenticity: Maximum reality.
Time to first offline contact: 35 minutes in my case.
Conclusion
Now let's collect all this data in a table and analyze it. The sample may not be complete, because there are other ways of dating, but for me, it is sufficient to draw conclusions.
The strengths and weaknesses of each method become apparent.
In Tinder, you need 1-2 hours before the first contact, same in other applications, and after the start of the dialogue, it takes some time to meet with the person, and the person may not be interesting or not fit the photos.
When speed dating you get real communication right away, but the quality suffers because the sample pool is too small.
The same can be said about getting acquainted on the street, only worse, because talking on speed dating you are sure that the person is interested in getting to know each other, but coming up on the street you can catch the negative.
If to unite in a table, the following can be seen: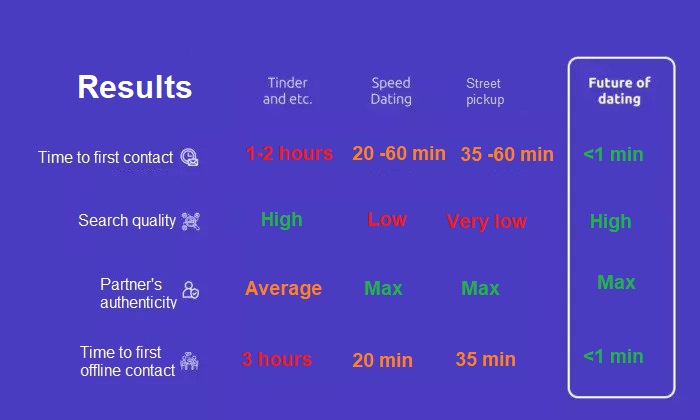 Future of dating
Each method had its flaws and weaknesses. These are the weak points that should improve the dating in the future. Therefore, I made a separate column in the table Future of dating – what should be the dating of the future: the time to first contact should be reduced as much as possible, before pressing a single button and quickly finding a partner. Search quality must be high and take into account a huge number of parameters, such as age, location, interests, social weight (usually the number of subscribers), etc. You should know that you have a real person, and not waste time on meaningless correspondence. The time to first offline contact communication should be reduced as much as possible as well.
After analyzing everything for me, there is an obvious hybrid solution that combines real acquaintances and technology, as in Tinder.
Video dating is a solution and, in my opinion, it should be the next step for modern methods. This type of dating is like a chat box and has a similar working mechanism: you press a button and immediately connect to a person with the most similar parameters to you, the search accuracy is maximum.
The video call should have a certain time limit, as in speed dating. If a person does not press like, you can immediately go to the next. If sympathy is mutual, then you can get each other's data and talk any amount of time. I described the method of work: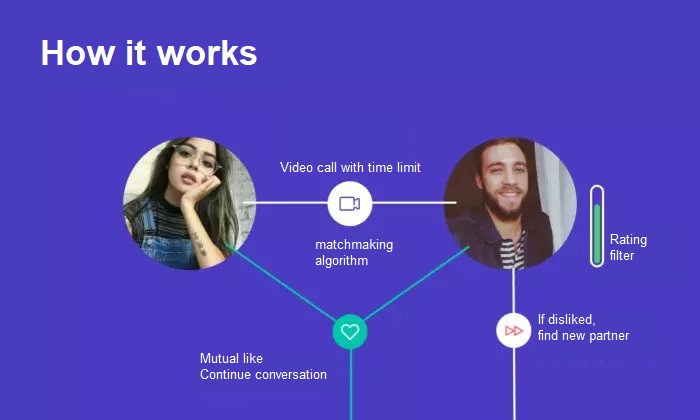 I think that this method of dating will be avaialble in the near future. Because the qualitative improvements of all criteria are obvious, and new products and competitive advantages are built on the improvement."
– Vladimir Makhov