GDI New York 2024 – Invitation for Speaker Proposals
2
minutes to read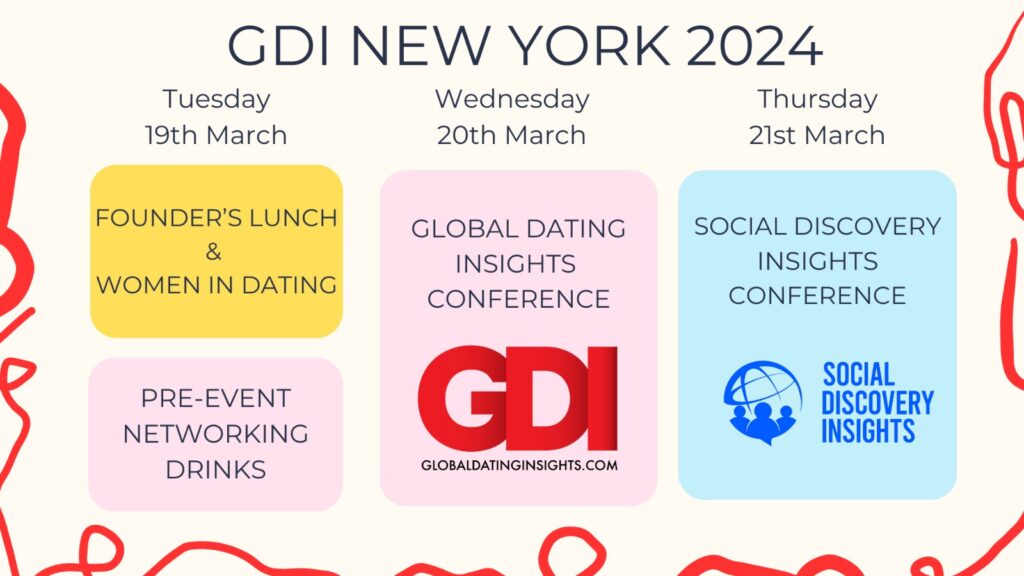 Would you like to be a speaker at our upcoming conference in New York on March 20th, 2024? Read on to discover how to participate in this premier event for the online dating sector.
Global Dating Insights is thrilled to arrange various panel debates for our New York 2024 conference, offering a platform for online dating experts to impart their knowledge to peers in the industry.
We are currently seeking speaker applications from professionals eager to contribute to these panel discussions.
Here's what you need to know to apply:
Event Information
Date & Time: March 20, 2024, from 10am to 4pm.
Our goal is for each panel to last 30 minutes, including a 20-minute structured talk followed by a 10-minute audience Q&A.
These are the subjects we intend to explore:
Strategies for Attracting & Maintaining Dating App Users: This session will delve into successful marketing and user acquisition tactics and how dating services can maintain user engagement.
Securing Funding for Online Dating Ventures: Ideal for speakers who have successfully secured investment for their dating platform and are willing to offer advice to others seeking financial backing.
Cultivating Niche Single Communities: As creating a dating platform becomes more about building communities, we seek speakers who are nurturing, safeguarding, and empowering unique groups of singles. We also welcome speakers interested in addressing topics not listed here.
Note: A separate call for speakers for the Social Discovery conference will be announced later.
Application Process
To apply as a speaker, email editorial@globaldatinginsights.com with your reasons for being an ideal candidate for these discussions.
For more details about the event, please visit the conference page.
Be the first to know about news in the dating industry!
Several times a week, you'll learn about our latest features and hottest news