Dating app Hatched brings its hidden profile concept to the East Coast, launches new paid features
6
minutes to read
Hatched is trying to differentiate itself from other dating apps with its unique gamified user experience involving egg-themed profiles and personality-driven questions. The introduction of in-app currency ("Yolks") and premium features like "super hatching" adds another layer to the user experience.
Expanding to the East Coast, including states like Virginia, Maryland, New York, New Jersey, Boston, and Pennsylvania, is a significant step for the app, following its earlier expansion to states in the South like Florida, Tennessee, South Carolina, North Carolina, Kentucky, and Mississippi. It will be interesting to see how users in these regions respond to the app's distinctive approach to online dating.
If you have any specific questions about Hatched or would like more information on a particular aspect of the app, feel free to ask!
The concept of blind dating is not a new one, and established dating apps like Tinder and Bumble have already embraced it. However, Hatched takes a unique approach by providing questions that aim to uncover character similarities, potentially leading to deeper connections between users.
Hatched's CEO and co-founder, Mitch Alterman, highlights the idea that studies have shown that the more similar you are to your potential soulmate, the greater the potential for a successful relationship. This suggests that Hatched is not just focusing on superficial attractions but aiming to foster more meaningful connections based on shared values and characteristics.
This approach to online dating could offer a refreshing alternative for those looking for more meaningful and compatible connections in the world of digital dating.

Hatched employs a unique interaction method for matches. When you select a match, the app presents a question with two answer choices. If you and your match choose the same option, the app reveals 25% of the person's selfie, starting from the bottom, and the egg "cracks" open one layer.
The visual feedback of the egg shaking and opening adds a playful and suspenseful element to the interaction. If you both answer differently, the egg flashes red, indicating a potential lack of compatibility. However, there's an "Egg On" option that allows you to try again by answering a new question, but both you and the other person must select "Egg On" to continue.
Moreover, as you continue to match and answer questions similarly, more parts of their profile, such as age, bio, hobbies, occupation, prompts, and "adjeggtives" or adjectives, are gradually unveiled. This method encourages users to find compatibility through shared values and preferences by requiring four matching responses to complete the profile.
Hatched's approach adds an element of gamification and intrigue to the dating experience, making it different from traditional dating apps that rely solely on profile pictures and text descriptions. It fosters engagement and potentially leads to more meaningful connections based on shared interests and values.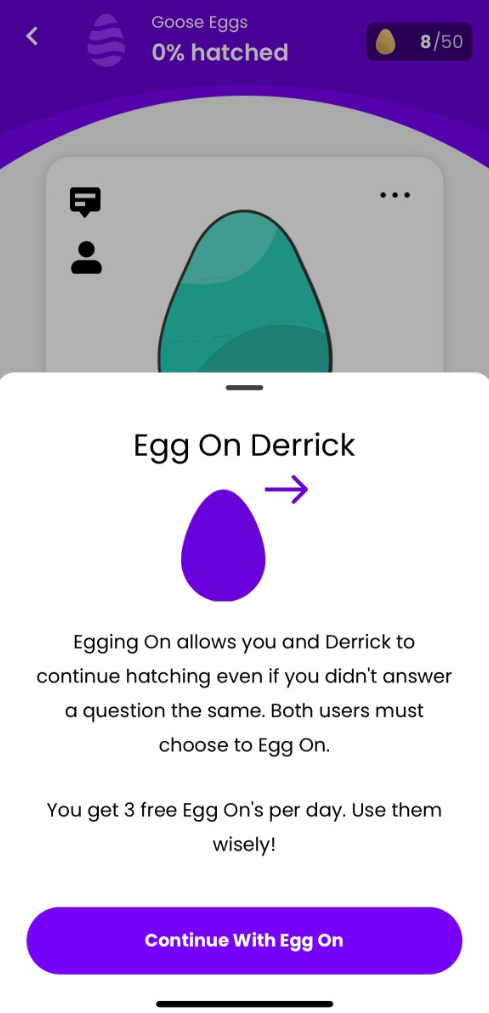 Hatched's unique approach to dating involves using a database of 500 questions developed by a team of therapists. These questions delve into core values, interests, and character traits, allowing users to discover compatibility on a deeper level. Examples of questions include ones like "Do you believe in the phrase, 'once a cheater, always a cheater'?" or "Would you consider yourself good at keeping up with friends?"
CEO Mitch Alterman mentioned that the question database is regularly updated to keep the user experience fresh and relevant. This includes the potential addition of questions related to current events and what's happening in the world.
Matches are organized in your "Egg Carton," and their progress is tracked based on the hatching process:
"Goose Eggs" represent potential matches who haven't answered the first question yet (0%).
"Poached Eggs" are profiles that are 25% unlocked.
"Sunny Side Up" indicates profiles that are 50% unlocked.
"Hard-Boiled" signifies profiles that are 75% unlocked.
"Fully Hatched" means profiles that are 100% unlocked.
One limitation of Hatched is that it provides users with only six daily matches. However, the introduction of the new "Yolks" feature allows users to purchase additional matches. Pricing for Yolks bundles ranges from $0.99 for 100 Yolks to $19.99 for 5,000 Yolks.
Additionally, you can use Yolks for various actions within the app:
Spending 500 Yolks allows you to "Super Hatch" someone, which is similar to the super-like features in other dating apps.
50 Yolks can be used to "Egg On" a potential match, allowing you to answer a new question.
25 Yolks can be used to "Nudge" a person who hasn't responded to a question, sending them a push notification.
Hatched's use of Yolks as an in-app currency provides users with more options for engagement and interaction while using the app, adding a layer of customization to the dating experience.
Be the first to know about news in the dating industry!
Several times a week, you'll learn about our latest features and hottest news