Dating Report 2021: Love in modern age
6
minutes to read

Accepting a newly developed method of human interaction
It's not a secret that the most popular social networking platforms today are dating applications specially designed to search for friendships and establish love affairs. Users of different age groups, races, and sexual identities visit these sites every day.
We studied more than 18,000 questionnaires completed by male and female responders from 27 countries and found that 84% of them are now engaged in the activities on these platforms or practiced them previously.
Also, 44% of people who use these social networking sites understand the need for utilizing this software to get positive results in their intimacies.
This approach has led to a considerable transformation of existing culture worldwide. And there are no chances for reduction of its speed.
54% agreed that these apps made dating easier and that they enjoyed using them, with 64% saying the suggested matches were good.
54% of users state that these sites simplify the process of finding a partner and love utilizing them, while 64% accept the proposed variants as the most appropriate ones.
Overview of the way males and females utilize dating software in 2021
Today the majority of users do not only employ dating sites for finding their partners. The primary cause of their intention to visit these platforms is human interaction (48%). About 33% of them agree that making friendship on these sites is essential for them.
Statistical data shows that 64% of searchers are happy to become acquainted with new fellows. And 70% of users who visit these websites to strike up a friendship share similar feelings.
Amazingly, 8% of males and females from all over the world employ these tools to gain employment and social interaction with 66% of users stating that they've achieved success in this field.
Although it's meaningless this approach is rather popular in some locations, including the UAE (19%), India (15%), Indonesia (21%), Egypt (18%), and China (23%).
Have you had a good run for attaining these goals on dating platforms?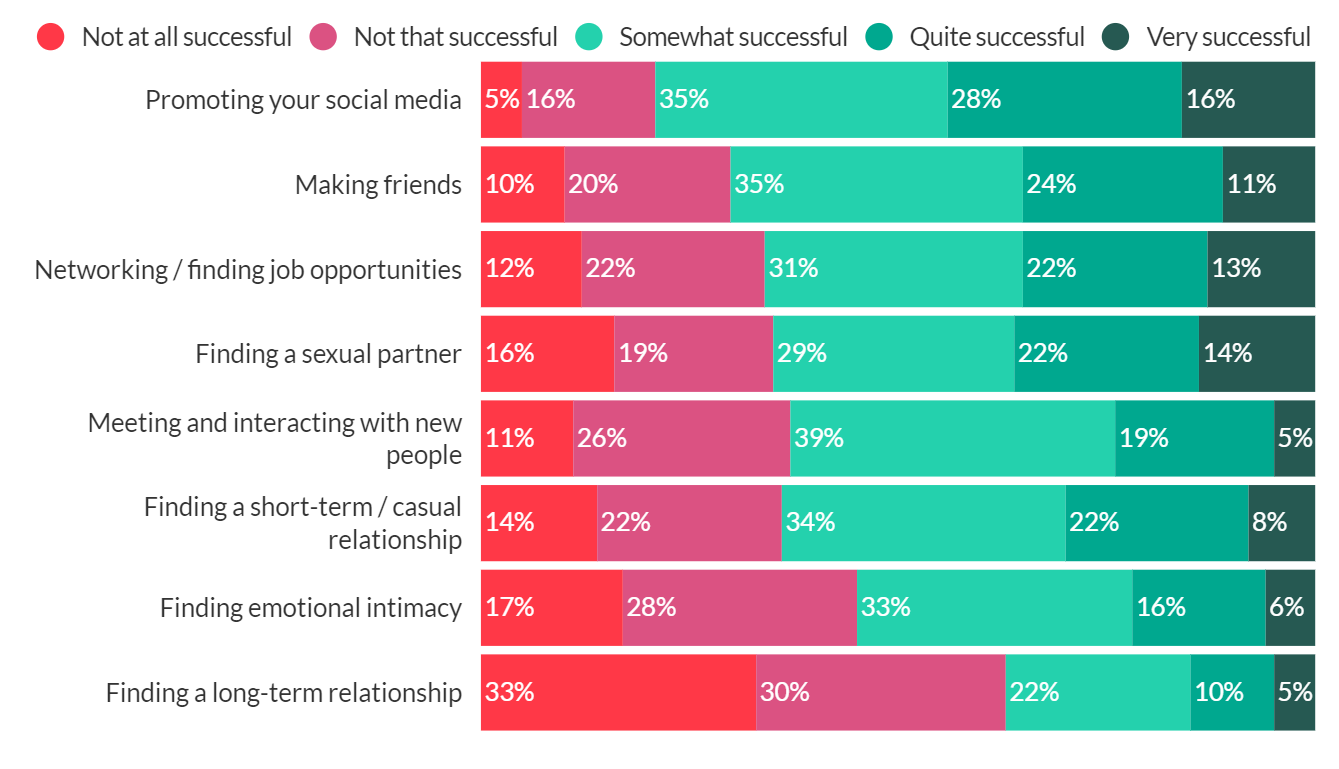 Dating platforms are not used merely to establish friendly relations
Over 1/3 of male and female users are searching for a meaningful type of human relations.
Actually, besides striking up an acquaintance, another major cause for utilizing dating tools is to find a sustained partnership (41%). But, merely 37% of these users agreed that their efforts were crowned with success. Hence, it remains a challenging task for the majority of users to gain their point.
At the same time, of the 24% of people who were intended to get positive outcomes in their search for top-quality intimate relations with the focus on trust and open communication, about 54% stated they achieved what they wanted. Again, 27% employed dating software to obtain an intimate partner or buddy and 23% claimed they were in search of a temporary relationship. And over 60% of registered males and females were happy to get what they desired due to using dating applications.
Taking a closer look at these tools, one can find certain inconsistencies in the set aims of consumers on a gender basis. Merely 15% of ladies are aimed at finding an intimate partner on these sites compared with while 37% of guys pursuing the same goal. Reciprocally, 17% of ladies hope for establishing a temporary partnership with the help of these apps compared with 28% of guys who intend to get the same.
Luckily, in regards to meaningful partnerships, one can observe equilibrium as 40% of guys and 42 % of ladies claim their desire to register on the sites that help to date easily.
However, not all visitors are happy with their experience on dating sites
51% of non-users of dating applications assume they like to get new friends through face-to-face interaction in real life. Also, a large number of people are concerned about adverse outcomes associated with their active utilization of these tools.
About 38% of users don't want to use this technology as they hate scams, 34% mistrust everyone registered on these sites, and 12% don't want to repeat the mistakes of their fellows who have already utilized these apps and shared negative opinions with them. 3% consider their sexual identity can affect their vulnerability.
If we ask the ones who have never used these applications with the goal to date, the same results occur.
When we question what features of dating software they can't stand, our interviewees mentioned deception in profiling information (53%), problems connected with giving actual data (26%), and links with imposters (21%).
Sad to say, 20% have got impolite and dis-respectful responses while 6% agree that their intimate identity leads to a high level of vulnerability.
Considering the decisions of males and females who ignore these tools for dating, we found they differ in terms of their gender views on this matter.
31% of people who do not like these sites for the reason of impolite conversation were ladies, 22 % – the nonbinary category, and 31% – the trans people. However, males showed only 10% of interviewees. In a similar way, 28 % of female users, 40% of the non-binary group, 26% of the trans people made a decision to uninstall the program for the reason of inconvenience, comparing with merely 14% of males.
The main problem some males encounter on these apps is the lack of attention from other members. Among 27% of interviewees who removed these applications, approximately 37% were males, and just 16% – females.
Growth of concerns connected with dating technology moves to physical reality
If we question people about the key reasons for their refusal to establish face-to-face interaction and their desire to accept virtual dating, 38% state that previous experience of online communication plays a critical role in this process.
How were you targeted for scamming?
***