Metrics to Watch if Your Business Relies on Communication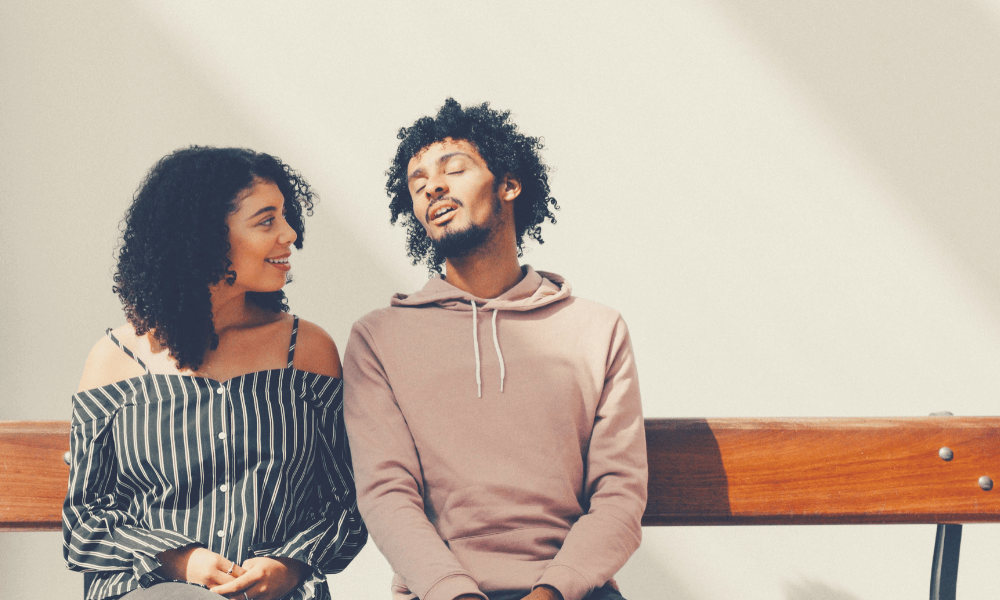 The goal of most dating websites is to connect people and let them communicate.
The best you as the site owner can do is remove as many obstacles along the way as possible, reducing efforts that people have to make to achieve what they come to your website for.
Creating a profile

As the first step, try reducing the time that a person needs to sign up before they can start meeting and talking to other people. That is, make the registration process fast and frictionless.
'Fast and easy profile creation' is the 4th most important feature of a dating site or app, according to the 2017 Statista survey: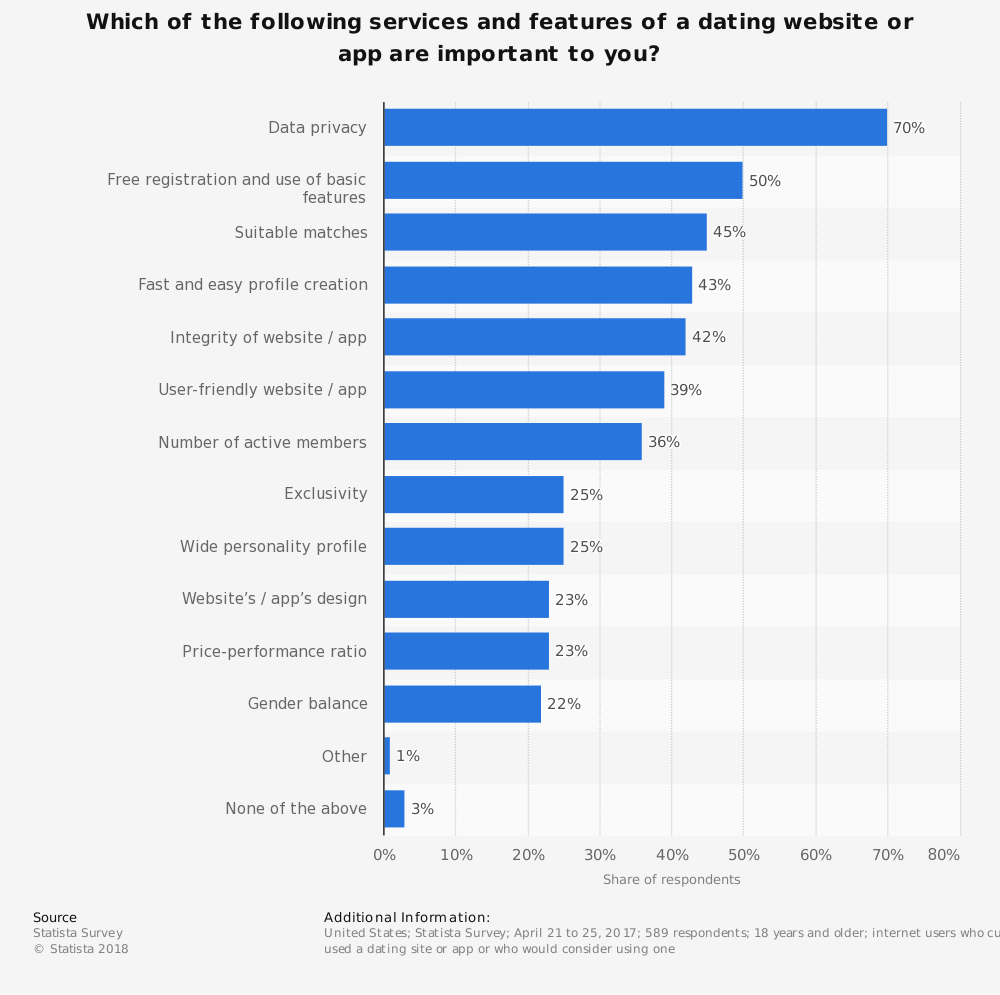 There is a delicate line between placing as little obstacles as possible between a new user and their goal of meeting other site members and receiving enough information to build an attractive profile for this user. What's more important, this is the stage where you will likely weed out unreliable people, possible impostors and gold-diggers.
As a way out, you can spread the process of asking for more information across several stages of the website use, only asking for this or that detail when its value becomes obvious to the person. For example, you can let them filter site members by their own criteria and view the results, but before they can view a detailed profile of someone they like, they will be asked to upload a profile photo first.
Similar to the taxi-hailing apps, you can ask your new site users to indicate their location when they are at the point of finding matches nearby, but not earlier because the reason why you need this information may not yet be clear to them.
Quality of conversations

The important questions to ask next are: How long does it take your new site members to start talking to other people? Is there anything standing in their way? How long does it take them to receive a reply, and whether or not the interactions are of high quality?
How can you know if an interaction is of high quality? We suggest using anonymized data like the number of messages that the members exchange back and forth, how long they take before replying and how that compares to their conversations with other people, and whether there have been any complaints.
A good procedure is to collect user's feedback on every conversation with a new person after it comes to an end. You can factor this feedback in calculating the overall user rating on the site and the benefits that come with the high rating, so people may want to behave amiably to be rated higher.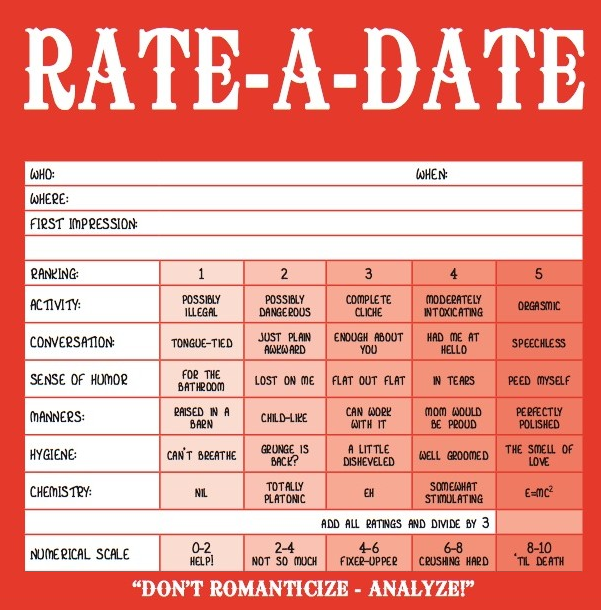 (The above image is a fragment from the Don't romanticize – analyze post by Um… check, please.)
Other ways to help your site members improve the quality of their interactions may include providing icebreaker activities to start off a conversation, giving hints as to what a person is likely interested in — based on their profile, activity, replies to questionnaires, and so on.
The team behind Facebook Dating handles this by asking people to tie their messages to a piece of content from a person's profile: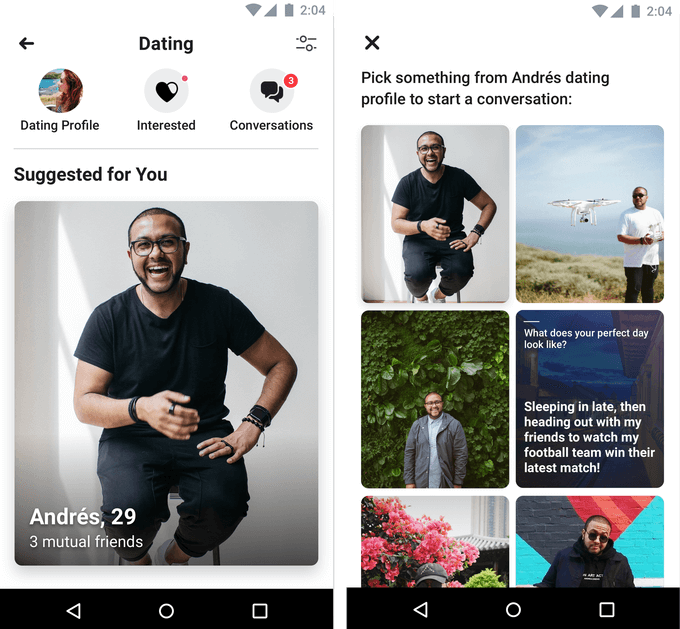 If you know a trick or two about how to get an inspiring conversation going, please share your experience in the comments!
Returning customers
Your goal as a dating site owner is not only to convert your visitors into paying members but to make them stay on your site for longer and coming back. There is a conflict of interest between you as someone who wants to make people happy, and someone who wants to make money off it. We would love to hear how you deal with that.
Have you considered if you'll be able to offer something to your users even after they find their significant other and become a couple? It is possible to keep offering them date ideas, reservations, maybe even relationship counselling.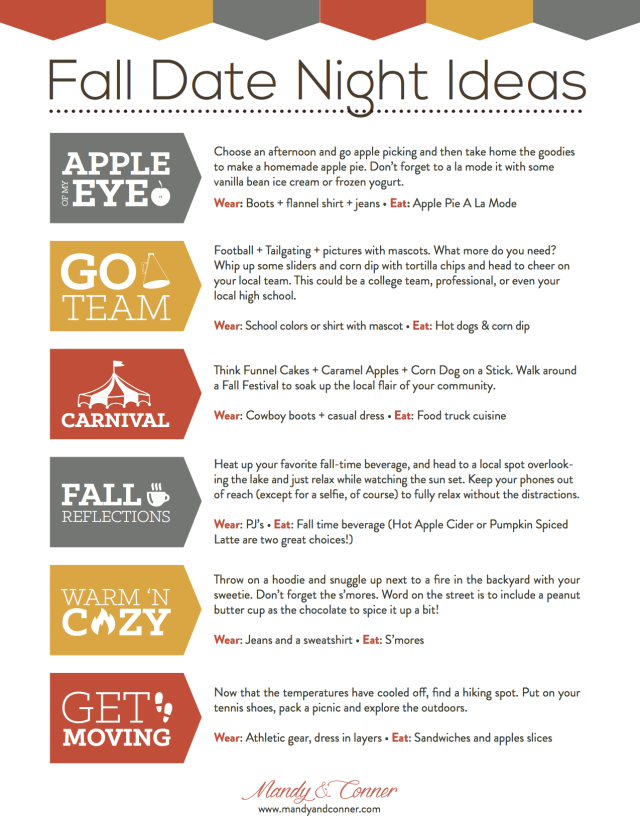 (The above image is from the Fall Date Night Ideas by Mandy and Conner.)
Back to the things to measure: daily (DAU) and monthly (MAU) active users, how many of this day's visitors were visiting your site or app earlier during this week, and how many days pass between the sightings of a returning visitor.
User-generated content
User-generated content might be the thing that will keep bringing people to your site regularly. Blogs, photos and videos, and other creative work that your users choose to publish on your site, sharing it with other site members.
What to measure here: the number of views, likes and shares related to every piece of content. Which of the users are the most popular creators? Consider giving them better visibility, and at the same time promote lesser known creators so everyone has a chance.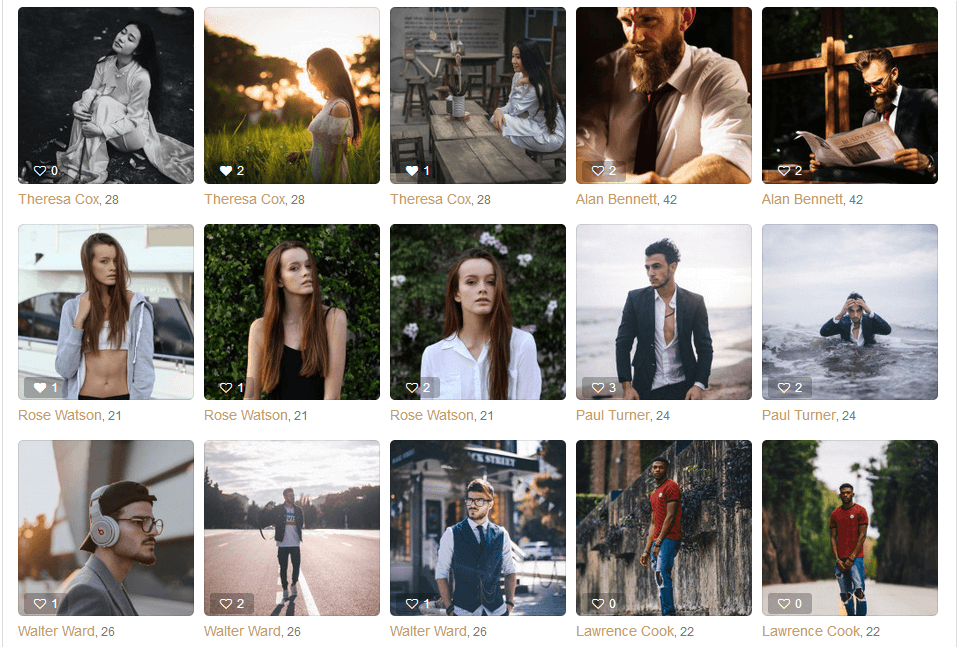 Engagement funnel
Not all engagement is as plain as tracking the time a visitor spends on your website. Instead, you want to figure out what exactly they are doing, how successful they are in what they are doing, so how likely they are to follow the path that will get them to an even deeper level of engagement.
Single out the important activities such as running a search, visiting profiles, starting a conversation, and more. Log the behaviour of all users based on this list of activities and match the logs against the site sessions and retention over time.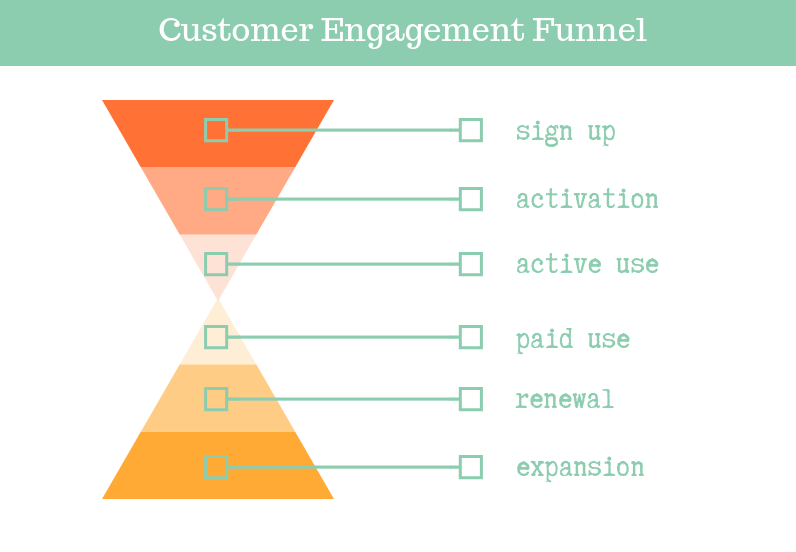 After you've collected enough data, you will be able to predict retention based on user activity. Let's say, a person who has visited a minimum of 5 profiles within the first half hour of using the site, will be more likely to return to the site again the next day.
The idea is to compare different levels of engagement over the course of time. Let's say a person who has run a search and viewed some profiles is on Level 1. A person who has sent some messages or liked some photos is on Level 2, and a person who has paid to send someone a virtual gift or to become a premium member is on Level 3.
How long does it take a user to go to the next engagement level? Can you single out the turning points on their path so that you can introduce them at an earlier stage?
Some parameters you could be tracking:
number of profile visits per session,
average time spent on a profile page before a user sends a message,
search parameters that gave a user the most/least matches,
percentage of matches that a user sends a message to.
Collecting this information and acting on it will help you better understand the behaviour of your users and improve their experience.
In this blog post, we've been talking about the metrics you can collect from your dating website. Please share your thoughts. Would you like to know more about how to start tracking user activity on your site or app?
The main illustration in this blog post is by Alex Holyoake on Unsplash.