New Version of Dating Pro Software is Here: Meet Dating Pro Match 2019.13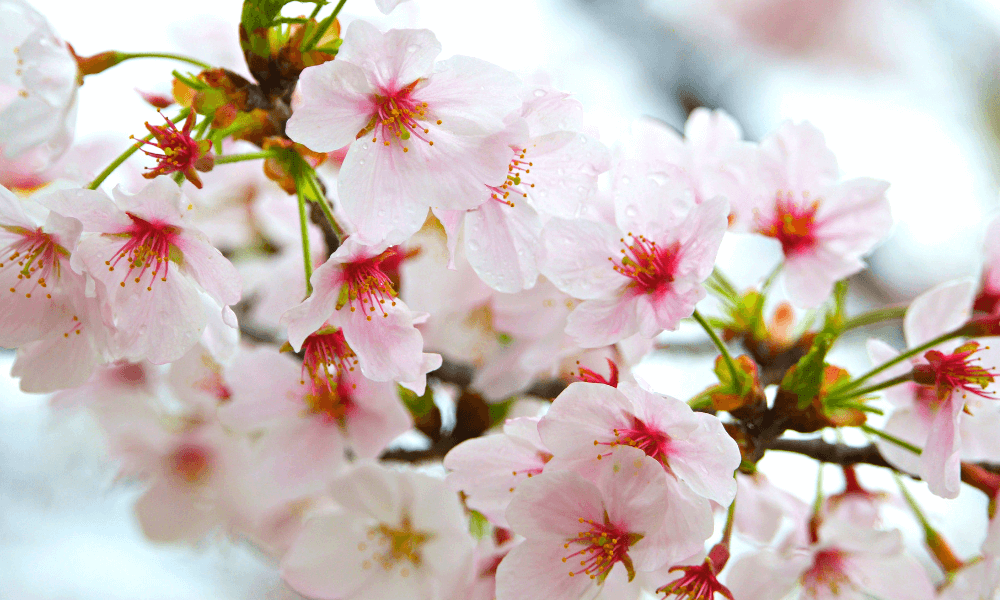 We are happy to announce the new release of the turnkey dating software by PG Dating Pro. Following our naming tradition, we called the new version Dating Pro Match (2019.13).
What are the most important new additions to the Dating Pro script? Impressive magazine-styled user profile, improved navigation, GDPR-related changes, and more. Let's take a closer look at Dating Pro Match.
Magazine-styled user profile
Our goal has been to create visually stunning profiles that would increase the engagement of profile visitors. We've made users' profile photos more prominent and added extra points of interaction that can help people express their interest.
Take a look at the 'magazine' profile view as compared to the previous three-column view: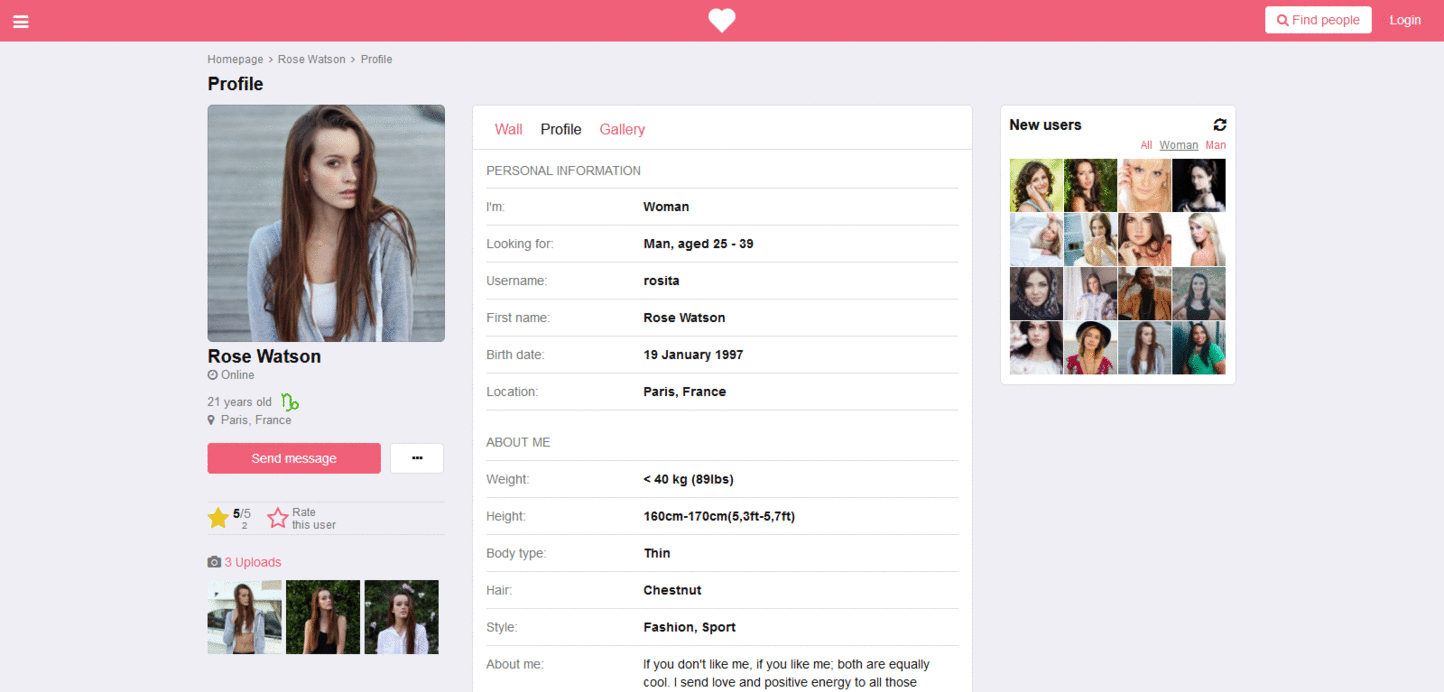 Even if your user uploads a small avatar picture, the photo will double as a blurred background so that this area looks nice and without empty spaces.
An important addition to the user profile is the Like/Skip buttons that are always visible on the page. They repeat the LikeMe functionality and let a person find mutual matches.
Every time a user clicks a button, the system takes them to the next profile in a bid to improve user engagement.
If a person clicks to view someone's profile from the search results page, the system will take them through other profiles that meet the search parameters.
If they come from the list of guests, they will be able to 'leaf' through this list as well and then loop back to the very first user on the list.
As a result, two new sections are now available in the LikeMe section: 'I like them' and 'They like me'. These are two situations that come before a mutual match.

What is more, you can make access to 'They like me' page part of premium membership. People wanting to know who liked them will have to upgrade to get access: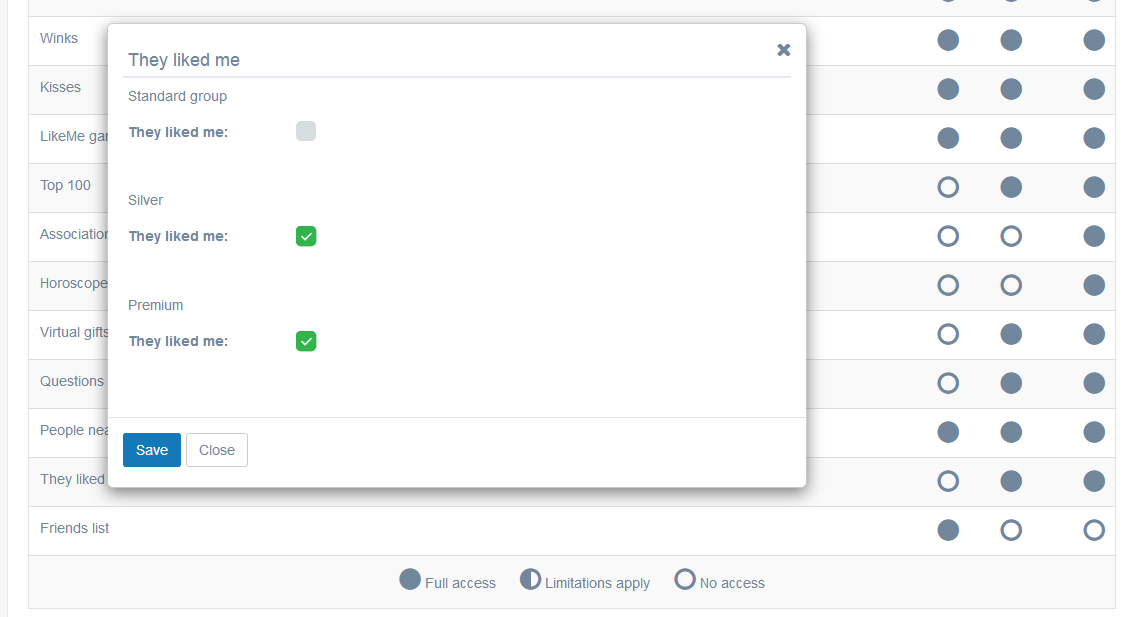 Note: If you prefer the three-column version of the user profile, you can switch to it easily by editing the THEME_MODE variable in the configuration file. Contact us in the chat ↘ for more details.
In a long-awaited change, we're saying goodbye to the left-hand menu that was hidden from view until summoned. We bring the most popular features to the top of the website pages to streamline the access to them.
In the left-hand part of the main menu there is now a combination of LikeMe, Search, Activities and People:
In the right-hand part of the menu, we have a place for all sorts of system alerts and more prominently featured paid services and membership: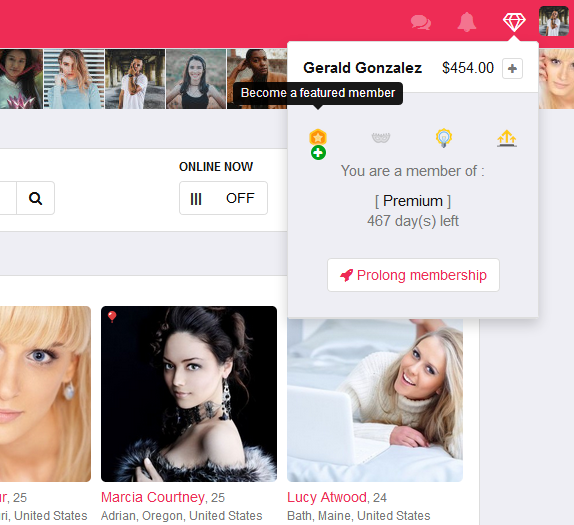 We've made a number of changes to help you configure your dating website for better privacy and data protection.
The 'User information' module will let your users download information about their actions on your site. The data includes their activity across the site modules, for example, the list of people they liked or sent winks and kisses to, their payments history, etc.
You can use the demo Privacy Policy text as a template that describes how the system collects and handles the data, and so on.
Registration requires explicit consent from the new user: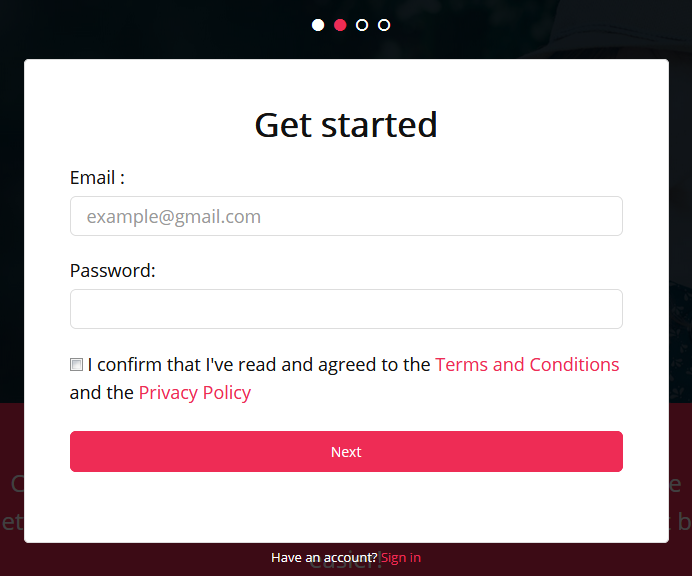 If you created a user profile from the admin control panel, when this new user signs in for the first time, they will be greeted by this message inviting them to accept the terms and conditions: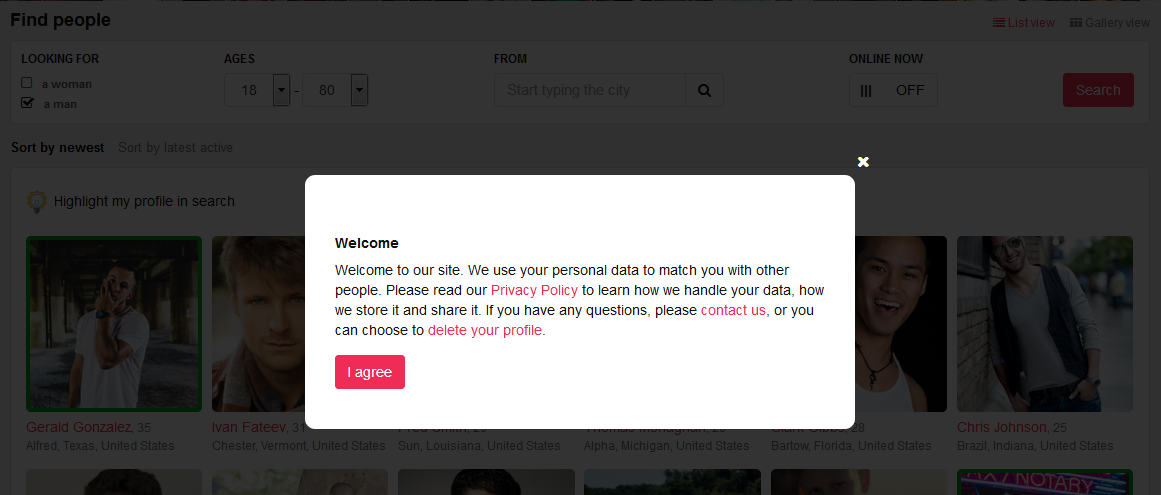 People can also delete their data by following a few simple steps:

Important: These measures alone will not make you 100% GDPR-compliant. Compliance is more than just software settings. It requires a set of rules and standards that you need to follow in order to handle the personal data of your dating site users appropriately.
The Dating Pro software will help you on this way; however, we strongly advise that you consult a legal professional.
Also in the new release Dating Pro 2019.13:
Improvements for the admin control panel, including the extended stats.
A more convenient and streamlined payment process for users.
Code optimisation for faster pages load.
Italian language version. Parliamo Italiano!
And numerous smaller fixes and improvements, like the more flexible editing options for user types (men and women). This one is particularly important for our non-English speaking clients whose languages have case inflection.
Test Dating Pro Match online in a free demo and purchase it here, on our website.
We'll be happy to hear your thoughts and comments!
The main illustration in this post is by Phil Hauser on Unsplash.