ClickAdilla Uncovered: A Comprehensive Review of an Adult Advertising Network
15
minutes to read
ClickAdilla is a self-serve advertising network platform that offers quality traffic in various verticals such as dating, gambling, sweepstakes, nutra, and more. With over 16,000 daily clients, ClickAdilla is one of the most trusted ad networks in the market. Premium traffic sources of ClickAdilla make it ideal for any dating campaign – from Mainstream to Adult Dating.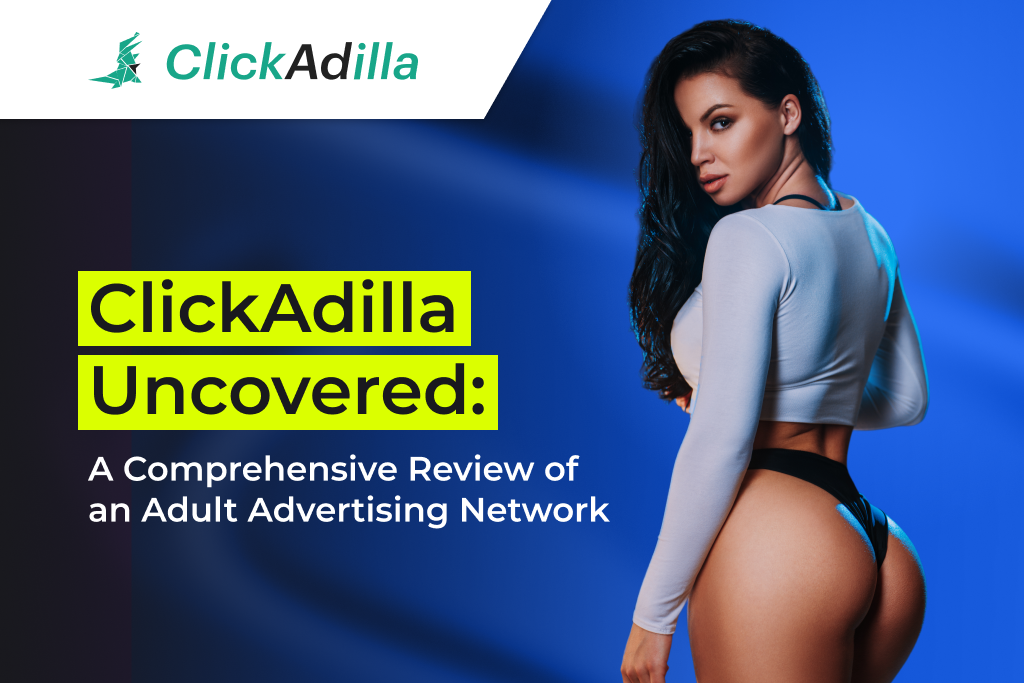 ClickAdilla provides a clean and user-friendly interface, making it easy for advertisers to navigate and use the platform. The dashboard offers detailed information on campaigns, ad groups, and creatives. The platform offers advanced targeting options, including GEO, device, browser, and more. You can also track your campaigns' performance in real time, making it easy to optimize and adjust campaigns on the go.
The main features of ClickAdilla:
13 Ad Formats
11 payment methods
Adult and Mainstream Traffic
Fast campaign moderation
Intuitive and user-friendly interface
Huge traffic volume: more than 4,5 B every day
Traffic sources of ClickAdilla are at the top of Alexa's Rankings
After reading this article, you'll learn:
Campaign Creation:
Creating a campaign on ClickAdilla is simple. You can create campaigns in minutes, and the platform offers a range of targeting options to ensure your campaigns reach the right audience. The auto-optimize function is a unique feature of ClickAdilla, which automatically optimizes your campaigns based on real-time performance data to ensure maximum ROI.
Check this step-by-step video to learn how you can start your own account with ClickAdilla and start promoting your dating platform:
Replenishing the balance 
The minimum deposit is $50. There are numerous ways to top up your balance:
Credit Card;
Wire transfer;
Paxum;
Bitcoin;
Capitalist;
Robokassa;
Stripe;
Qiwi;
Cryptocurrency via Coinbase;
Payeer;
USDT TRC-20 and ERC-20.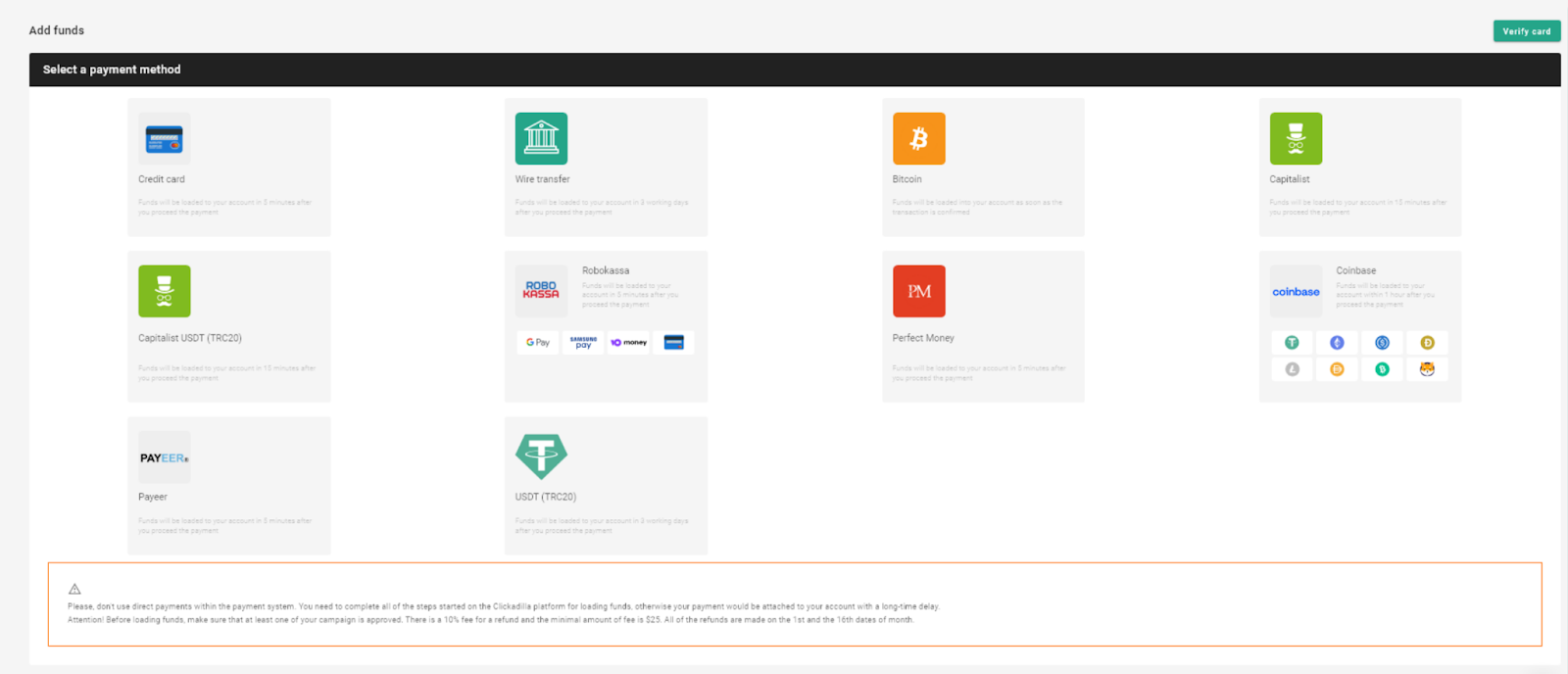 ClickAdilla has introduced a safeguard mechanism to prevent loss of balance. While there is a small reserve for pop ads, the majority of the funds are allocated to push notifications, where an additional budget is assigned after main clicks. The exact amount of reserve cannot be determined as it depends on factors such as target settings, bid amounts, and click-through rate (CTR) settings.
Choosing the Ad Format
ClickAdilla supports 13 ad formats, including popunder, banner, web-push, interstitial, in-app, in-page, in-stream, video slider, out-stream, notification widget, native ad, tab direct link, and gallery. Some of the popular formats include:
Popunder Ads: ClickAdilla offers a substantial volume of traffic in the popunder format, with over 22.45 million impressions available per day. The approximate price for 1,000 views is around $0.63. Popunder ads are displayed in a separate window that appears when a user clicks on the website's content, making it an effective way to capture a user's attention.
Banner Ads: Banner ads are one of the traditional and widely used ad formats, and ClickAdilla offers 7 types of banners in various sizes. With over 1.56 billion daily views, the bid for 1,000 impressions is approximately $0.052, making it an affordable option for the traffic volume the network offers. Banners are suitable for almost all verticals, making them a versatile tool for advertisers.
Web Push Ads: ClickAdilla offers high-quality web push ads with around 315,000 clicks available daily, and the minimum price for 1 click is only $0.0084. Web push ads are shown even when the user is not on the website and can mimic message notifications or system warnings, making them effective for various verticals, including dating offers and utilities.
In-stream Video Ads: ClickAdilla provides a high-quality in-stream ad format with over 28.88 million daily views, and advertisers pay only $0.05 for 1,000 impressions. In-stream ads are non-skippable for a certain period, ensuring 100% viewability. They are engaging and can effectively capture the attention of prospective clients.
In-page Ads: In-page push ads are similar to push notifications shown on a website while users are viewing the content. ClickAdilla offers over 4.4 million daily impressions for in-page ads, with a price of $0.05 for 1,000 impressions. They do not require users to sign up and can be displayed on all devices and operating systems.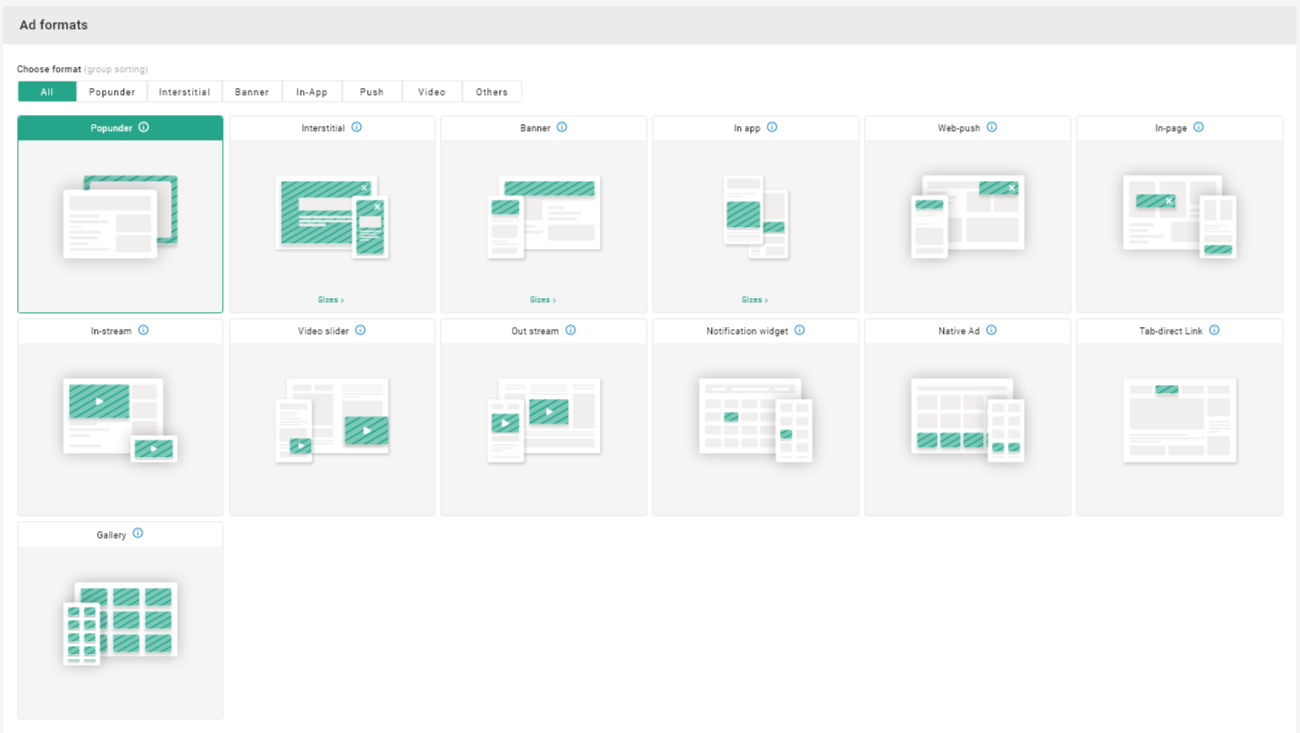 You can check the traffic volume in the Pricebox section on the right side of the interface.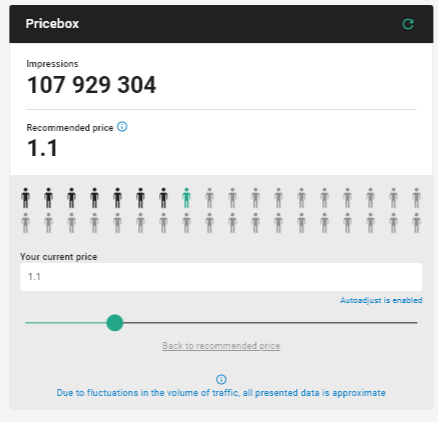 Payment models
ClickAdilla offers four payment models: CPA, CPC, CPM, and CPM Goal.
The essence of the CPM Goal is that you specify the desired cost per conversion, and the system optimizes the campaign to achieve that specific cost per lead. However, you are charged based on impressions.
This payment model is suitable only for verticals where conversions occur frequently, meaning verticals with a simple flow. It may not be suitable for more complex campaigns.
The network provides various target settings, including GEO (country and region), device type (brand and version), browser (including version and language), push notification settings (such as freshness of subscriptions and mailing frequency), IP ranges, connection type, and provider. You can also choose between RON (Run of Network) or Premium traffic.
ClickAdilla's Premium sites are highly ranked in Alexa Rating. You have the option to select either all sites in the "Premium" category or specific sources for your campaign.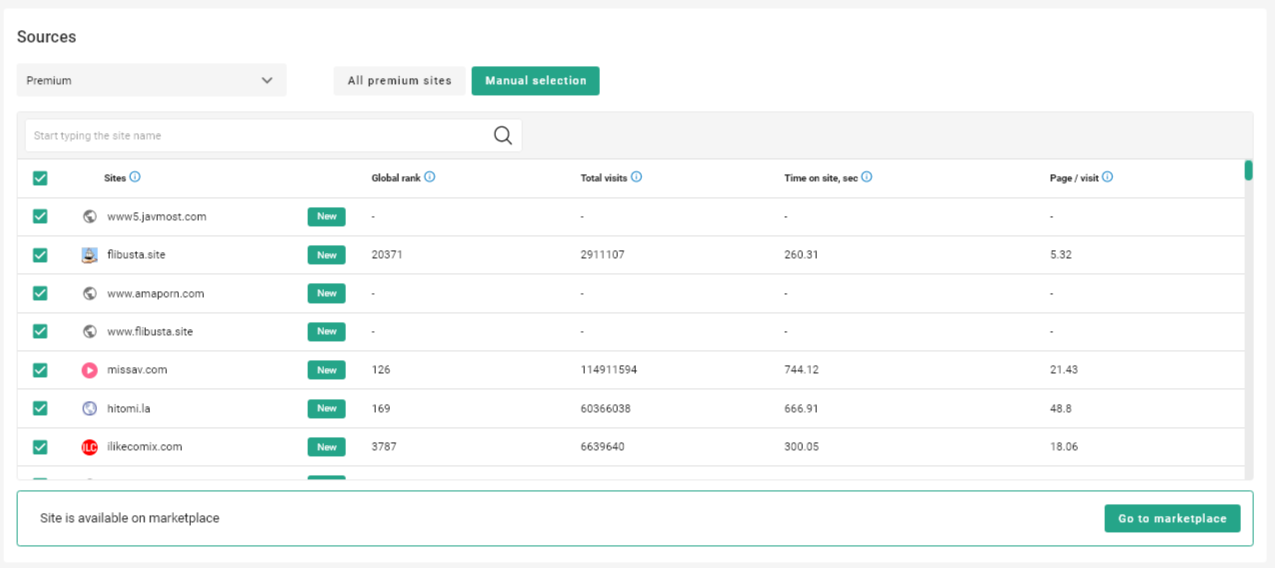 Categories
ClickAdilla offers both adult and mainstream traffic, and you can select a category of sites from either category.
Traffic Quality
There are 3 traffic quality options in ClickAdilla on different ad formats: All, Medium, and High. The parameter for each traffic quality option depends on the ad format. For Popunder ads high-quality traffic means the most active audience. For Push ads traffic quality depends on the days of the user's subscription. On all the banner formats high-quality means the most visible banner position on a website.

Targeting
At ClickAdilla, you have various targeting options to customize your incoming traffic. These include frequency capping, language-based targeting, device type/vendor targeting, categories targeting, IP range targeting, carrier/Wi-Fi targeting, browser-based targeting, OS-based targeting, and geo-based targeting.
Frequency capping allows you to control the number of times your ad is shown to a single user within a specified time frame, helping you reach a larger number of unique consumers within your budget.
Language-based targeting is useful for targeting specific language groups, especially minority languages in certain regions, and can help you stand out from the local competition and grab the attention of non-native speakers.
Device type/vendor targeting allows you to focus on specific devices such as iPhones or Android phones, tablets, etc., or target users based on the device manufacturer, which can be beneficial for specialized ad campaigns or those requiring specific hardware or operating systems.
Categories targeting allows you to deliver traffic based on the type of searches or clicks from either adult-specific or mainstream categories, which can generate steady or repeat visitors, and align with the preferences of users seeking adult-oriented or mainstream content.
IP range targeting allows you to target specific demographics or local groups based on the geographic location of IP addresses, providing a high level of precision and customization.
Carrier/Wi-Fi targeting enables you to customize traffic volume based on carrier type or Wi-Fi use, which can be useful for understanding the origin of your website's traffic and targeting specific regions or areas.
Browser-based targeting lets you focus on generating traffic from certain browser users, which can be helpful if your website or business relies on specific browser extensions or code-based data.
OS-based targeting allows you to target specific operating systems, which can be beneficial for targeting specific age groups or users of certain devices, such as Apple laptops or OS-based phones for push advertisements.
Geo-based targeting emphasizes geographic information, such as country, state, area, and city, allowing you to target a wide range of individuals from diverse backgrounds and races, and can be refined based on your objectives and requirements.
With ClickAdilla's self-service interface, comprehensive targeting options, CPM-bidding platform, and highly-trafficked publisher sites, you can create a profitable advertising campaign for your online retail store or any other service. Simply upload your creatives, create a campaign with a name, target audience, device, and daily budget, and select your desired targeting options to drive effective results.

Marketplace 
ClickAdilla offers a service called the Marketplace where advertisers can purchase the entire traffic for a specific website, ad format, and time period. This is an interface that provides a variety of options, including choosing a flat deal among seven premium websites and four ad formats for up to 30 days. The marketplace also provides important data such as prices, impressions, total visits, website global rank, top countries, and audience distribution.
While choosing a flat deal in the Marketplace interface you can define:
Ad format
Devices
Tier group (Tier-1, Tier-2, Tier-3)
ClickAdilla's premium sources that you'd like to place ads on.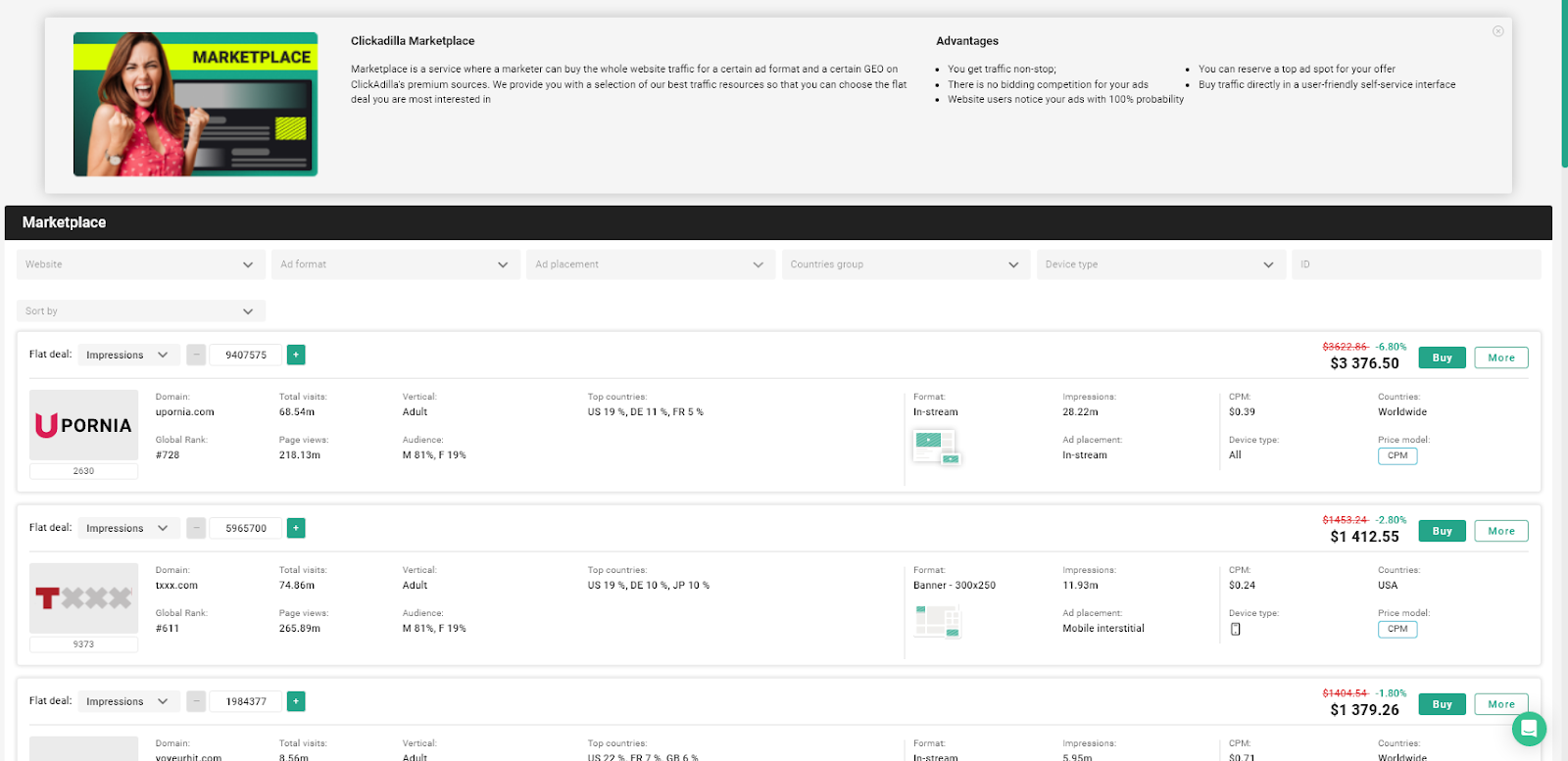 Once you have selected your desired options, you can then make a flat deal, which will guarantee that you receive all the ad format traffic from that specific source for the agreed-upon time period.
There are several reasons why you might want to choose a flat deal in ClickAdilla.
Firstly, there is no need to worry about bids or auctions as the entire traffic is yours. This means that there is no competition for impressions, and you will always win, regardless of the situation at the auction.
Furthermore, your ads become more noticeable as they will always be in the same spot with no rotation. This helps users to take notice of your ad, and the permanence of your ad on a website makes it look more trustworthy, making it easier for people to click on it.
Another benefit of choosing a flat deal is that you can reserve a top spot for your offer. You can choose an ad spot that best suits your offer and ensure that it is always yours. If your offer and a website work well together, it is better to reserve the ad spot to always have impressions.
Finally, flat deals can be more profitable than regular ad campaigns because if the bid at the RTB auction goes up, it won't concern you, as you will always get your traffic.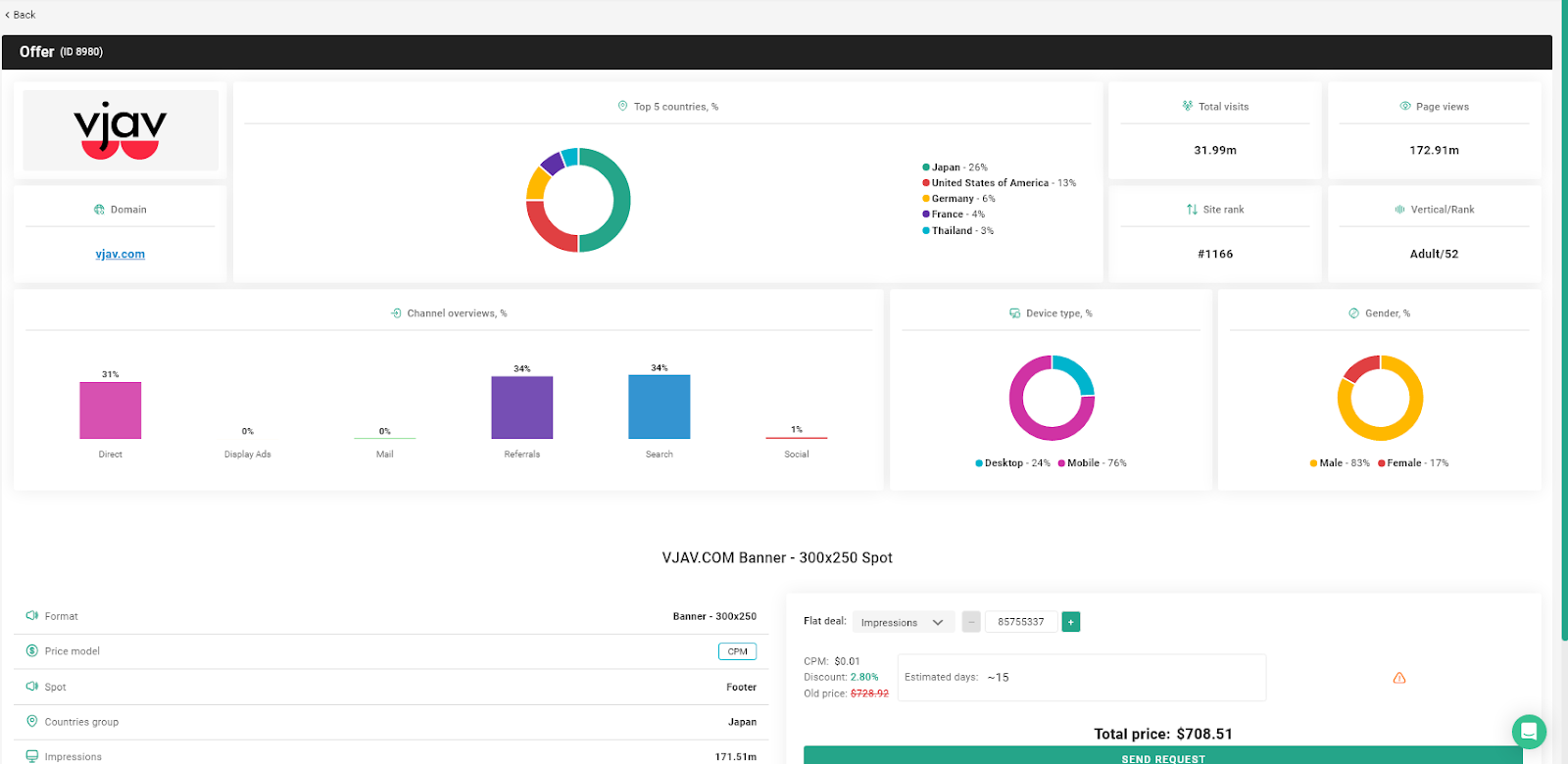 Flat deals are available for Tier groups (Tier 1, 2, 3), ad formats (Popunder, In-stream, Tab-direct Link, Banner), time ranges (you may make a flat deal for a range from 1 to 30 days), and ClickAdilla's premium websites, which are among the top traffic websites on the Internet.
To make a flat deal, you simply need to sign in to your ClickAdilla account, go to the sidebar menu on the left, and choose "Marketplace." From there, you can select any of the available flat deals that best suit your needs. Overall, the marketplace is a powerful tool for advertisers looking to secure a specific amount of traffic for their promotions and is worth considering if you want to simplify the ad-buying process and maximize your results.
Traffic DSP 
Traffic DSP is a new feature offered by ClickAdilla, which enables advertisers to purchase traffic directly from third-party supply-side platforms without having to pay any margins. Essentially, it is a demand side platform for programmatic media buying that operates on a real-time bidding basis. Traffic DSP has been designed to help advertisers, affiliate marketers, agencies, and business owners to run campaigns on several traffic sources with ease, all from one single interface.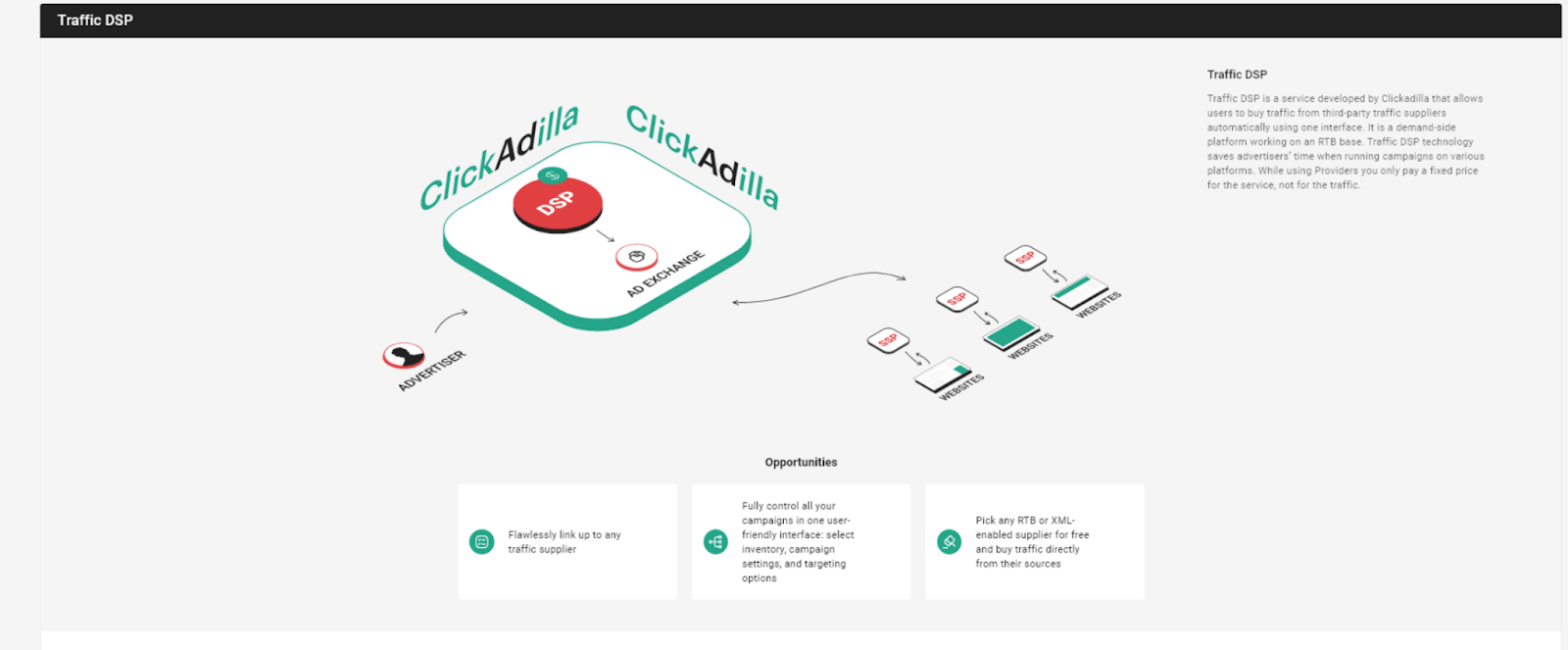 To get started with Traffic DSP, users are required to create advertising accounts and replenish their balance on the third-party suppliers from which they wish to buy traffic. Advertising budgets on third-party sources are fully managed by the user.
There are several benefits to media buying via Traffic DSP:
Firstly, it enables users to optimize their time by managing several campaigns on one DSP marketing platform.
Secondly, advertisers can advertise more efficiently with direct traffic buying, eliminating the need for overpaying for agencies' margins.
Thirdly, users can control and operate their ad campaigns' processes and statistics using one personal cabinet in ClickAdilla. Additionally, ClickAdilla's advanced DSP filter instruments offer extra traffic filtration for the side sources.
Lastly, users can pick any side traffic supplier that has RTB or XML media buying and integrate it as a third-party SSP into ClickAdilla.
It is important to note that users are only charged a fixed price for the service, and not for the traffic they purchase via Traffic DSP.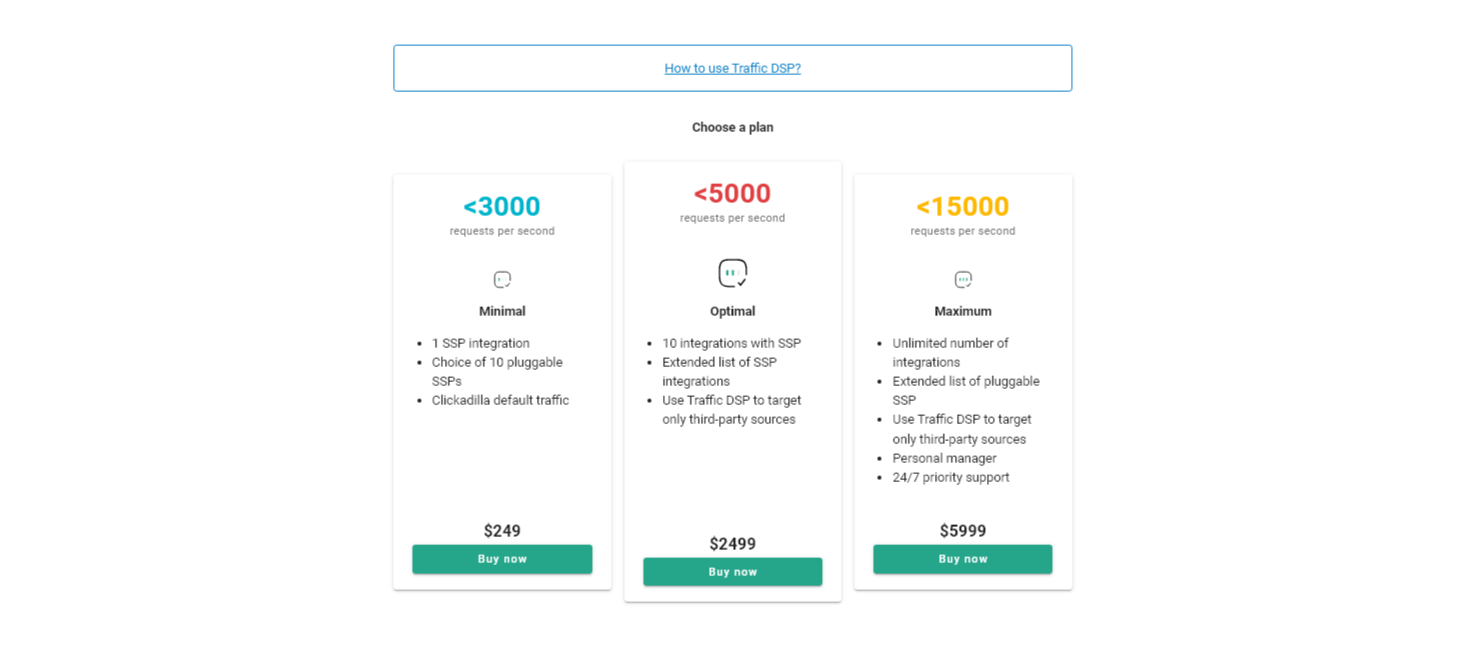 Why do we recommend trying ClickAdilla:
Low Minimums: ClickAdilla has a minimum deposit and withdrawal requirement of only $50 for both advertisers and publishers. This means that you can start advertising with as little as $50 and withdraw your earnings without having to wait for a large sum to accumulate in your account.
Anti-Fraud Technology: ClickAdilla uses advanced anti-fraud measures, including IP blocklisting, domain banning, and activity monitoring, to combat click fraud and bot traffic. Their technology is constantly updated to stay ahead of the latest scam schemes, ensuring that advertisers' ads are seen by real people and that they receive high-quality traffic.
Fast Campaign Moderation: ClickAdilla prioritizes speed in campaign moderation so that your ads can go live quickly to generate leads and sales. Their rapid campaign moderation process allows you to launch your ad in less than 10 minutes while still adhering to their guidelines to maintain quality.
Multi-Language Dashboard: ClickAdilla offers a five-language personal account dashboard in English, Spanish, German, Russian, and Japanese. This makes it easy for users from around the world to access, understand, and manage their account settings and data.
Quick and Easy Integration: ClickAdilla seamlessly integrates with many popular monitoring systems, making it easy to track your results. It only takes a few clicks to connect your tracker to the network.
Streamlined Interface: ClickAdilla's user-friendly interface allows both marketers and publishers to set up and manage their campaigns with minimal expertise in Internet advertising. The dashboard provides a comprehensive overview of all account activity, including real-time data, graphs, and trend reports. It also allows you to create new campaigns, manage existing ones, and monitor their performance.
Buy Traffic in Several Ways: ClickAdilla offers multiple options for marketers to purchase traffic, including a self-service platform for independent campaign setup and management, OpenRTB for real-time bidding data and connections with publishers, and API for more advanced campaign management flexibility and control. This gives advertisers various alternatives based on their requirements and interests.
Huge Traffic Volume: ClickAdilla is one of the world's largest ad networks, reaching approximately 4.5 billion people in 240 countries every day. They take pride in their high traffic volume and ability to deliver tailored advertisements to a global audience.
Multiple Ad Types: ClickAdilla offers different types of ads for marketers, allowing them to test alternative promotional formats. This is beneficial for both marketers and publishers, as it increases potential earnings by offering a variety of ad options to display.
Conclusion
In conclusion, ClickAdilla offers a range of features and benefits that make it a desirable choice for advertisers and publishers alike. With low minimums for deposits and withdrawals, advanced anti-fraud technology, fast campaign moderation, a multi-language dashboard, and quick and easy integration with monitoring systems, ClickAdilla provides a streamlined and user-friendly experience for its users. Additionally, the ability to buy traffic in several ways, their huge traffic volume, and multiple ad types further enhance the flexibility and effectiveness of their platform. Whether you are a marketer looking to advertise or a publisher looking to monetize your traffic, ClickAdilla offers a reliable and efficient solution for your online advertising needs.
Be the first to know about news in the dating industry!
Several times a week, you'll learn about our latest features and hottest news