Email Marketing Automation Case Study: How Bootcamp Team Increased CTR To 25%

This is a shortened version of Sendinblue's case "How Bootcamp Team Used Marketing Automation to Increase Their Conversion Rate"
Continuing on our topic of email marketing automation, here's a new case of using an automation tool (Sendinblue in this case study) and how it helped to achieve following results with simple workflows that saved a lot of team's time and money:
Open rate for emails around 60%;
Click-through rate around 25%;
Increased conversion rates for all goals.
Setting
Dutch fitness training membership platform 'Bootcamp Team' provides access to outdoor "bootcamp" training sessions with dedicated trainers.
The problem: team ran successful Facebook contests where people could win a free month of training, but people failed to show up as they were not motivated enough to actually sign up.
What they did
The team used SMS and Marketing Automation to increase the conversion to paying customers.
First, they set up two simple workflows:
#1 Lead Activation
With this workflow, the team addressed their main issue – to get new leads to try out the first session.
How it worked: once a person is added to the list of leads, the system sends an email where they try to sell the service to the new lead.
A day later:
if the lead opened the email: the system waits another 24 hours to check whether the lead makes a purchase or not. If not, the system goes to the next step and sends an SMS.
if the lead didn't open: they also receive an SMS.
The workflow consists of a total of 4 steps (1 SMS and 3 emails). After the lead goes through all steps and doesn't buy anything, it remains in the list.
But if it does make a purchase, it is removed from the list of leads.
Click on the image to enlarge
#2 Get user feedback
The second workflow aims to collect feedback from the customers who took advantage of the free training session.
This step is necessary to find out what people didn't like (to fix it) and what they liked (to use it for better promotion). Participation in feedback workflow is rewarded with a discount for the next session.
The scheme of the workflow is the following: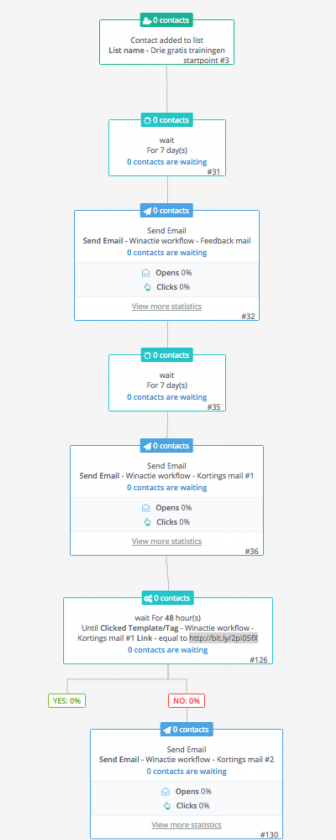 Click on the image to enlarge
How it worked: When a contact is added to the list of customers, the system waits for 7 days, then sends a feedback email.
Then they wait another 7 days and send a new email with a special discount offer. If a customer doesn't open it within 48 hours they'll receive a reminder letter.
What they got
These workflows brought Bootcamp Team:
Open rate for emails around 60%;
Click-through rate around 25%;
Increased conversion rates for all goals;
Tons of saved time on manual work.
After a successful first try, team also added contest winner outreach, payment reminders, and even sending special discount emails.
Interested in adding an email marketing automation feature to your dating site?
Just hit our Experts up and we'll discuss the integration.