Welcome the New Dating Android App: Yes or No Ratings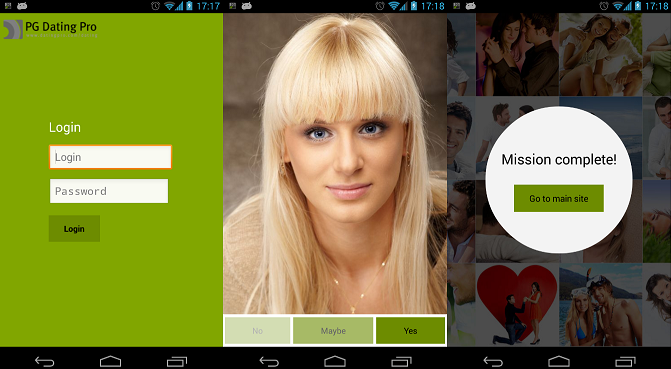 Dating Pro team has taken one of the most popular features in Dating Pro script – anonymous Yes or No photos rating – and made it into an Android application.
DP Ratings is the second Android application in the Dating Pro family of software solutions. It is simple but fun and lets site members authorize in the application to be able to view and rate all other members' photos anonymously. Three buttons are used for rating: Yes, No, Maybe.
After all photos have been rated, site member can then go back to the main site that will open in a mobile browser and upload new photos, or search and contact people and use the rest of the dating site functionality.
Demo version of the application is available in Google Play Store.
Test user accounts: demo1/123456, tutty/demo.
Owners of dating websites powered by PG Dating Pro have the chance to publish this application under their own name and brand. Re-design is possible. DP Ratings provides an ideal opportunity for the site members to have fun and makes them come back to the site for more.
The application supports PG Dating Pro version 2013.3.