Guide N20: Navigating the Dating Pro Ecosystem from Launch to Profit
29
minutes to read
The goal of the course is to achieve proficiency with the Dating Pro platform:
Launch dating site and apps. MVP.
Earning income. Become profitable and grow. Achieving Market fit.
Save you a lot of time by avoiding common mistakes.
---
Start – How to Start an Online Dating Business (A Step-by-Step Guide)
1.1. Intro to Dating Pro
Launching a dating business can be a challenging endeavor, but with the right tools and guidance, it can become a valuable and profitable venture. Whether you are an experienced entrepreneur or just starting out, creating a dating service can help you reach a wider audience and grow your business.
In this article, we will guide you through the steps of creating an online site and apps, from choosing a platform to developing your website and scaling up sales. With this comprehensive guide, you will be on your way to creating a successful dating business.
Choosing a Dating Platform and Its Capabilities
An online dating platform gives you the opportunity to create and manage a dating website and apps, attract users, and fulfill their requests. Many think of such a platform as similar to a website builder: you upload profiles and handle interactions. However, its capabilities are significantly broader.
When it comes to creating a website for online dating, envision your platform as the command center for your service, controlling all aspects – from user base to marketing, providing all the necessary tools for interacting with and supporting customers.
Key features of an online dating platform to consider:
Ease of use. Your dating platform should be user-friendly, especially if you are launching the service on your own. Look for intuitive tools. Try a demo version or a free trial period to familiarize yourself with the functionality.
Quality customer support. Choose a platform with comprehensive support. With Dating Pro, you can get help with launching your site or migrating it from another service, as well as ongoing support. Support services are available 24/7 via chat, email, or phone at a convenient time for you and in different languages.
Simplified registration and partner search. Simple and clear registration increases the chances of attracting users. You need to find a platform that makes it easier for new users to create a profile and find a match. Using Dating Pro, you can offer convenient ways of interaction and personalize the service, including integration with various payment systems for accepting payments within a subscription or for additional services.
Web hosting. Web hosting stores the information and content of your dating site and applications in a server database. You need web hosting so people can access your dating site. Some dating site programs offer built-in web hosting, while others require the use of third-party solutions. App Store Publishing (iOS, Android, VR multi-universes, chatbots).
When choosing software for a dating site, consider your current and future needs. Some platforms may be a better solution for today. Flexible and powerful platforms, such as those similar to Dating Pro in the sphere of dating ecommerce, can quickly help you launch and develop your project.
Welcome to Dating Pro
Whether you're starting a new business or migrating an existing one to Dating Pro, you can learn more here. Once you've signed up for a free trial, follow the initial setup guide to start using Dating Pro. The guide provides step-by-step instructions on the essential tasks to complete before you begin selling dating services. If you're migrating your site to Dating Pro, start the migration today.
Trusted by dating services owners

Core Features:
Dating Pro provides you with numerous tools that will help you customize and run your business. Depending on the plan you choose, you can find everything you need to showcase your products online, process payments, and ensure your platform operates effectively for you. Dating Pro offers:
Free and premium themes from the Dating Pro Marketplace to make your service stand out and look great
Free and premium apps from the Dating Pro Marketplace to expand the functionality of your service
(under development) A proprietary Dating Pro provider accepts credit card payments
Growth opportunities through Dating Pro's sales channels: Web browser (PC, VR), mobile apps, and others via crowdfunding.
Marketing and sales channels: with Dating Pro, you can sell dating services across various traffic channels: traffic arbitrage platforms, SEO, contextual advertising, and all possibilities
The Dating Pro blog, which includes guides and articles on managing your service and communicating with your clients
Professional services from experts who can help you set up, design, and market your dating service
A dedicated support team available 24/7 to answer your questions.
In this section:
---
1.2 Migrate to Dating Pro
If you are switching to Dating Pro from another platform, there are several recommendations you can use to make the migration of your service as smooth as possible. In some cases, migration is straightforward, but the migration process can be complex when your store holds large volumes of data across multiple sets. The steps you need to take to transfer your service to Dating Pro depend on how your "dating store" is currently set up.
In this section:
---
1.3. Dating Pro control panel
The administrator section or control panel in Dating Pro is the home for all the information about your business on Dating Pro. Here you will carry out most of the management tasks. You can customize your service, settings, and manage your business using the Dating Pro control panel.
In this section:
---
1.4. Your account
Dating Pro has the following types of accounts: platform owners and users
Question: Can I try the software?
Answer: Yes, absolutely. There are 2 options:
You can check the online demo on our website: www.datingpro.com/demo. Both user mode and admin backend are available for testing.

Note: The database of an online demo is updated several times a day. Your changes will be saved for only a couple of hours or so.

You can run a 14-days free trial on your server. Both user mode and admin backend will be available for testing. You will also have access to the database and the file structure of the Dating Pro script.
Make sure your server supports the appropriate system requirements and contact us to receive the trial version and instructions.
In this section:
---
2. Dating Sales – Installing relevant dating channels. Customize selected dating sales channels.
One of the advantages of learning how to use Dating Pro to power your dating business is that your online dating platform is just one of many dating channels you can use to sell your dating services.
You can create a dating service in various places, acquainting people through additional sales channels to meet your customers where they are, while keeping track of profile databases and reporting in a single Dating Pro account, to always know what's happening in your business.
Although you don't need to connect all of them immediately to create your service, it's good to know them when you are ready to look for new ways to bring your services to new customers in search of dating.
Not every sales channel will be relevant for your unique business, but here are some of them worth highlighting:
Dating website – Dating website and virtual reality experiences through Web browsers.
Mobile apps – 100% ready-to-use, open code Android and iOS dating apps.
Other dating channels – Use another online dating channels with Dating Pro to sell your dating services.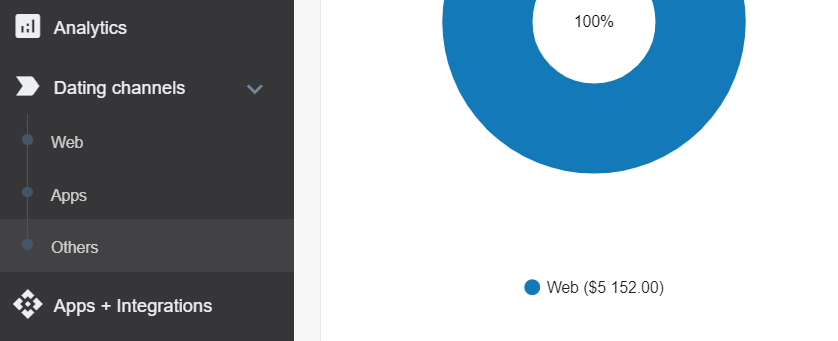 ---
2.1. Dating website
A dating website and virtual reality experiences accessible through web browsers. Installed on all: PCs, laptops, tablets, VR headsets, mobile phones.
Before we begin, you'll need to initiate the free trial of Dating Pro. If you follow this guide, the trial period should be sufficient to create a launch-ready site. Keep in mind that you can continue to enhance your service even after its launch.
These steps will help guide you create, open, and promote your online dating site:
---
2
.2
Mobile apps
Google Play, Apple App Store, Samsung Galaxy Apps, LG App Store, Huawei App Store. The audience for mobile apps slightly exceeds that of websites.

In this section:
---
2
.3
Other dating channels
Use another online dating channels with Dating Pro to sell your dating services.
You can use Dating Pro for dating across various online sales channels. Sales channels are different platforms where you sell your services. By connecting each sales channel to Dating Pro, you can track your customers and orders in one place. Once you add a sales channel, it will be listed in the "Dating channels" section in Dating Pro.
We will create and add new dating channels. For example:
Acquire the channels you need through crowdfunding projects.
---
3. Manage – In the selected dating channels, manage the sales funnel stages through inbound features
3
.1
Find people to date 

In this chapter we will fill your new service with "goods" – profiles of people. You can't run a "store without goods" or a dating site without people who want to meet you.
Launching a dating site without members
Launching a dating site or app without any members can be a challenge, as the value of the service depends heavily on having an active and engaged user base.
Some dating website owners choose to purchase a ready database of members to populate the site before they launch. We will add profiles to your site for no extra fee. The cost of installation is already included in the final cost.
If that is not an option for you, we have come up with a list of alternatives. Apply a few of the right ones to you.
1. Launch in beta
Not only will it make people more tolerant of a smallish amount of singles on the site. You will also be able to act on the feedback that you receive and start improving your service immediately.
2. Join the Dating Pro Network
Dating Pro Network is a community of independent dating website owners who agree to exchange their site members without giving away contact details. The site users will be able to chat with one another across all partner websites.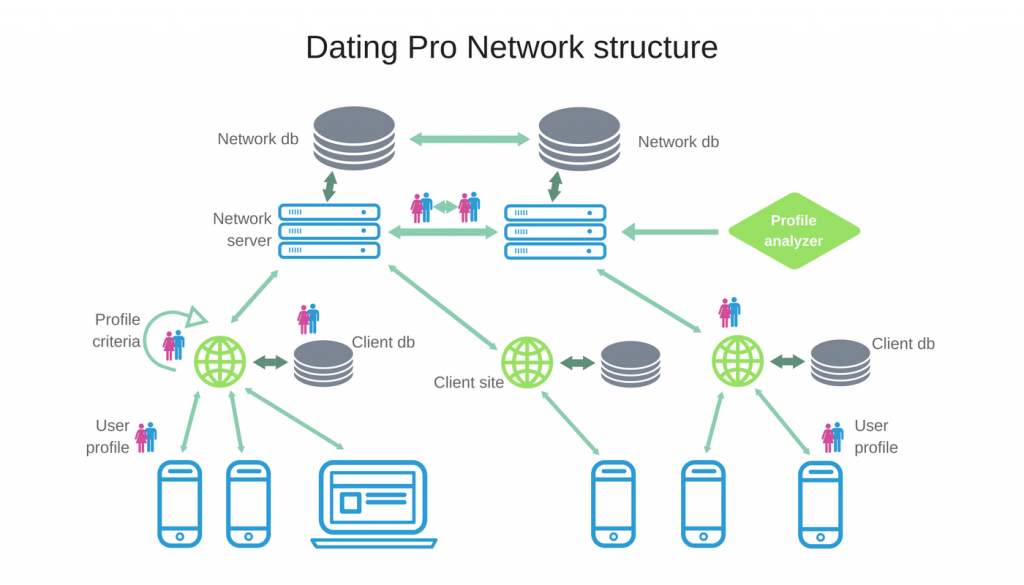 The number of users will depend on certain filters that are available in our Network. For now, it counts around 100000 users.
3. Get ready member profiles for your dating service
Don't have any members yet? Populate your site with the ready profiles before you grow big. The profiles come from the following countries and regions: Asia, Europe, Americas; Australia, Austria, Belgium, Canada, France, Italy, Germany, Netherlands, New Zealand, Russia, Spain, Switzerland, Ukraine, United Kingdom, United States, and others.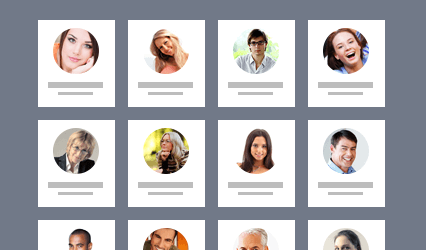 Chat Operator — Prevent users from leaving at the start of your business
Typically, a dating platform loses customers for two reasons:Typically, a dating platform loses customers for two reasons:
When you open your dating service, you don't have an established base of "live" users. Therefore, you have no one to like, socialize with and meet your first customers.
Most of your subscribers fill out their profile less than 25% of the time. Such profiles don't generate enough likes and posts unless the user is a photo model. And, without getting likes and messages, such users leave, not wanting to meet online again in the future.
Chat operators:
They keep your customers from leaving your platform. Because they get replies and likes from seemingly real people.
They chat using fake profiles. They are indistinguishable from other real users.
They educate and help real subscribers fill out their profile fields.
They encourage visitors to purchase services and premium packages on your website and apps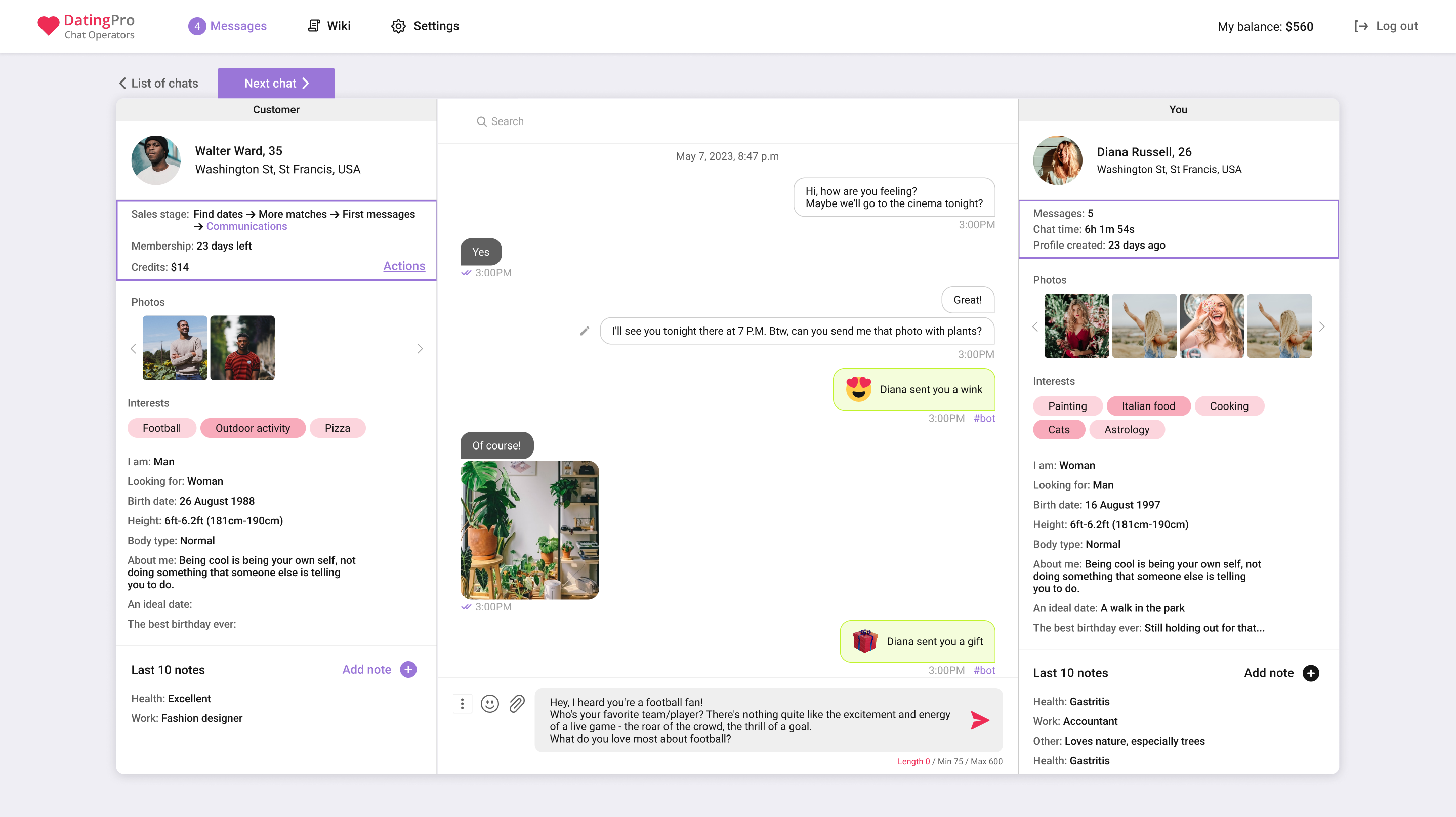 Chat Operators software is included in some Dating Pro packages.
How to identify the profile of a real existing person and a chat operator with a fake profile
Many many and very many famous dating services use not actual profiles and chat operators for various reasons. Characteristics of a real person's profile
Filled in information about yourself much more than the standard minimum. Free text about yourself is a good sign.
Photos of average to good quality. Very well, if the background photo visible places from the declared geo-location.
High probability that the profile is answered by a chat operator if
Profile looks average or very impressive.
The interlocutor is unusually immediately very communicative. Writes often and a lot.
Leads any topics. On offers to meet evades translating into a joke or other topics.
Find people to date. Which profiles your customers will return to again and again
A good tactic would be to A good tactic would be to
start with a quality base of profiles with chat operators
gradually replacing the profiles by disabling them so that real users switch to chatting with real users.
In this section:
---
3
.2.
Customize your dating service 
Orders. Manage membership groups
In this chapter, we will implement management of packages and services, as well as the processing and management of orders and customers.
Every time a new customer places an order with your service, their name and other details are added to your "Orders" and "Clients" lists, which you can then manage.
In this section:
---
Billing system
Manage how your customers pay for your services and set up Dating Pro Payments
In this section:
---
Analytics
Is located in Section №4 of the "Market" section.
---
System
In this chapter, we are configuring all the core functions of the Dating Pro Platform that do not fit into the stages of the dating e-commerce funnel. These functions are present across all dating channels: website and apps.
In this section:
---
Themes
In this chapter, we will implement the design and usability of the website and applications tailored to the selected business niche.
Website and Application Design
At the Dating Pro theme store, we offer a range of both free and premium themes, each with its own set of styles and features. There are approximately 10 built-in templates available for free, including the option to change the color palette.
Among the premium options, we have compiled the best Dating themes in 'Templates for dating sites and apps', which various designers have utilized in custom projects. You can make your theme truly unique by hiring a Dating Pro expert who will customize any of them for you.
Modifications to Navigation Menus
Prioritize information ruthlessly. Typically, fewer hyperlinks and less information translate to higher conversions. Instead of trying to cram as much information as possible onto your homepage, guide visitors to ancillary pages that will assist them in further promoting your business or explain non-essential information. How to do this is described in the article.
In this section:
---
Languages
The platform is in English. You can add any necessary languages on your own or by requesting the ones you need.
In this section:
---
3.2.1
Experts services
How can you obtain the missing features in the Dating Pro platform more efficiently and cost-effectively?
In the dating software niche, creating a homogenous product with extensive features is not profitable, as almost all of our clients' services differ.
That's why our company offers the Dating Pro Professional Services team. They can customize nearly everything to fit your business model. Get a free quote and save 50% on time and costs. Reclaim your time and focus on what truly matters. Hire a professional and achieve professional results.
In this section:
---
3.2.2 
Privacy and security
In this chapter, we will ensure that you:
do not face legal issues during disputes with clients,
have a high Net Promoter Score (NPS) reflecting customer satisfaction in getting their questions answered,
incur lower expenses in responding to customer inquiries.
There are certain legal pages that customers expect and can help protect you in case of disputes, such as your return policy and privacy policy.
Most of these pages can be created in the information pages section under System > Info pages (site.com/admin/content/index/).
<!>Please note that these templates are not legal advice and should be customized for your business.
It's not necessary to prepare all your pages for launch, but some of the most useful to create include:
About Us page:
Personally connects with customers, explains your business model, and/or shares the reason behind starting your business.
Can be significant in gaining trust for new brands — keep this in mind when creating your service.
Should include your contact details, which customers will look for to ask questions or get support.
You might have a video introducing you as the founder, links to awards and press mentions, images explaining your business model. Anything that helps this page tell your customers who you are and what you do.
Your contact information is something customers will seek for questions or support. Consider adding an FAQ section here to address some of the most common customer support inquiries.
Privacy Policy:
Describes how you collect information about your customers. It's standard practice for online business.
Gives your customers an insight into how you operate and what to expect from you.
They also help protect you in case of a dispute with customers.
Terms and Conditions:
It's an agreement between you and your customers outlining how you will operate and what rights you reserve.
In this section:
The majority of these pages are creatable within the 'Information Pages' area, located under 'System' > 'Info Pages' at site.com/admin/content/index/.
---
3
.3
Bring in customers 
In all the chapters below, we are committed to reducing the costs of transitioning your clients through each stage of the Dating e-commerce funnel. We simply make your economics more appealing to you. These are our efforts:
to push customers through our sales funnel, figuring out how to attract your future client from different channels, including features and traffic.
to resolve customer issues at each stage of the funnel, the aspects for which they are willing to pay within your subscription plans.
The "features" and marketing traffic for attracting customers to the "Bring in customers" stage of the funnel are found in different chapters:
The current chapter "Bring in customers" is dedicated to specific features. This also includes dating channels on various hardware platforms: chatbots, TV applications, VR, and others.
Later in the manual, there is a chapter on customer acquisition or traffic "Market. Launching the selected dating channel to the market through marketing channels."
In the Dating Pro Marketplace, the "Features" and "Marketing services" are combined under a single category "Market > Bring in customers."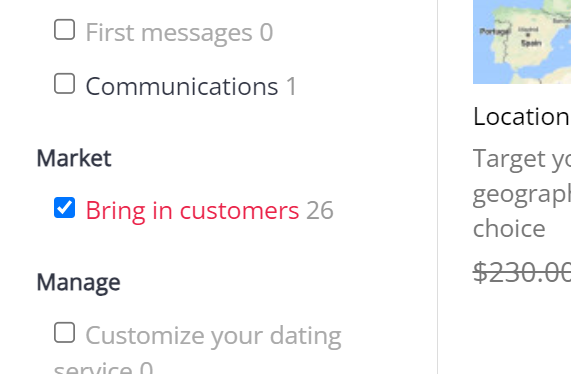 In this section:
---
3.4 Find Dates
After attracting clients to the previous stage of the funnel "Bring in Customers," your clients will:
Register
Fill out their profile
Begin searching for new friends
Find dates – help people start matching on your dating platform. It wouldn't work without features like registration, profile creation, etc.
In this section:
---
3
.
5 More matches 
More matches – help your customers to increase the number of their mutual likes and matches.
In this section:
---
3
.6
First messages 
First messages – help the users to get or to write the first messages after being matched.
In this section
---
3
.7
Communication
Communications – about messaging between users, where they'll be able to arrange a date in real life and overall have more means to communicate between each other.
We do not control how our clients arrange their first date. The more people who make it here, the more success stories you'll have about how your product helped. However, with more success comes fewer recurring customers. It's crucial to strike a balance between making a profit and benefiting our beloved clients.
In this section:
---
4 Market your dating site and apps
Launching the selected dating channel to the market through marketing channels.
4.1.1. Choosing a Niche and Marketing Plan
Here are some strategies to quickly attract the first users:
So, how can you reach your target audience and get them interested in your product or service?
You can start by advertising in cities closest to you so that more people can meet. Or advertise in the geo-location where your clients are located.
The target audience is a specific group of consumers who you believe are most likely to want your product or service. You hope that these consumers will eventually become your customers. The target audience can be defined by age, gender, location, income, interests, or other demographic information, such as job title, having a certain pain point, or being at a particular stage in life.
Knowing how to reach your target audience is important because:
It increases revenue: Targeted marketing allows you to focus on efforts and audience segments that bring the most revenue, or alternatively, to analyze why other segments do not convert.
It affects product development: Identifying the challenges and aspirations faced by different target audiences can help you develop and test products that are relevant and comparable.
In this section:
---
4.1.2. Marketing Channels for Customer Traffic. Show advertisements to those who are looking for you.
There are many tools that can help you in acquiring customer traffic for your dating service and in conducting the first tests of your business model in them.
If you are just starting out – feel free to test in those channels where your customer segment is. Getting quick initial experience is much more important than long preparations and calculations. Experienced people have definitely gone through this and are preparing detailed plans.
After identifying your niche and launching your first marketing campaign – gather feedback and improvements. Collect reviews from your first users to improve the site and make it more attractive to new members of the selected niche. This will allow you to significantly increase your conversions at growth points – see Chapter 3 Manage above."
Paid affiliates
Seo
Email marketing
Others
Publishing videos for example, on TikTok
In the blog materials, you can find mentions of market channels used in other business projects in various dating channels. By tags:
---
4.2. Analytics. View data and reports to gain insights into your business
To improve your business, use analytics and reports by easily configuring third-party analytical services: Google Analytics, Firebase, Amplitude, ChartMogul, and any others.
The Dating Pro support service cannot help you set up third-party services, such as social media accounts or advertising. Instead, please refer to:
The external help center for the service you are trying to use.
In this section:
---
Launch Your Business 🚀
With all the work we've done so far, we could launch our service right now if we wanted to. In fact, if you're in a hurry to go live, you can skip some or all of the following steps and come back to them later when you have time.
Is your online dating business perfect? No. But you feel good enough to invest time and money in marketing and learn from the feedback you'll receive to make it even better over time.
This marks the end of the journey to create an online dating service. But for you, this is just the beginning.
Be the first to know about news in the dating industry!
Several times a week, you'll learn about our latest features and hottest news